Fast & Easy Dinner: Tomato Soup With Parmesan Crisps
Fast & Easy Dinner: Tomato Soup With Parmesan Crisps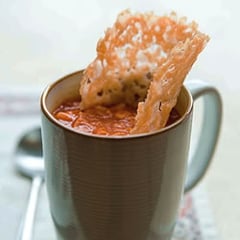 Treat yourself to a comforting meal in the form of this tomato soup with alphabet pasta. It's a nostalgic throwback to the childhood favorite. The crunchy Parmesan fricos provide a sophisticated touch that your family will love.
If you can't find alphabet pasta, simply use another small quick-cooking shape. Serve with a green salad on the side and homemade croutons for dipping.
Sound scrumptious? Check out the recipe and
.