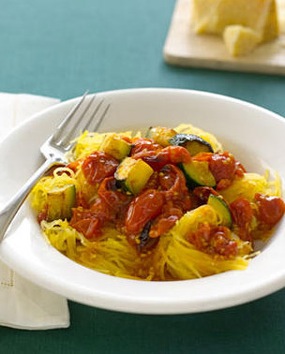 It's hard to escape the gluttonous nature of holiday celebrations, so if you have a night off from yuletide revelry, detox with a simple, home-cooked meal that counterbalances December's rich, heavy party foods.
Take advantage of spaghetti squash's seasonal peak by using it in place of high-carb pasta in a "spaghetti" dish with roasted vegetables. Slow-roast bite-size tomatoes and zucchini (or any other vegetable, if you'd like) in a mixture of garlic, high-quality olive oil, and seasonings. You'll find yourself looking forward to a comforting meal that, on top of being delicate, is low-calorie, gluten-free, and vegetarian.
To make it vegan, simply skip the parmesan cheese. Want the recipe? Then read on.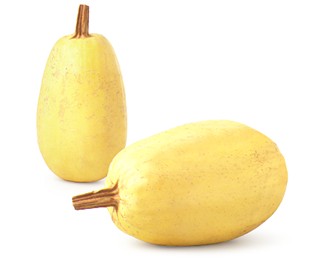 From Woman's Day
Spaghetti Squash With Roasted Vegetables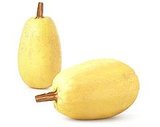 Ingredients
1 1/2 pints cherry or grape tomatoes
1/4 cup olive oil
2 tsp minced garlic
1 spaghetti squash, about 3 1/2 lb
1 large zucchini (about 1 lb)
1/4 tsp each salt and pepper
Grated parmesan (optional)
Directions
Position oven racks to divide oven into thirds. Heat oven to 425 degrees F. Line two 15-by-10-by-1/2-inch baking pans with nonstick foil.
Halve tomatoes; place tomatoes, 3 Tbsp oil and the garlic in a 13-by-9-in. baking dish. Halve spaghetti squash lengthwise and scoop out seeds. Brush cut surface of squash with a little of the remaining 1 Tbsp oil; place flesh-side down on a foil-lined pan. Quarter zucchini lengthwise and cut into 3/4-in. pieces. Place on other foil-lined pan; toss with remaining oil.
Roast tomatoes and spaghetti squash on top rack, 40 minutes, until you can easily pierce squash shell. Roast zucchini on bottom rack, 30 minutes, tossing once, until tender and slightly browned.
Scrape strands of spaghetti squash into a large bowl. Toss zucchini with roasted tomatoes, the salt and pepper; spoon over spaghetti squash. Sprinkle with parmesan, if using.
Serves 4.
Nutritional information per serving: Calories 220, Total fat 14g, Saturated fat 2g, Cholesterol 0, Sodium 198 mg, Total carbohydrates 23g, Dietary fiber 6g, Protein 4g.
Information
Category

Main Dishes

Cuisine

North American