Fast and Easy Shrimp Étouffee Recipe
Celebrate Fat Tuesday With Quick Shrimp Étouffée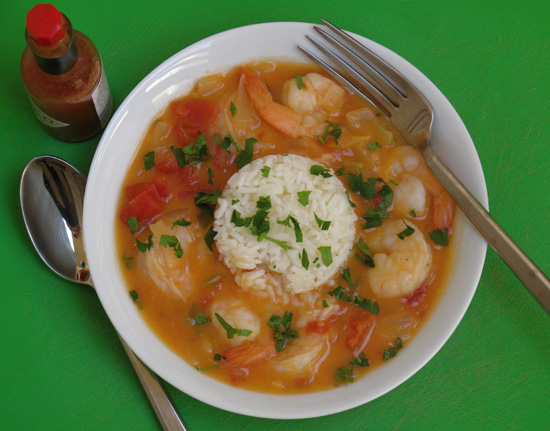 Couldn't make it to Mardi Gras this year? If you're lamenting the fact that today's Fat Tuesday and the French Quarter's a plane ride away, then do what I like to do. Bring the purple, green, and gold to your kitchen instead with a comforting platter of saucy shrimp étouffée.
Although some variations of the seafood recipe take hours to cook, enjoy a snappier version, since tonight's a school night. While the tomatoes and aromatics simmer together, steam a bowl of grains in the rice cooker (dabbed with a bit of butter, of course) so everything's ready to hit the table at the same time. Settle in with an Abita, some extra hot sauce, and your party hat, and you'll be ready to dig in! Click through for the quick recipe.
Ingredients
1/2 cup unsalted butter
2 medium onions, chopped
1 cup celery, chopped
1 cup green onions, chopped
2 cloves garlic, minced
1/2 cup flour
3-1/2 cups water
2 (14.5-ounce) cans diced tomatoes, undrained
2 tablespoons lemon juice
1 teaspoon salt
2 bay leaves
1/4 teaspoon dried thyme leaves
2 pounds medium shrimp, peeled and deveined
1 teaspoon hot pepper sauce, such as Tabasco
Hot cooked rice, for serving
Directions
Melt butter in large saucepot or Dutch oven; add onion, celery, green onion, and garlic. Cook 5 minutes or until tender.
Add flour and stir until well blended. Stir in water, tomatoes, lemon juice, salt, bay leaves and thyme. Bring to a boil.
Reduce heat, cover, and simmer 30 minutes, stirring occasionally.
Stir in shrimp and hot sauce. Simmer 5 minutes longer or until shrimp turn pink. Discard bay leaves. Serve over rice.
Makes 8 servings.
Information
Category

Main Dishes, Shellfish

Cuisine

North American