From Esquire [5]
Fat Prince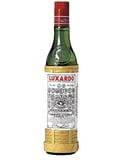 Ingredients
1 1/2 ounces rye whiskey
1/2 teaspoon maraschino liqueur (look for Luxardo)
1/2 teaspoon rich simple syrup*
2 dashes Angostura bitters
Brut champagne
Lemon peel
Directions
Stir well with cracked ice 1 1/2 oz rye whiskey (if you can't find rye, use bourbon), 1/2 tsp. maraschino liqueur, 1/2 tsp. rich simple syrup, and 2 dashes Angostura bitters.
Strain into a chilled cocktail glass, top off with Brut champagne, and twist a swatch of thin-cut lemon peel over the top. If more lushness is desired, add a cube of pineapple.
Makes 1 cocktail.
*To make rich simple syrup, stir 2 parts raw or Demerara sugar and 1 part water over a low flame until all the sugar has dissolved; let cool.
Information
Category

Drinks, Cocktails