This Father's Day [1], kick off the celebration the right way — with a top-notch breakfast. Whether you bring him breakfast in bed or serve up a buffet-style gathering, these delectable dishes are guaranteed to show him, and his stomach, how much you care. Now's the time to repay the love for all those times he made you scrambled eggs in the morning before school. He deserves the best, so why shouldn't you go all out?
— Additional reporting by Nicole Perry and Hilary White
BLT Bloody Mary
On Father's Day [2], a regular Bloody Mary just won't do. Kick up a classic with this unexpected BLT-inspired version [3].
Buttermilk Pancakes
Ditch the mix and cook up these buttermilk pancakes [4] from scratch. Top them off with a pat of butter and some real-deal maple syrup.
Bacon and Egg Breakfast Tart
Dad deserves something decadent, like this bacon, egg, and gruyère breakfast tart [5].
Peanut Butter and Jelly French Toast
Make Dad's morning with a nod to all of the peanut butter and jelly sandwiches he packed for your lunch. A hybrid of the classic sandwich and french toast, this sweet breakfast treat [6] is a must-try.
French Rolled Omelet
A French rolled omelet [7] is as delectable as they come. Moreover, it's an elegant egg option that Dad might not take the time to cook for himself.
Maple Bacon Cinnamon Rolls
Satisfy his sweet tooth with indulgent maple bacon cinnamon rolls [8] — it is quite the special occasion, after all!
Chocolate Glazed Minidoughnuts
We don't know many dads who would say no to homemade chocolate-glazed minidoughnuts [9].
Pancake Lasagna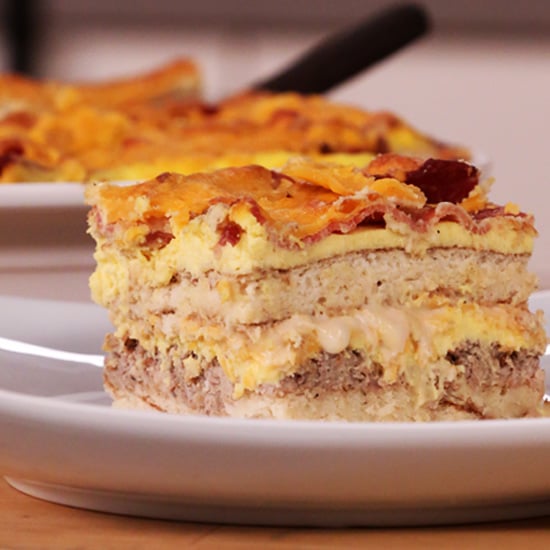 Don't have time to make several brunch dishes? How about creating a all-in-one pancake lasagna [10], featuring layers of cheese, bacon, maple-bacon béchamel, and more.