Tomorrow is Open That Bottle Night [1], and I hope you're busting out a bottle of really extraordinary wine and drinking it with people you love. Because you're opening a special bottle of vino, it only makes sense that you'd want to find the perfect bite to enjoy alongside your glass. Not sure what vittles to pair with your vintage? Here are five fabulous ideas.
Spicy Crab Hush Puppies and Riesling
Because these Southern treats [2] — made with crab and served with creole mustard dipping sauce — can pack a spicy punch, serve them hot with a glass of off-dry Riesling [3].
Deviled Eggs and Rosé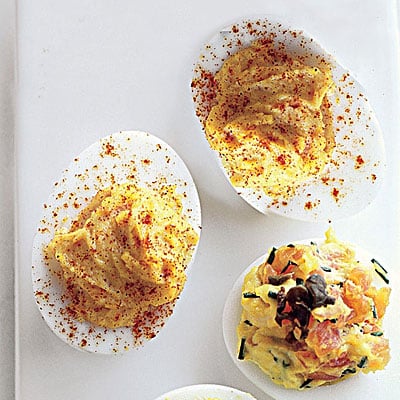 Deviled eggs [4] are as classic an appetizer as it gets, but it can be hard to know what to drink with eggs. A dry rosé [5], with its boldness, will stand up to the richness of eggs blended with mayonnaise.
Stilton Sirloin Sliders and Shiraz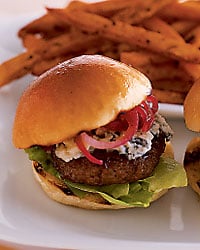 The perfect accompaniment to meaty sirloin sliders [6] — topped here with creamy, sharp Stilton cheese — would be an Australian Shiraz [7]. The wine's robust quality and heavy tannins will complement the richness of the beef and blue cheese.
Pears With Camembert and Pinot Noir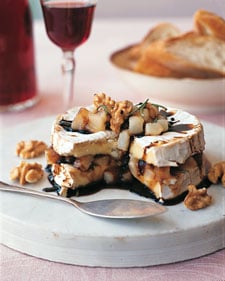 For a laid-back fruit and cheese starter [8], choose a lighter-bodied red such as Pinot Noir [9], which agrees with a mild cheese such as Camembert and won't overwhelm delicate pear flavors.
Cheddar Cheese Ball With Rioja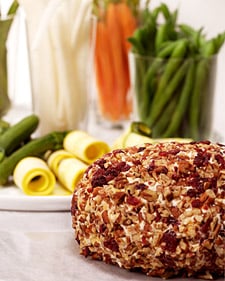 You'll be surprised by how great this savory cheddar cheese ball [10] will taste on crackers alongside a Spanish Rioja [11]; its tannins pair well with the creaminess of the cheese.