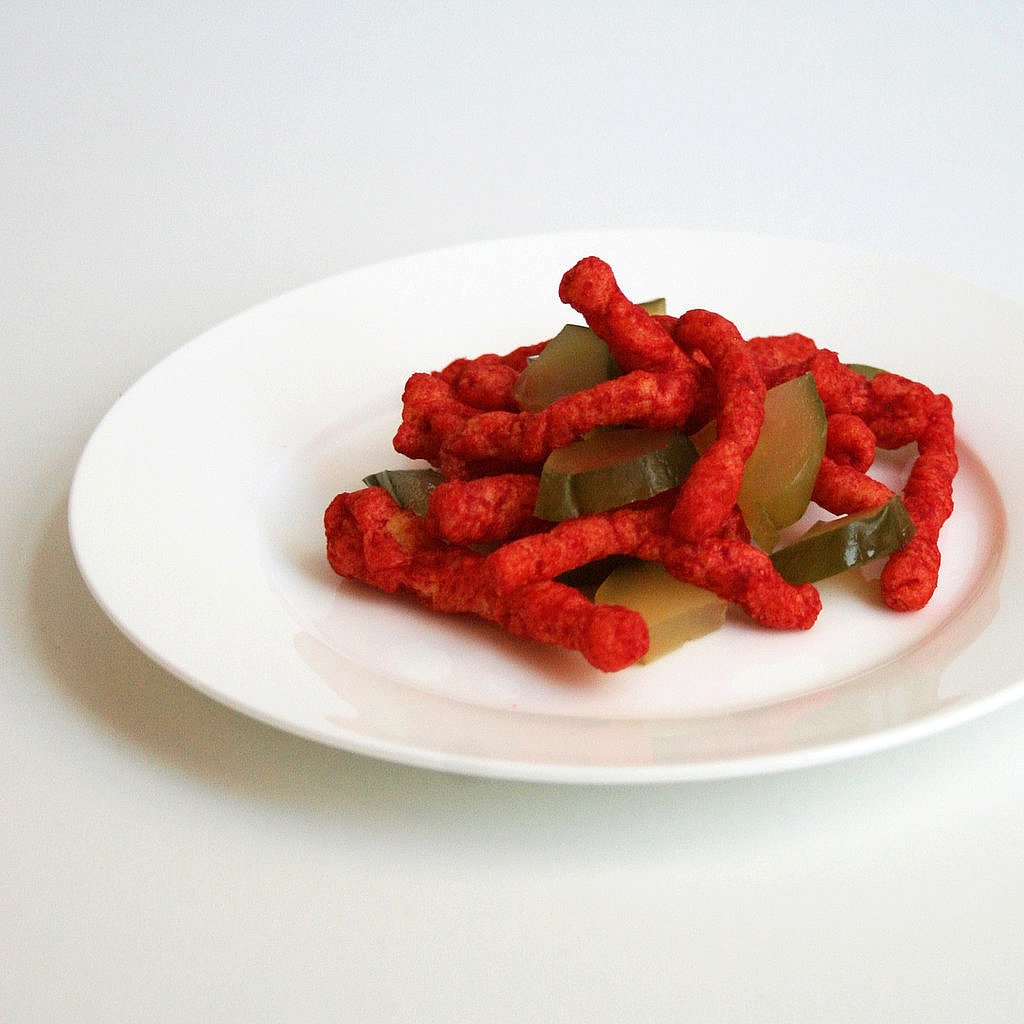 I'm a huge fan of Flamin' Hot Cheetos. During college, there was a full bag in the pantry and an "emergency stash" in my bedside table at all times; I'm being totally serious when I say that Hot Cheetos helped me graduate! Even today, I consider myself a Cheetos connoisseur. It's shocking that I'm writing this article without the damning evidence of Flamin' Hot Cheetos consumption — red fingertips — staining my laptop's keyboard.
In search of recipes that incorporated my favorite snack, I stumbled into the realm of truly diehard Cheetos fandom. While I spent years naively relishing the taste of Flamin' Hots in an unadulterated state, wiser folks have added Cheetos into everything from breakfast to dessert. Trust me when I say these 35 unique ways are just the tip of the iceberg.
Photo: Brinton Parker
Breakfast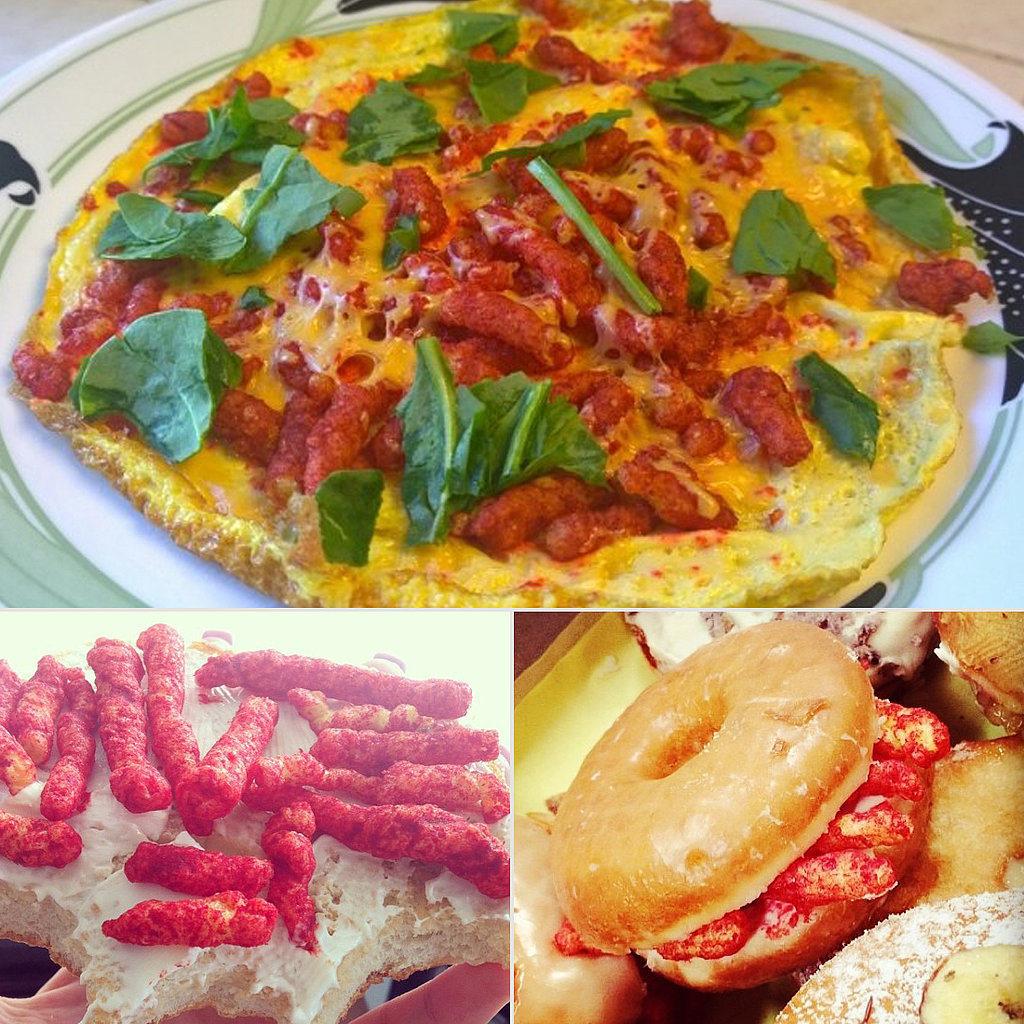 Scrambled eggs with crushed Hot Cheetos cooked in
Cream cheese bagel with Flamin' Hots [1] on top
Cheetos omelette [2] with spinach, cheese, and chorizo
Quiche made with a Cheetos crust
A Hot Cheetos-stuffed Krispy Kreme [3] doughnut
Sources: Instagram users xtitan_wolfx [4], 1pster [5], frankieolmos [6]
Lunch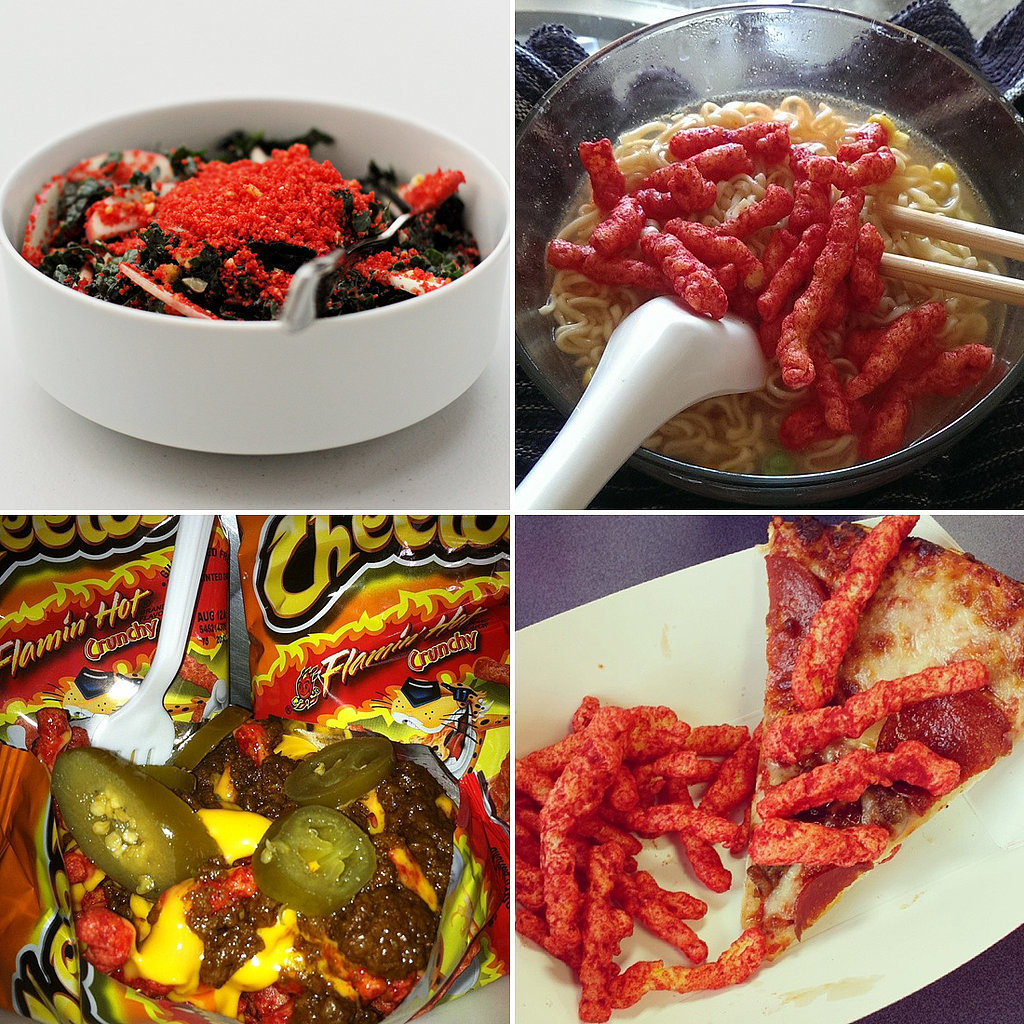 Flamin' Hot Cheetos as a sandwich ingredient (to add spicy crunch, of course!)
Kale salad with a Flamin' Hot crunch [7] on top
Ramen with Hot Cheetos [8]
Grilled Cheetos sandwich [9]
Chili cheese fries substituted with Flamin' Hots [10]
Flamin' Hot Cheetos as a pizza topping
Sources: Nicole Perry and Instagram users ahhbe3 [11], rezicecream [12], and tsumitop [13]
Dinner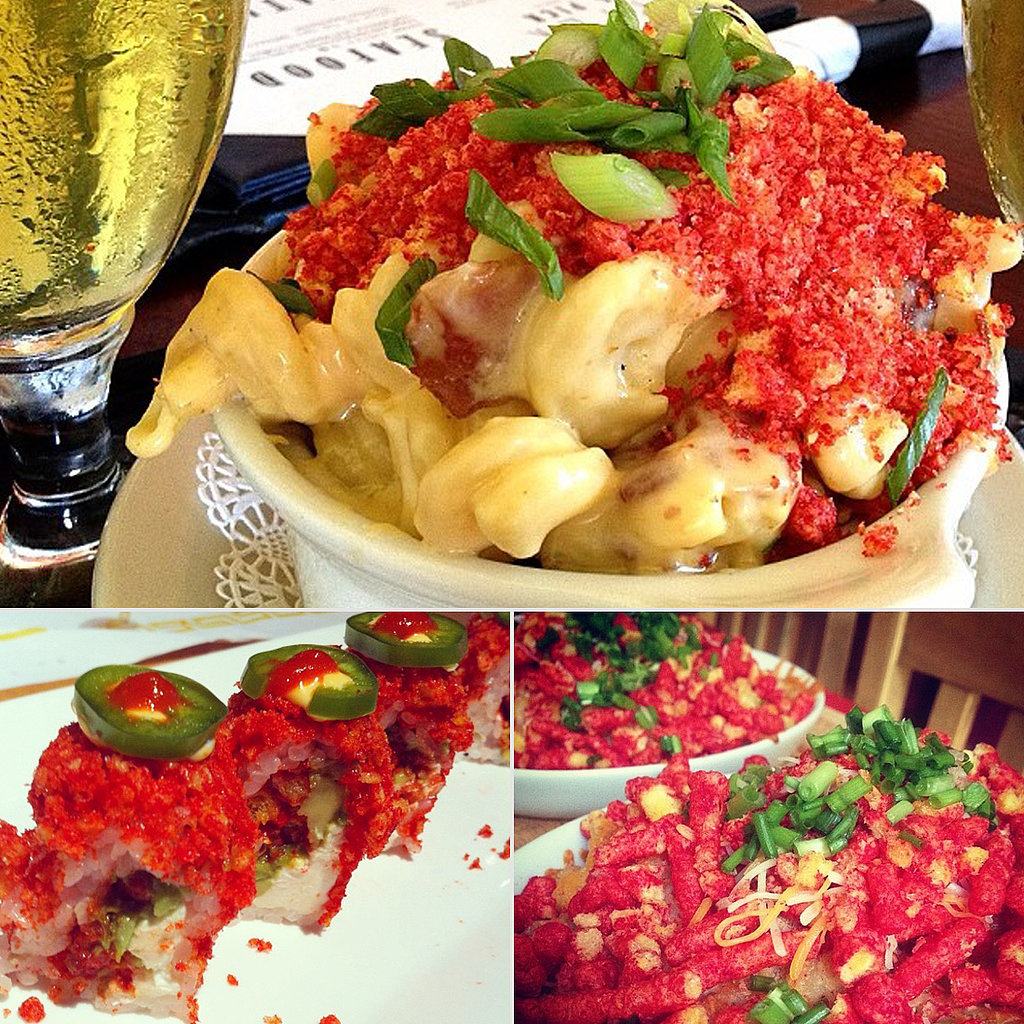 Macaroni and cheese [14] with a crispy Cheetos topping
Cheetos-crusted chicken breasts [15], pork loins, or chicken fingers
Tacos with Flamin' Hot Cheetos-dusted shells (get on this, Taco Bell!)
Sushi rolls coated in Hot Cheetos [16] crumbs
Cheeseburger loaded with toppings, including Hot Cheetos
Pasta with Hot Cheetos crumbles substituted for breadcrumbs
Sources: Instagram users therealkristine [17], mrs_hwang [18], iamwhoiam951 [19]
Everything Else!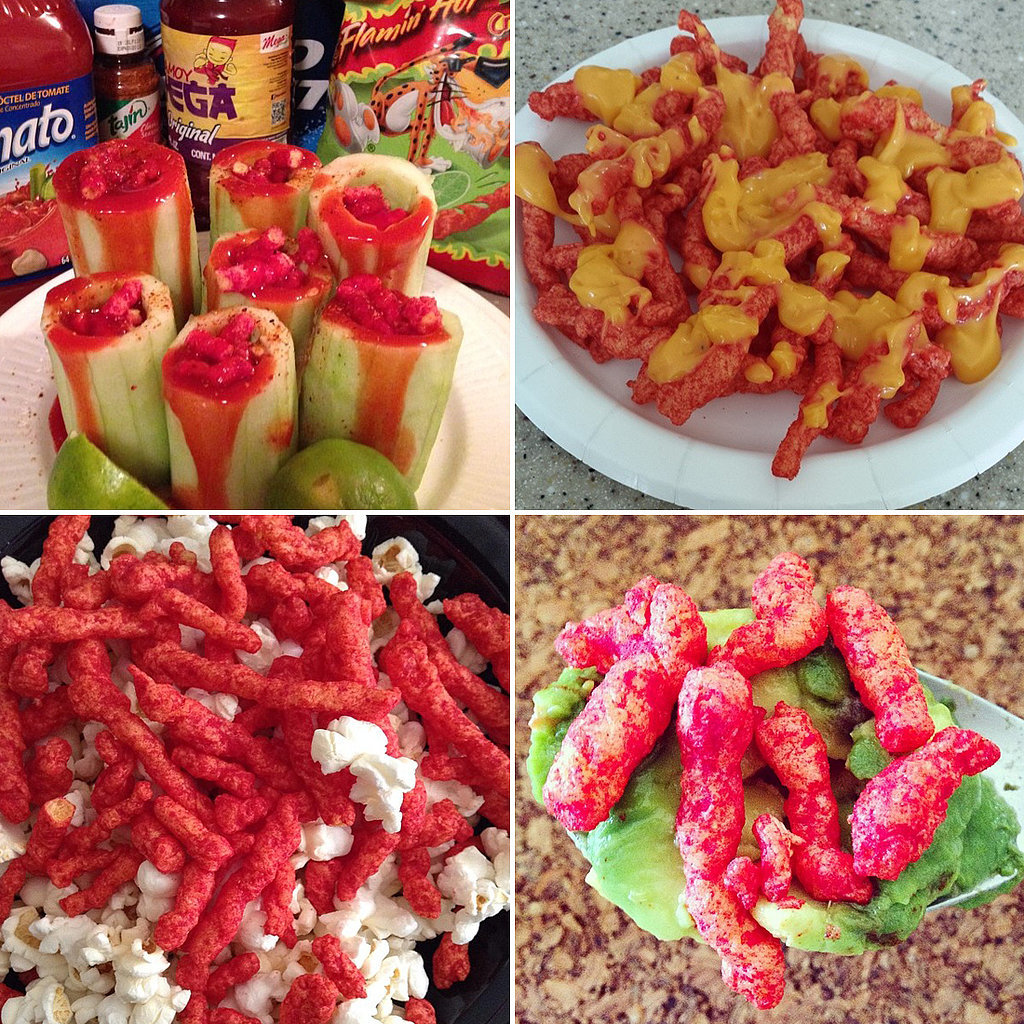 Hot Cheetos bacon pancakes [20] with sriracha-ranch dipping sauce
Flamin' Hot Cheetos dipped in guacamole [21] or cream cheese
Hot Cheetos shaken with lemon juice and salt
Mozzarella sticks with a Cheetos breading [22]
Flamin' Hots slathered in nacho cheese [23]
Cheetos macarons [24]
Hot Cheetos marshmallow crispy treats [25]
Fresh mango with Hot Cheetos and lemon juice
Jalapeño poppers with Hot Cheetos crust [26]
Flamin' Hot Cheetos in a pepper grinder to use as a general food seasoning
Hot Cheetos onion rings
Spicy trail mix with Cheetos
Dill pickle chips tossed with Flamin' Hot Cheetos [27], as pictured at the top of the post (I tried this, and it was an interesting flavor. The sour and spicy combine in a way that might just make me adopt this as my new midnight snack!)
Broccoli tossed with cheese and topped with Flamin' Hot crumbles
Hot Cheetos crumbs mixed in with Bloody Mary rim salt [28]
Flamin' Hot Cheetos shooters with cucumber, clamato juice, boiled peanuts, and Chamoy hot sauce
Tostilocos [29] substituted with Hot Cheetos
Flamin' Hot Cheetos and popcorn (for bonus flavor, toss with lemon juice and Tajín seasoning [30])
Sources: Instagram users ciuriz1 [31], maci_rodriguez23 [32], fabulousfabbzz [33], and connie_liou [34]