It's one thing to say you'll try any sort of food [1], but another entirely to truly follow through on your promise. That's why, right before an eight-course gourmet bug tasting this week, I started bugging out over it. If I screamed when I saw insects in my apartment, how was I going to bring myself to eat them?



The one-of-a-kind dinner was organized by the Stanford Club of San Francisco [2], and featured everything from grasshoppers to dung beetles. Read on to find out how I fared throughout the meal.
Greeting Table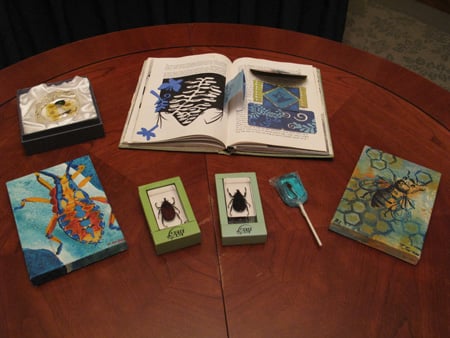 There was no shortage of insect paraphernalia greeting me at the front door. I spotted books on entomophagy, the practice of eating insects as food, and plenty of edible bug treats, like scorpion lollipops.
Fresh Weaver Ant Larvae on Crackers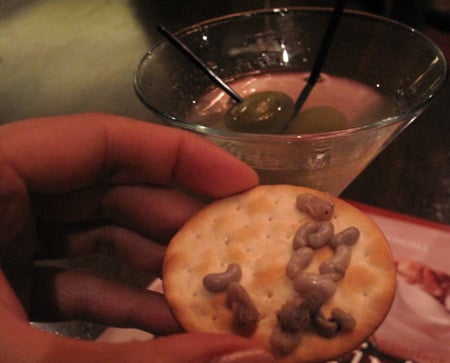 The first thing I ate were ant larvae spread on crackers, perceived by insect eaters to be a special treat because they're soft-bodied, and without the hard, dry shells of most insects. Unfortunately, they were not a good intro to entomophagy; the larvae were the most skin-crawling thing I ate that night. They had little flavor, and biting into one was like chewing a sphere of salmon roe. Thankfully, I had a martini to wash them down.
Deep-Fried Spiced Bamboo Worms
Anything tastes good if you deep-fry it, and that applies to bamboo worms, too. These worms from Thailand were the least offensive thing I tasted. They had a potato chip texture and spiced flavor, reminding me of Lay's Barbecue potato chips.
Bug-Eating Expert Treena Joi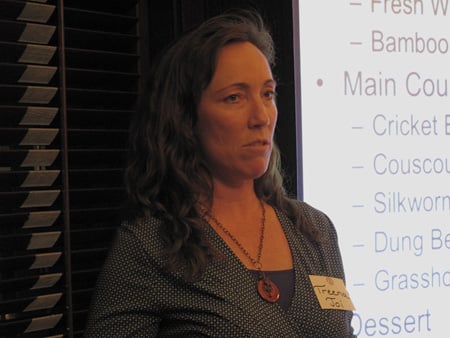 Bug-tasting expert Treena Joi made a solid argument for the practice of eating bugs. Insects have a high protein-to-fat ratio; are eaten intentionally by 80 percent of the world on a regular basis; and, gram for gram, require only 10 percent of the resources required to produce beef.
Crickets With Eggs on Mushroom Bruschetta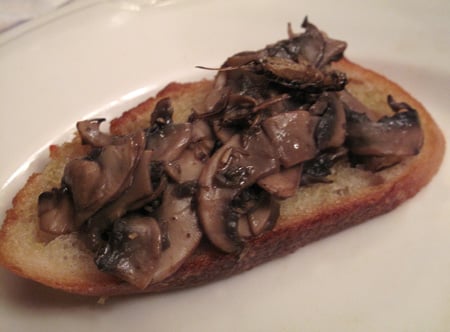 The crickets with eggs didn't offer much in the way of flavor, but they did add a substantial crunch to the mushroom-topped crostini.
Couscous With Red Shield Bugs
My favorite bugs of the tasting, these red shield bugs added a crackle factor to the couscous, along with a roasted, slightly sweet flavor. They almost reminded me of the skins of dried red chile peppers. If I had to eat these again, I actually wouldn't mind!
Dung-Beetle-Garnished Pumpkin Soup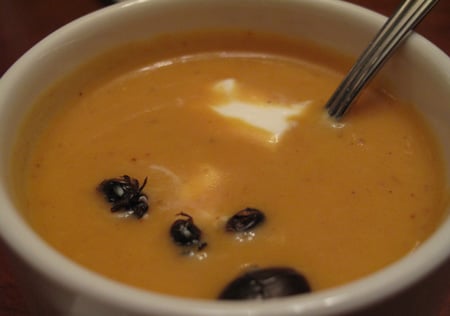 I was wary of eating dung beetles, considering their whereabouts. Treena, however, assured me that the creatures get a wash-down when they're processed. The dung beetles had a beef jerky-like texture, and an earthy flavor that reminded me slightly of tamarind.
Grasshopper Polenta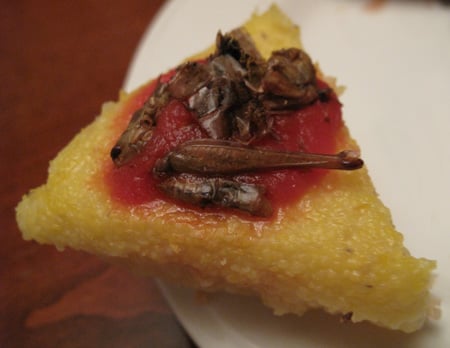 Like the crickets, the grasshoppers didn't have a distinct flavor; their long wings, however, got stuck in my teeth. When I asked Treena how she selected the bugs to pair with the food, she said she wanted a textural and visual contrast. "I liked the way the grasshoppers looked against the tomato sauce and the polenta," she explained.
Silkworm Wild Rice Medley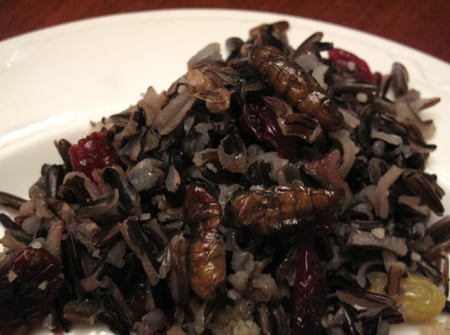 I couldn't stare at these chubby, grubby mealworms if I wanted to eat them — so I shoved them in my mouth without looking. They tasted crispy, like puffed rice, and nutty, although that may have been because they were soaked in olive oil.
Pear Tart Sprinkled With Weaver Ants and Queen Ants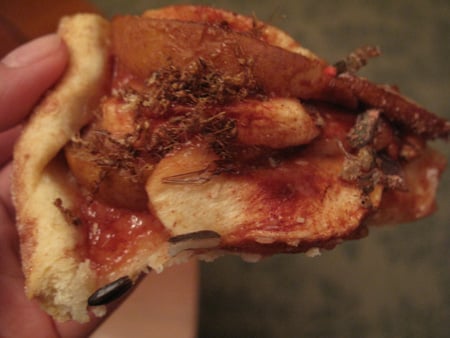 Mmmm, dessert! A flaky, cinnamon-flecked pear tart, dusted with weaver and queen ants. Although the queen ants were a little large, I enjoyed the airy, thread-like weaver ants, whose tiny little legs, when eaten collectively, reminded me of Chinese pork floss [3].



Would I sign up for a dinner dedicated solely to bugs anytime soon? Probably not. But I was shocked how, by the middle of the meal, I'd become (almost) completely desensitized to the idea of consuming ants, larvae, and beetles. Had I turned crazy? Perhaps. A little more open-minded? Definitely.