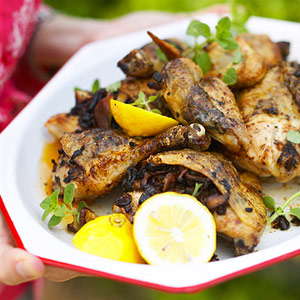 Classic chicken marsala consists of chicken cutlets that are served with a thick mushroom and marsala wine sauce. Marsala is an Italian fortified wine that's similar to port. In this preparation, the traditional dish is Summer-fied. Instead of preparing the chicken in a saute pan, it's thrown on the grill. The mushroom sauce becomes a mushroom stuffing that's slid under the skin of the chicken. The resulting meat is moist and delicious with a wonderful smokiness. For a seasonal feast, serve with
heirloom tomato panzanella
and chilled Chardonnay.
Interested in this recipe? Here you go.
Ingredients
2 Tbsp. olive oil
1 to 1-1/4lb. chopped mixed mushrooms ( 4 cups)
1 clove garlic, minced
2 tsp. snipped fresh oregano or 1/4 tsp. dried oregano, crushed
2 Tbsp. dry Marsala (optional)
1 tsp. anchovy paste or soy sauce
1/4 tsp. salt
1/4 tsp. freshly ground black pepper
2-1/2 to 3 lb. meaty chicken pieces
Salt and freshly ground black pepper
Lemon Halves (optional)
Fresh Oregano Sprigs (optional)
Directions
In a large skillet heat olive oil over medium heat. Add mushrooms, garlic, and oregano. Cook until mushrooms are lightly browned and tender, 6 to 8 minutes, stirring occasionally.
Remove from heat. Stir in Marsala, anchovy paste, 1/4 teaspoon salt, and 1/4 teaspoon pepper. Return to heat and cook and stir 2 minutes more. Remove from heat and allow to cool slightly, about 10 minutes.
With your hands, loosen skin of each chicken piece on one side. Stuff mushroom mixture evenly beneath the skin. Sprinkle chicken lightly with salt and pepper.
For a charcoal grill, arrange medium-hot coals around a drip pan. Test for medium heat above the pan. Place chicken pieces, bone sides down, on grill rack over drip pan. Cover and grill for 50 to 60 minutes or until chicken is no longer pink 170 degreesF for breast halves, 180 degreesF for thighs and drumsticks. For a gas grill, preheat grill. Reduce heat to medium. Adjust for indirect cooking. Place chicken pieces on grill rack; grill as above.
Serve with fresh lemon and garnish with oregano.
Serves 4-6.
Information
Category

Poultry, Main Dishes

Cuisine

Italian