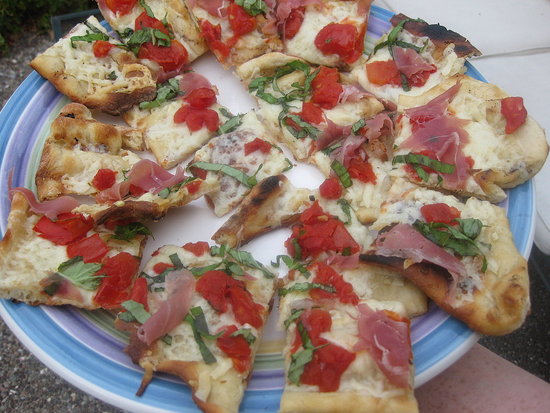 Fontina is a creamy Italian cow's milk cheese with a texture that varies depending on the age. Typically young fontina is soft and extremely good for melting, while mature fontina is hard. Originally native to Italy's Aosta Valley, fontina is now produced in Denmark, France, and the United States. However, Italian fontina has a stronger, richer, more pungent flavor than those created in other areas. Fontina has a pale-yellow color and mild, nutty flavor that's wonderful for almost any use, whether it's eating out of hand or
smashed in a sandwich
. To find out how fontina made these grilled pizza bites incredibly delectable,
.
This recipe takes advantage of fontina's wonderful melting qualities. It combines the gooey cheese with other Italian ingredients — prosciutto, pecorino romano, and basil — to make a pie that is wildly delicious and insanely addictive. I sliced the pizza into small pieces and served it as an appetizer at a recent party. It was so good, I hope to make it again soon.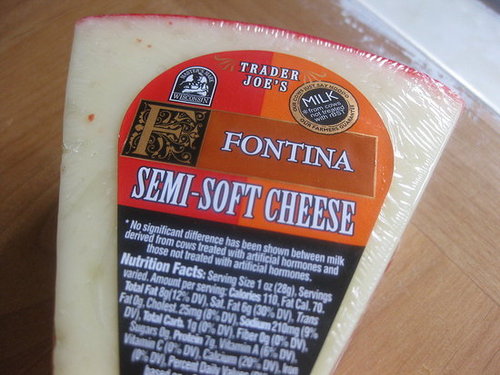 Ingredients
1/2 pound fontina cheese, shredded (about 2 cups loosely packed)
1/2 cup freshly grated pecorino romano cheese (about 1 1/2 ounces)
1 1/2 pounds store bought or homemade pizza dough
Extra-virgin olive oil, for brushing and drizzling
2 teaspoons minced garlic
Two 14-ounce cans chopped Italian tomatoes, drained
1/2 cup basil leaves, cut into thin ribbons
12 paper-thin slices prosciutto di Parma, torn into large pieces
Directions
When I made this pizza, I charred both sides of the dough on the grill until it was cooked and slightly puffy. Then I topped it with the garlic and cheese and finished cooking it in a 450°F oven.
Light a grill, preferably using hardwood charcoal. Set the grill grate 3 to 4 inches above the coals.
In a medium bowl, toss the Fontina with the Pecorino Romano cheese. 
Divide the Pizza Dough into 6 equal pieces; work with 1 piece at a time and keep the rest covered with a towel.
On 3 lightly oiled baking sheets, flatten and stretch the dough with your hands to form six 8-inch rounds about 1/16 inch thick; do not make a lip and don't stretch the dough so thinly that it tears. Brush the rounds with olive oil. 
When the grill is hot, working in batches if necessary, gently drape the pizza dough over the hot grate and cook until it puffs slightly, the underside firms up and grill marks appear, about 1 minute. Rotate the dough once and cook for 30 seconds. 
Brush the top of the pizza rounds with oil and flip them over using tongs.
Scatter one-sixth of the garlic and cheese over each pizza, followed by 3 heaping tablespoons of chopped tomatoes. Then drizzle each pizza with 1/2 tablespoon of olive oil. 
Slide the pizzas near the hot coals but not directly over them. Using tongs, rotate the pizzas frequently, checking often to make sure that the undersides are not charring. The pizzas are done when the cheese is melted and the tomatoes are hot, 3 to 4 minutes.
Scatter one-sixth of the basil and prosciutto over each pizza and serve hot off the grill.
Serves 12.
Information
Category

Main Dishes, Pizza

Cuisine

Italian