Even with limited (or no) backyard space, we can't help but spend most of our time hovering over our compact city grills [1]. After all, whether it's a Caesar salad or a chocolatey dessert pizza, throwing any food over the coals seems to kiss it with a fire-roasted flavor that's indispensable with a cold beer and the sun-filled Summer heat.
Check out our assortment of recipes.
Grilled appetizers [2]
Grilled burgers [3]
Grilled side dishes [4]
Grilled chicken recipes [5]
Grilled meat and seafood ideas [6]
Grilled pizzas [7]
Barbecue sauces and rubs [8]
Grilled dessert ideas [9]
If you're new to grilling, or looking to branch out, you've come to the right place to learn just about everything there is to know about grilling [10], even if you were afraid to ask. See any grilling recipe you could possibly ever want — and more — when you keep clicking.
Grilled Apps to Get the Party Started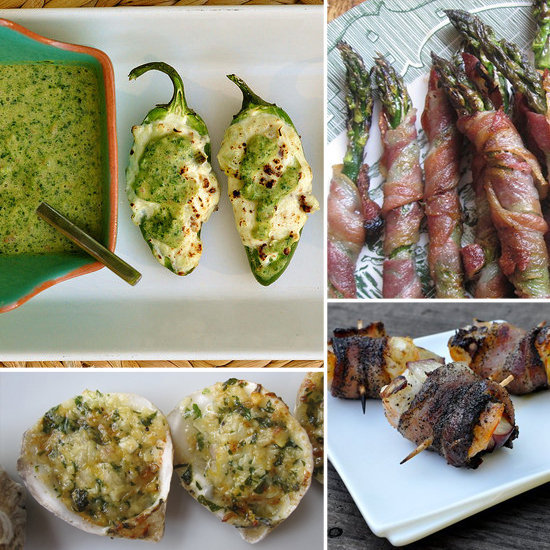 The warm weather and long days means it's time to dust off the grill and start sizzling up the good stuff. The grill can be used for more than main-course meats — get a party started by serving these killer grilled appetizers hot off the grill. Whether they're stuffed with rich cheeses or wrapped in savory bacon, these apps are bound to be crowd-pleasers.
Mobile-Style Oysters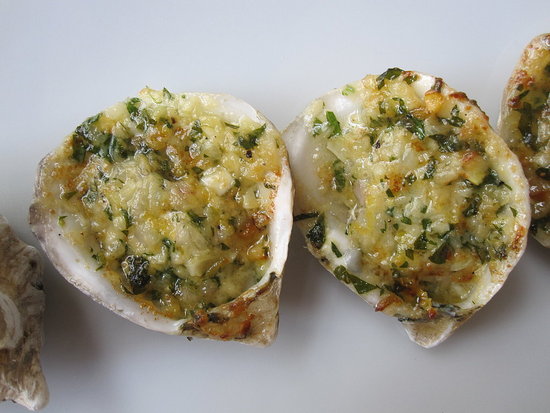 A traditional Southern dish from Alabama, these Mobile-style grilled oysters [11] are stuffed with rich flavors such as parmesan, garlic, lemon, and Tabasco.
Provoleta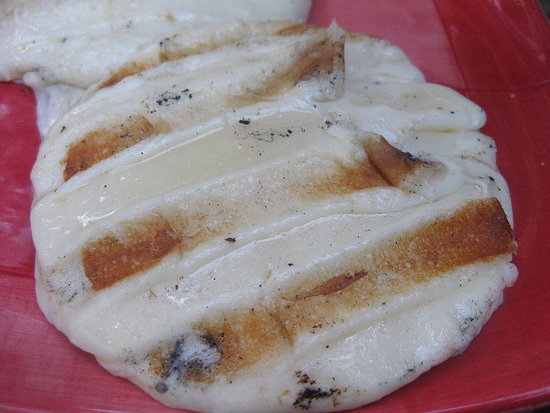 Originating in Argentina, Provoleta, or grilled provolone cheese [12], can be served with charred bread and nduja [13], a spreadable salami.
Bacon-Wrapped Jalapeños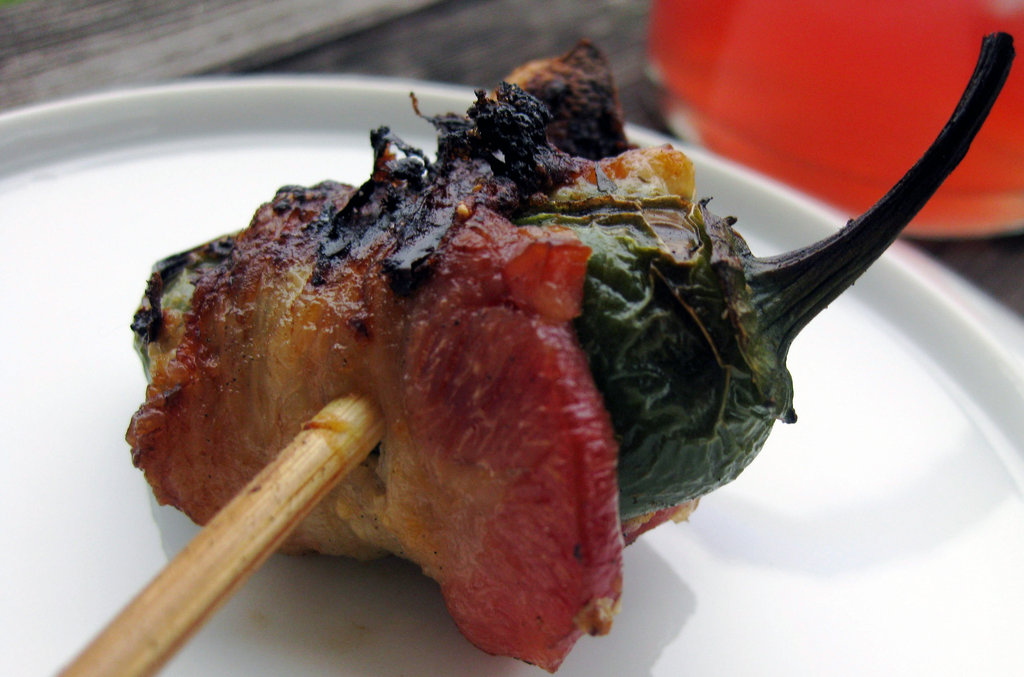 Precious bite-sized apps that burst with spicy, salty flavor, bacon-wrapped jalapeños [14] have a secret cream cheese surprise inside.
Pancetta-Wrapped Asparagus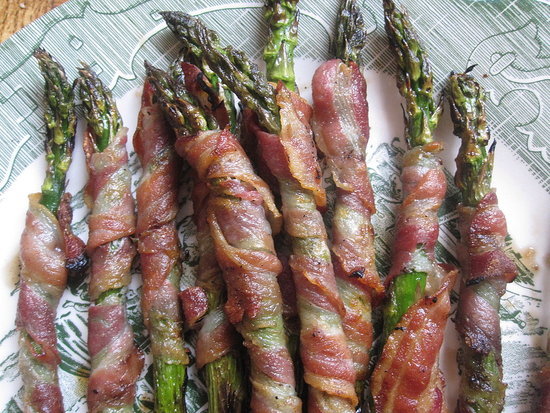 Get those veggies on the grill by making grilled pancetta-wrapped asparagus [15]. Your guests will gladly gobble their veggies up and beg for seconds!
Bacon-Wrapped Shrimp and Nectarines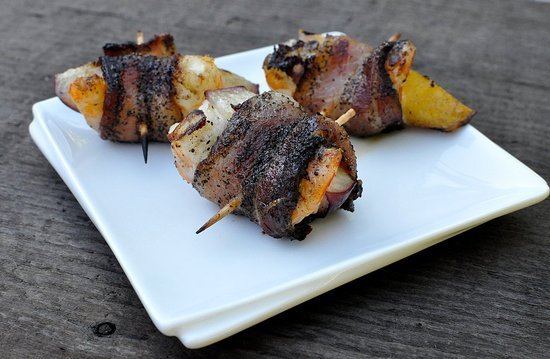 Similarly, pretty much anything wrapped in bacon will be a crowd-pleaser, and these bacon-wrapped shrimp and nectarines [16] look and taste decadent, yet the recipe only contains those three ingredients!
Pancetta-Wrapped Peaches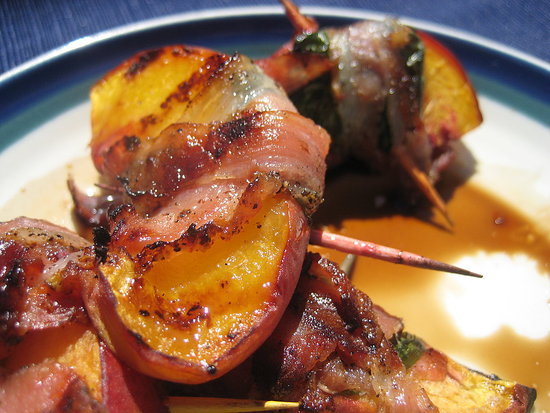 Simple yet Summer-appropriate, pancetta-wrapped peaches [17] offer a satisfying start to a Summer party with tangy, smoky, and sweet flavors.
Grilled Clams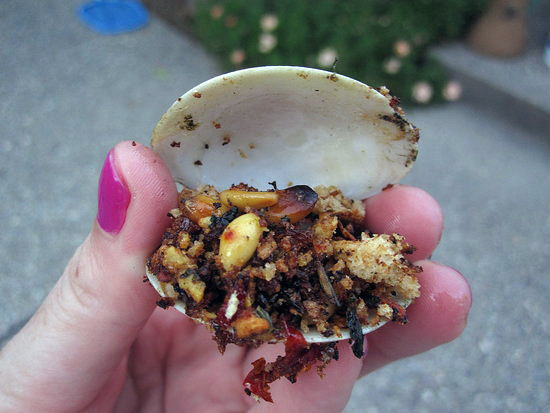 Even those finicky about shellfish will gladly munch on grilled clams [18], which are filled with bread crumbs, garlic, tomato, and pine nuts.
Jalapeño Poppers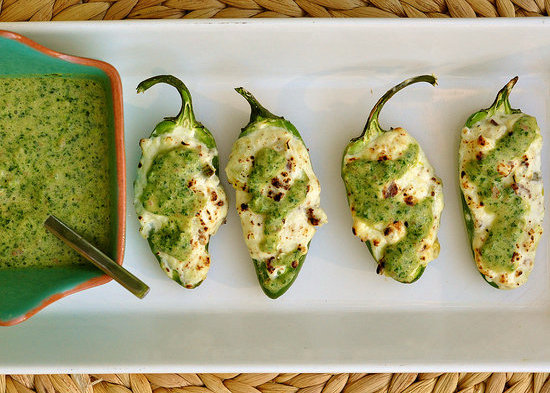 Stuffed with bacon, cream cheese, and jalapeño, these grilled jalapeño poppers [19] will rile up a crowd with their rich, spicy flavors.
Grilled Burgers: From Traditional Beef to Black Bean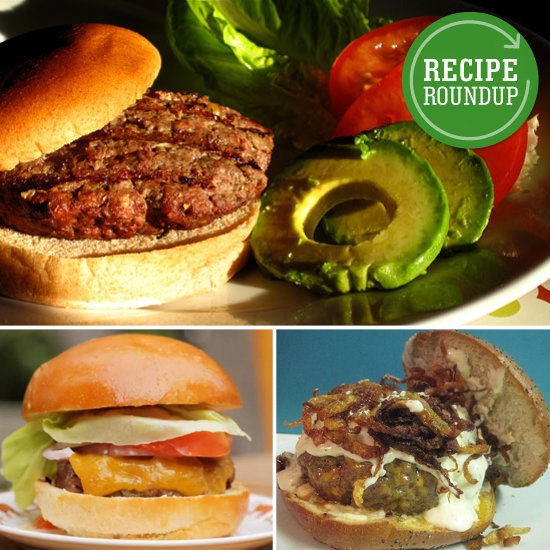 Busting out the grill is almost always inextricably linked to burgers. When you envision the smoky charcoals glowing under the grill, it's hard not to evoke the nostalgic, earthy, and iron-like smell of hamburger patties sizzling on the metal grates. Beef, chicken, black bean, and cheese-stuffed: the options are limitless, but these 10 will keep your grill busy in the meantime.
The Schlow Burger
The award-winning Schlow burger [20] is no easy feat. The complex burger has melted cheddar, a spicy horseradish, and a fried onion ring topping.
Blue Cheese Burger
Opt for a more traditional cheese and burger pairing in this blue cheese-topped burger [21] recipe.
Brie-Stuffed Burger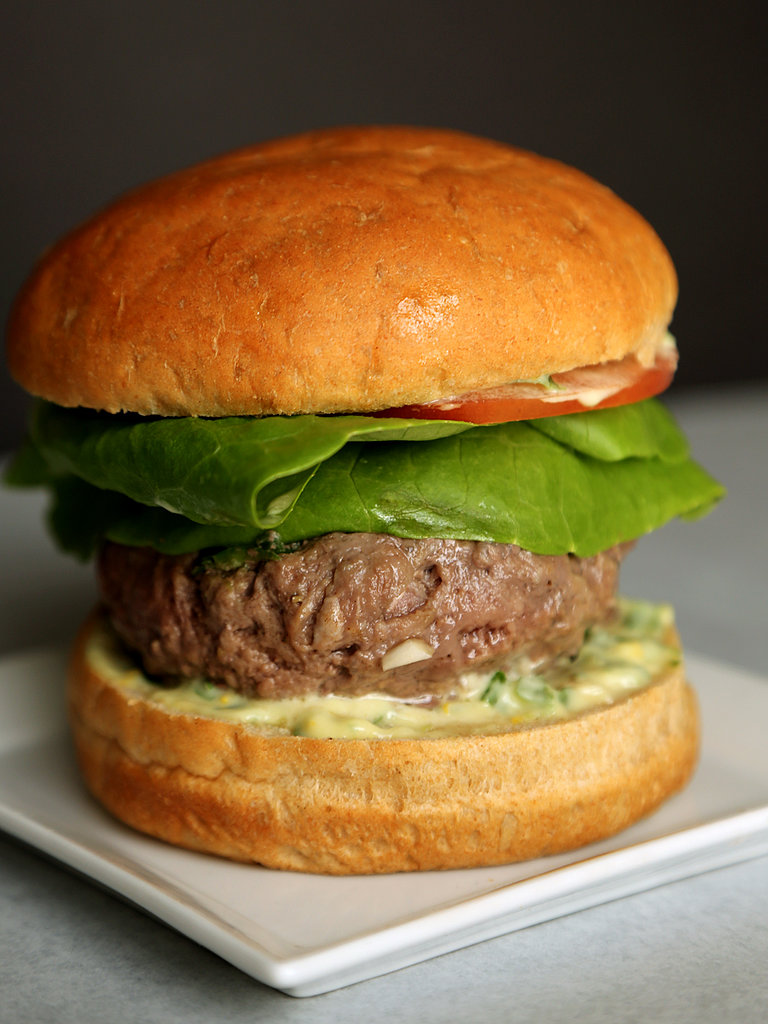 Lovers of French cheese, who knew that you could create burgers stuffed with brie cheese [22]? The spicy scallion paste adds just enough heat to send you swooning.
Black Bean Burger
Vegan spicy black bean burgers [23] are made with bell pepper, brown rice, and Mexican spices. Vegetarians can throw on a slice of cheddar cheese — otherwise vegans can toss on a slice of Tofutti cheddar made of soy.
Lamb Burger
Mediterranean flavors grace a lamb burger [24] served with a cumin-scented yogurt sauce and whipped feta.
Pork Chipotle Muenster Burger
This pork muenster burger [25] has a Latin twist with the addition of chipotle, tomatillo, avocado, and cilantro.
Herb Chicken-Tofu Burger
Chicken has the tendency to dry out on the grill, but the addition of tofu helps bind the burger together and adds moisture to this herb chicken-tofu burger recipe [26].
Buffalo Burger
Buffalo burgers [27] are made of bison meat, which tastes similar to beef but is leaner and sweeter.
Classic Cheeseburger
If you haven't already, take the time to learn how to construct a simple cheeseburger [28].
Jalapeño Nacho Cheeseburger
Velveeta and pickled jalapeños, the standard toppings found on stadium nachos, dress this jalapeño nacho cheeseburger [29].
Grilled Side Dishes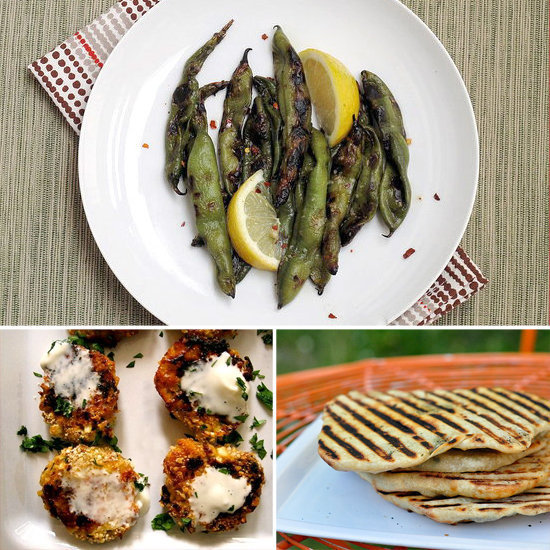 Side dishes should be just as decadent and delicious as grilled mains, so don't be the griller who neglects amping up the flavor of veggies and corn. Time management can be difficult on the grill, but these 10 dishes have simple ingredients and prep requirements to make things easy on you. Click through to have your grilled sides and eat them, too.
Grilled Romaine Salad
For a smoky vegan salad, try this grilled romaine salad [30] with eggplant, zucchini, and Dijon vinaigrette.
Grilled Bread
Serve white bean spreads and cheese atop this versatile and garlicky grilled bread [31].
Vegetarian Tacos With Grilled Guacamole
You won't miss the meat in these grilled veggie tacos with barbecued guacamole [32]. Stuff corn tortillas with grilled red onion, corn, bell peppers, zucchini, squash, eggplant, and the grilled guac, of course.
Grilled Corn Recipe With Chile Lime Butter
With only a handful of ingredients, update the old corn routine by making grilled corn with chile lime butter [33].
Grilled Vegetables With Halloumi
Satisfy a Middle Eastern craving with grilled eggplant and zucchini with halloumi [34].
Corn and Cheese Cakes
These corn and cheese cakes [35] combine rich Mexican flavors from jack cheese, adobo, chives, and cilantro. A dollop of crème fraîche adds a sour finish to the savory cakes.
Grilled Fava Beans
Zingy lemon and spicy red pepper flakes garnish these grilled fava beans [36].
Perfectly Grilled Vegetables
Learn how to easily prep and grill vegetables [37] like zucchini, portobello mushrooms, and asparagus for a hint of smoky flavor.
Mexican Grilled Corn Recipe
Mexican street-food-style grilled corn [38] makes use of sour Mexican crema, crumbly Mexican queso, and spicy powdered chile for a homemade version of an unforgettable street food favorite.
Grilled Flat Bread
If you have a hankering for a surprise something-something inside your flat bread, then look no further than this grilled flat bread stuffed with herbs and cheese [39]. It's fully loaded with cilantro, mint, almonds, garlic, ginger, and cheese.
Irresistible Spins on Grilled Chicken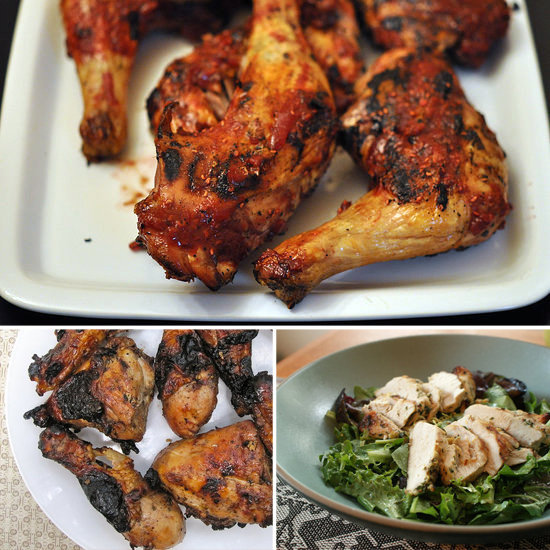 If you've grown tired of pairing grilled chicken with barbecue sauce, then it's time to step up your grilling game and take on one of these grilled chicken recipes. A Venezuelan marinade, citrus-herb vinaigrette, and a spicy raspberry sauce are just a few new things you can slather on smoky, crisp grilled chicken. Take a look at the other grilled chicken recipes we're pulling out of the YumSugar recipe vault.
Grilled Citrus Chicken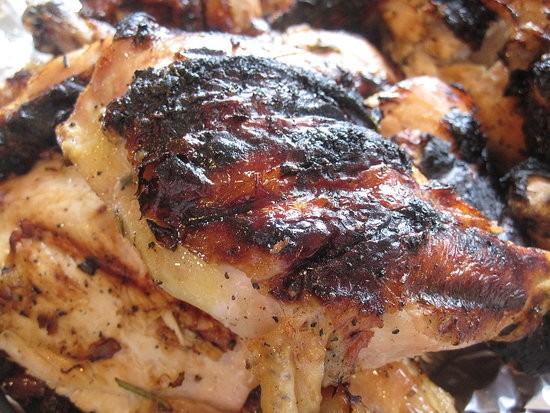 To achieve that perfect, slightly blackened skin, press this grilled citrus chicken [40] under a brick while cooking on the grill.
Grilled Buttermilk Chicken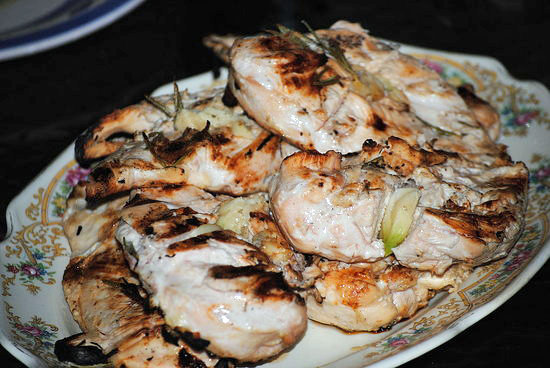 Grilled chicken doesn't need to be paired with sweet barbecue sauce. Buttermilk-marinated grilled chicken [41] is another alternative that keeps the chicken moist, tender, and slightly sour and full of garlic and rosemary flavors.
Beer-Can Chicken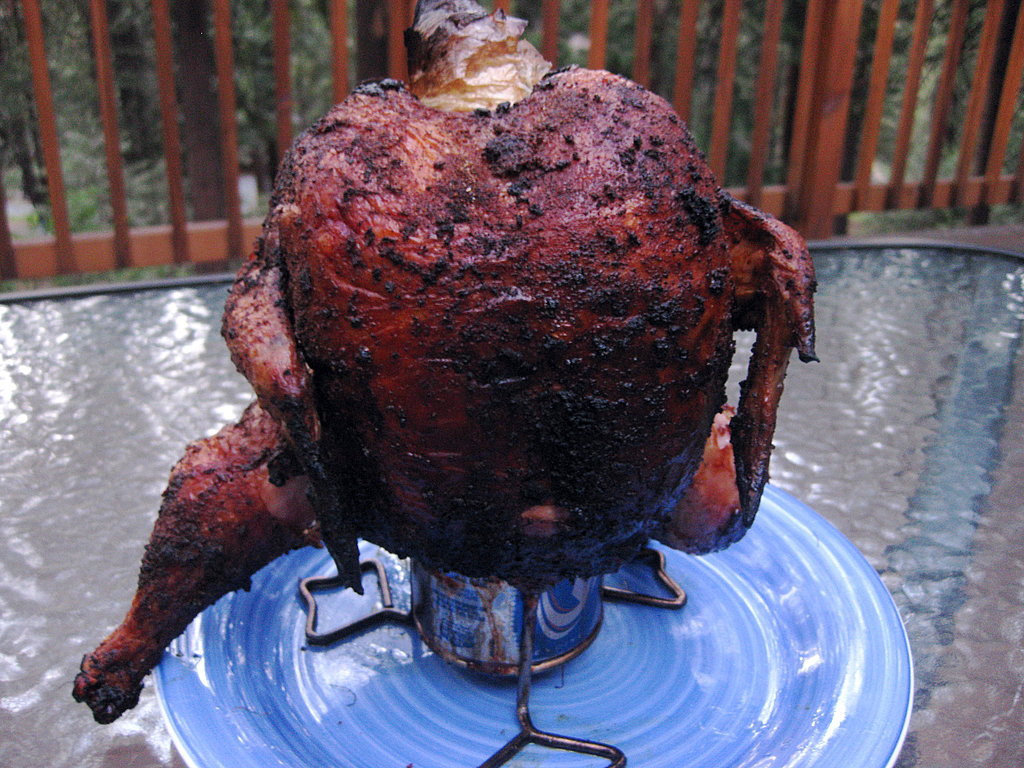 Nothing excites the crowd at a backyard barbecue like throwing a full-sized bird on the grill. This classic beer-can chicken [42] recipe keeps the chicken moist on the inside and crispy and sweet on the outside.
Grilled Chicken Salad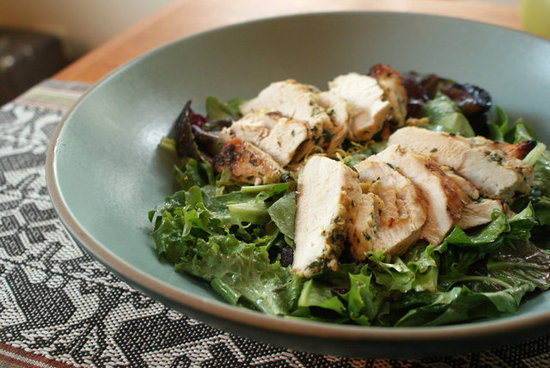 Simple and light, Michelle Obama's chicken salad [43] with herb sherry vinaigrette makes an easy Summer lunch or dinner.
Chicken Smothered in Raspberry BBQ Sauce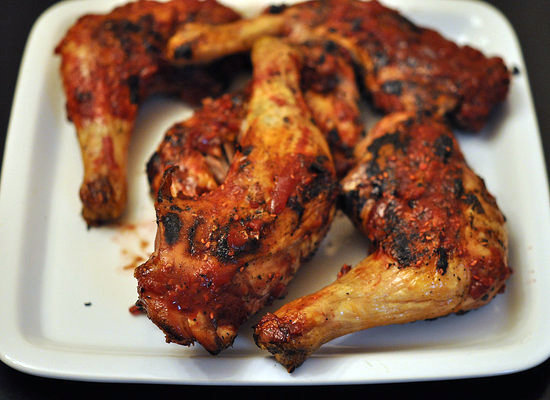 OK, maybe it is a BBQ sauce, but it's nothing like the ketchup variety. Raspberry barbecue chicken [44] mixes cumin, lime, serrano pepper, raspberry, and Worcestershire sauce for a sweet and spicy Mexico-meets-the-South barbecue sauce.
Grilled Citrus-Herb Chicken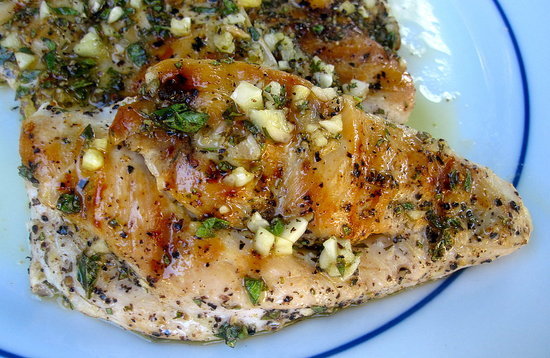 For this grilled citrus-herb chicken [45], sear chicken breasts on the grill and serve them with a fresh, light dressing made from mixed citrus juices and fresh herbs.
Venezuelan Grilled Chicken Recipe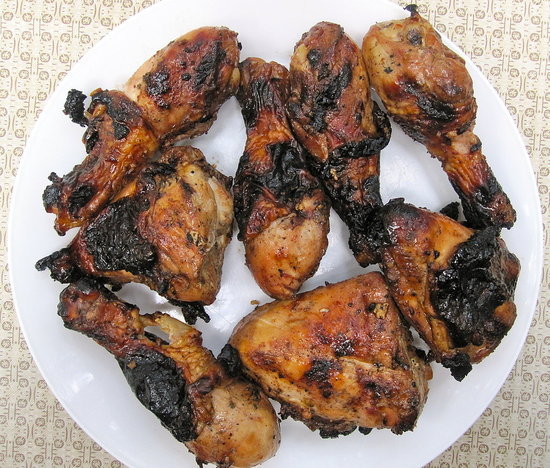 Brown sugar, Worcestershire sauce, and garlic make up the marinade in this Venezuelan pollo asado [46] recipe.
Meats to Try on the Grill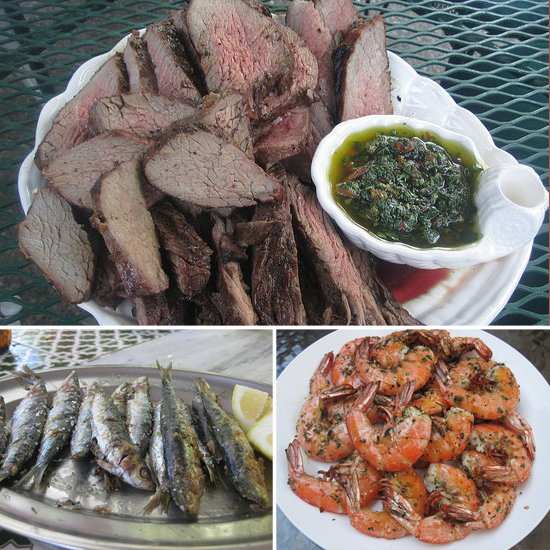 It's easy to get in a barbecue rut by grilling only the most basic and expected things, but there is a wide variety of meats including pork tenderloin, lamb chops, tri-tip beef, and sardines that are worth experimenting with. Expand your grilled meat repertoire with these 10 recipes, whether you want to marinate your meat with unfamiliar ingredients like Brazilian liquor or you just want a simple, uncomplicated prep to allow the flavor of the meat to speak for itself.
Grilled Spanish Sardines
Just like the Spanish like them: grilled and seasoned with chunky salt crystals. Learn the traditional method of grilling Spanish-style sardines [47].
Shrimp With Chili, Oregano, and Olive Oil
Nothing exotic, just a classic mixture of fresh herbs, garlic, chili flakes, and lemon zest is used to marinate these grilled shrimp in the shell [48].
Grilled Cachaça-Marinated Hanger Steak
Cachaça, the national liquor of Brazil, marinates this hanger steak [49] along with onion, ketchup, coriander, and soy sauce.
Tri-Tip With Chimichurri
Fresh oregano is used in place of parsley in this chimichurri-dressed tri-tip recipe [50].
Cuban Grilled Pork
Cuban grilled pork [51] combines fresh lime and orange juice, fragrant cumin and oregano, and lots of minced garlic. Slashing the meat before it's marinated allows the flavors to soak into the meat for a juicier, more tender result.
Grilled Lamb Chops With Garlic, Chilies, and Anchovies
Anchovies and lamb chops? It's an unusual combination: the briny saltiness of the anchovies enhances the flavors of this grilled lamb chop recipe [52].
Grilled Pork Tenderloin With Rosemary Coating and Red Pepper Sauce
This juicy pork tenderloin [53] is smothered in a rosemary puree, grilled, and served with a roasted red pepper sauce.
Grilled Gourmet Sausage Sandwich on Olive Bread
For something on the peppery, tart side, try a grilled chicken-apple-sausage sandwich [54] on olive bread with Dijon, onion, and red bell pepper.
Blackberry Jalapeño-Glazed Pork Tenderloin
Real blackberries and roasted jalapeños create a spicy-sweet glaze for this grilled pork tenderloin [55].
Tropical Hot Dogs
Dress up your hot dog with unconventional toppings like pineapple, peppadews, and cilantro with this tropical hot dog recipe [56].
Grilled Pizzas to Feed a Crowd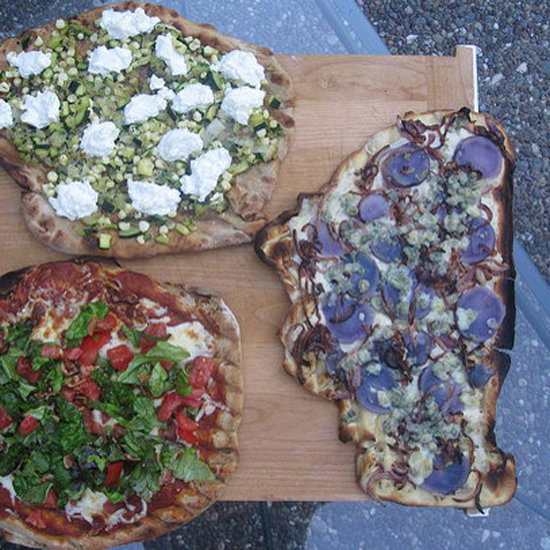 Struggling for barbecue meal ideas outside the tried-and-true burgers and hot dogs? We've got you covered! Not only is grilled pizza easy and fun to prepare, but it's also a great way to showcase superlative Summer produce and can often be vegetarian-friendly. So whether you're craving a gooey meat-and-cheese affair or something a bit more light and produce-driven, you're invited to fire up the grill and stretch out some dough.
Grilled Pizza With Hot Sausage, Grilled Peppers, and Onions
Looking for a meal that will stick to your ribs? This Italian sandwich-inspired pizza [57] topped with some traditional favorites fits the bill.
Grilled Fontina and Prosciutto Pizza
We love fontina for its delicate but nutty flavor and its superb meltability. It pairs exceptionally well with sweet and salty prosciutto, resulting in a pie that will keep you coming back for more [58].
For those who are so inclined, we'd imagine thinly sliced peach or nectarine will only add to the party.
Grilled Red, White, and Blue Pizzas
Both pleasing to the eye and to our taste buds, this charming play on patriotic fare [59] is definitely on our radar. With toppings ranging from purple potatoes and blue cheese to leeks and zucchini, this combination is sure to please all but the most finicky of eaters.
Essential Barbecue Sauces and Rubs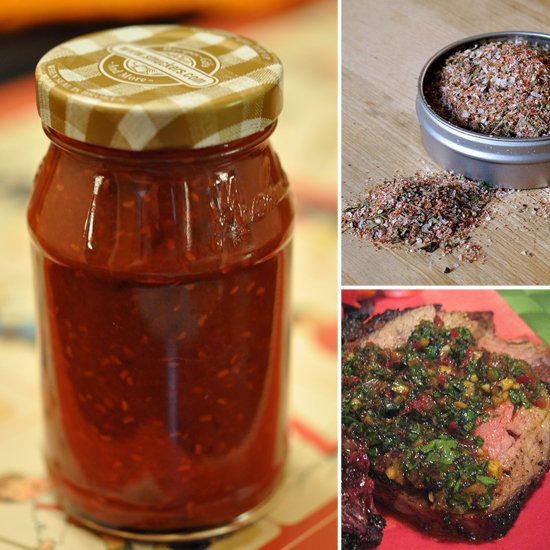 The smokiness of the barbecue grill can only do so much to your protein; ultimately, sauces and rubs provide most of the flavor punch. If you're used to buying premade sauces and rubs, you'll find that these five recipes are very easy and doable for a barbecuing newbie. You're only one click away from unctuously rich sauces and rubs for your grilled meats.
Cola Barbecue Sauce
Southerners love their barbecue and their sugary cola beverages, so why not marry the two in a sweet and piquant cola barbecue sauce [60]?
Chimichurri
Oregano, garlic, and red pepper are blended with olive oil to create chimichurri [61], a popular Argentinian condiment.
Kansas City Barbecue Sauce
For those who are averse to chopping and need to whip up a barbecue sauce on the fly, Kansas City barbecue sauce [62] requires no prep work and contains the interesting addition of allspice and cinnamon.
All-Purpose Spice Rub
An all-purpose spice rub [63] offers a balanced range of flavors for your meats. Keep a batch on hand to sprinkle on meats or veggies prior to cooking. Spice rub will take just about anything to a new salty, sweet, and spicy level.
Raspberry Barbecue Sauce
Tangy and tart raspberry barbecue sauce [64] fuses Mexican cumin and serrano flavors with common barbecue ingredients like Worcestershire sauce.
Move Over, Steak! It's Time For Grilled Dessert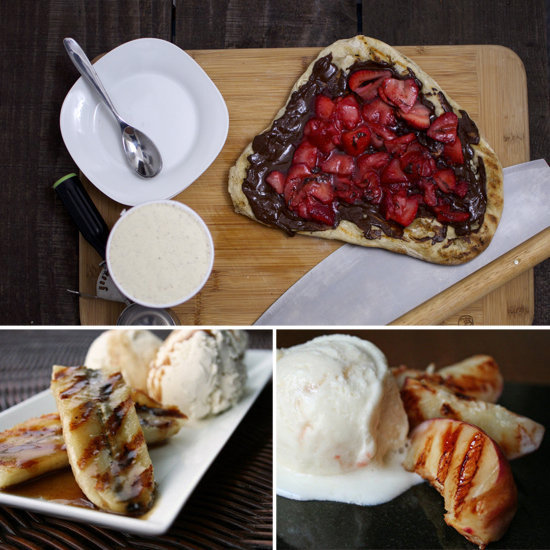 During Summer, it's instinctive to throw burgers and meats on the barbecue, but don't overlook dessert: tickling sweet baked goods or fruit over an open flame only offers more smoky complexity and a chance for sugars to caramelize deeper. Check out five desserts we can't grill enough of right now.
Grilled Bananas Foster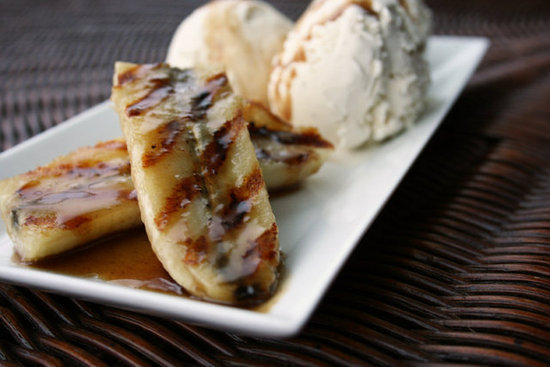 Bananas Foster is a traditional Creole dessert that's been around for more than 60 years, but we gave it a contemporary twist by throwing the bananas onto an open flame [65].
Grilled Nectarines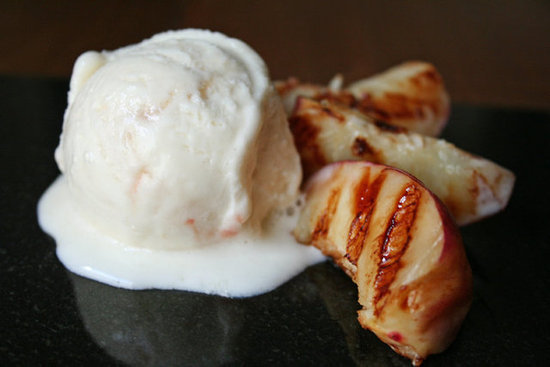 Highlight the sweetness of nectarines [66] by throwing them on the grill. Add extra refreshment with a scoop of Greek frozen yogurt.
Sweet Pizza With Strawberries and Chocolate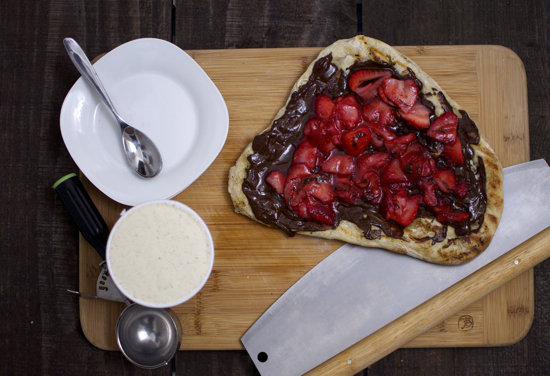 If you're already making grilled savory pies [67], why not finish things off with a dessert pizza [68]? This one's topped with softened strawberries and melted chocolate.
Fruit Kebabs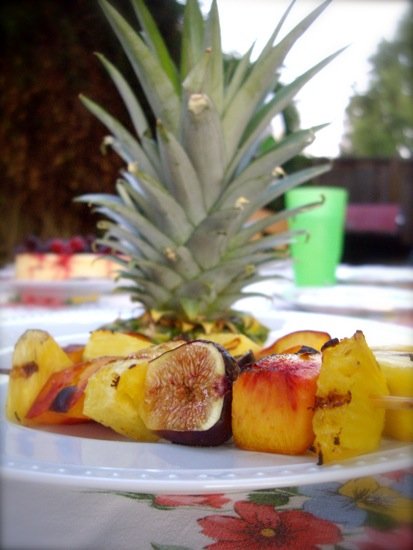 Fruit-studded skewers [69] are just as fun to eat as their savory counterparts. Alternate bite-sized pieces of pineapple, nectarines, and figs, sweetened ever so slightly with brown sugar.
Grilled Pound Cake With Rose Whipped Cream, Pistachios, and Cherries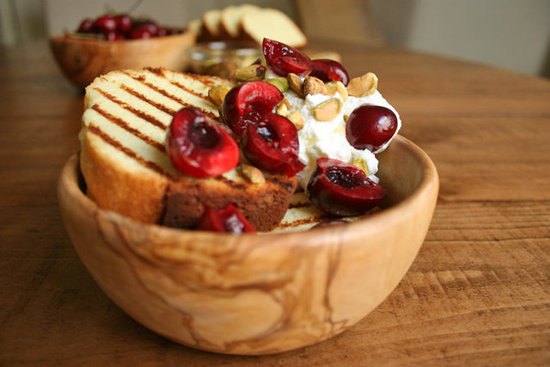 If you think pound cake is addictive, you ought to try grilled pound cake: charring transforms the buttery cake into a warm, smoky treat that pairs well with whipped cream and fresh fruit. Try this Middle Eastern take [70] on the dessert, made with rosewater whipped cream, pistachios, and fresh, pitted cherries.