Hot Buttered Rum
From H. Joseph Ehrmann [6]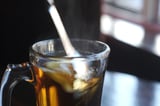 Ingredients
1 clove
1 inch of cinnamon stick (broken to fit inside a tea infuser)
1 sugar cube (recommended: demerara)
4 tablespoons unsalted butter, divided
boiling water
2 ounces spiced rum (recommended: Gosling's Black Seal Rum)
1/4 ounce St. Elizabeth's Allspice Dram
Directions
In a tea ball or other tea infuser, place the clove, cinnamon stick, sugar cube, and 2 tablespoons of the butter.
Steep the ball in 4 ounces of boiling water for 3 minutes.
Add the spiced rum and St. Elizabeth's Allspice Dram.
Stir by dipping tea ball 3-4 times. Float the remaining 2 tablespoons of butter on top and serve.
Makes 1 drink.
Information
Category

Drinks, Hot Drinks