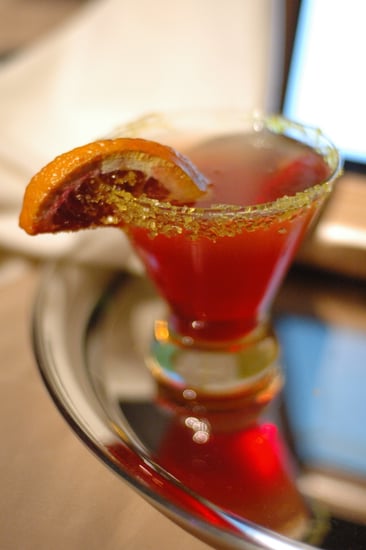 When you say "Red Carpet," most people probably think of fantastic frocks and celebrity smiles. Not the folks at Patron. For them the phrase "Red Carpet" has a completely different meaning. To them it means a lavish raspberry red tequila drink coated in edible gold. The specialty drink is called the Patron Red Carpet, and four thousand of them will be served at this year's Governors Ball. If you'd like to make that four thousand and one, get the recipe — including a video on how to make one at home — when you
.


Note: This recipe includes a gold sugar rim. They are actually going to be using edible gold, but you can just color yours with a bit of food coloring paste.
Patron Red Carpet
From Patron
Makes 1 cocktail.
1/2 oz Patrón Silver Tequila
1/2 oz Patrón Citrónge Orange Liqueur
Fresh raspberry juice
Dash organic cranberry juice
Fresh lime juice
Gold sugar rim
Orange wedge dipped in gold sugar for garnish
Splash of grenadine
Wet the rim of a cocktail glass using an orange or lime wedge.
Rim with gold sugar, shake off excess sugar and set aside.
Pour the liquid ingredients — minus the grenadine — into a cocktail shaker filled with ice.
Shake well.
Strain into the prepared cocktail glass.
Add a splash of grenadine.
Garnish with an orange wedge dipped in gold sugar.