Happy Hour: Ruby Chai Appletini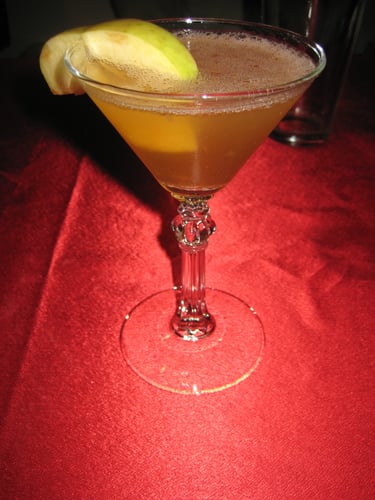 When I hear the word appletini, I can't help but cringe and think of a cloying, neon green cocktail. That's why, while at a recent Root Division art auction, when I saw that the specialty cocktail was an appletini, I avoided it. However, when I heard the appletini was a creation of one of San Francisco's best bartenders, H. Joseph Ehrmann, I knew I had to give it a try. Made with fresh apple cider and vodka infused with tea, this appletini is nothing like its processed counterpart. It tasted like fall in a glass with hints of vanilla and cinnamon.
It takes time to infuse the vodka and apple cider, but the process is worth it, especially if you make a large batch and serve it for Thanksgiving. Don't let Fall pass without making this refreshing, not-too-sweet cocktail, so get the recipe now and
.