You know what they say: if it's too good to be true, then it probably is. For a while, the weather was unseasonably warm, and it seemed there might not be a Winter. But then this week's "polar vortex" hit. Not only is it cold across most of America, but the sky's poured all manner of rain, sleet, and snow, and the bleak forecast continues all week. What to do now? Why, make clam chowder.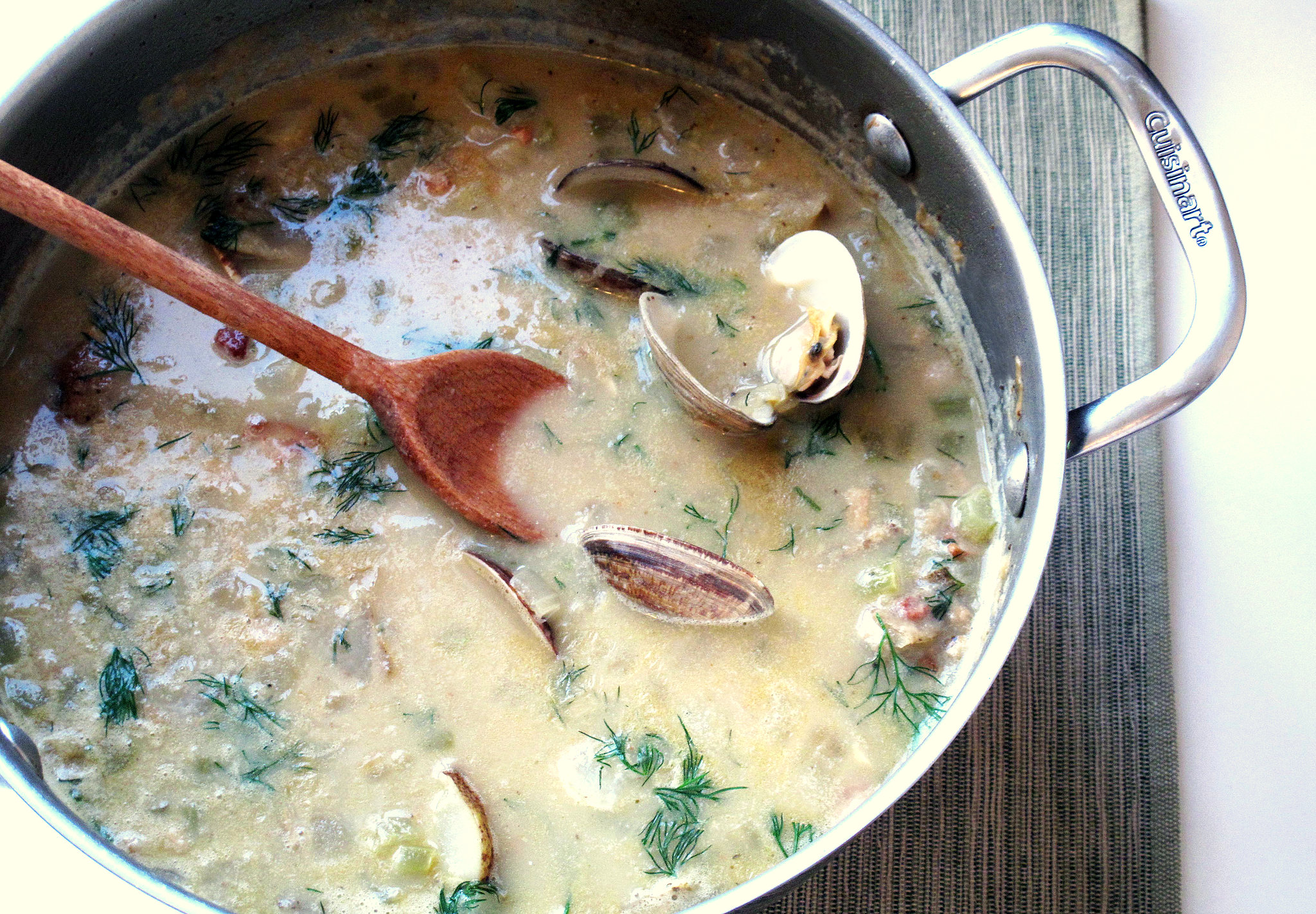 If you're partial to the New England kind — the traditional version that calls for copious amounts of salt pork and more heavy cream than you want to know about — then you'll love this creative take on the classic.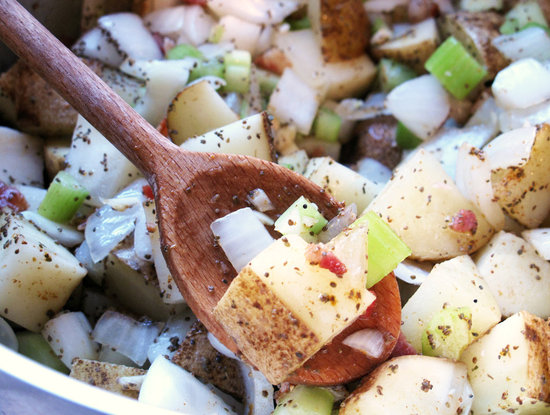 This rendition, which comes from chef Sam Talbot's book, The Sweet Life, calls for a few unusual additions: celery seeds, rice flour, and almond milk. You may be skeptical at the moment, but I promise you won't be once you try it: it's zippy, creamy, and briny all at once. Once the chowder comes together, it's finished with a generous dusting of fresh dill weed. I promise you, there's no better antidote to crappy Winter weather.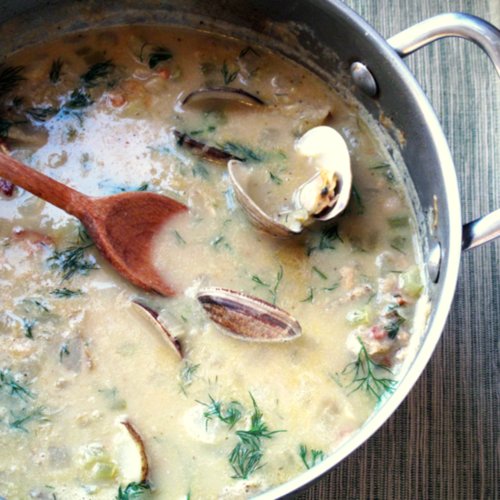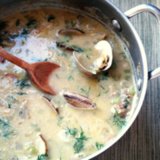 Ingredients
2 tablespoons olive oil
2 slices thick-cut bacon, chopped into small pieces
1 pound red or white russet potatoes, peeled and coarsely chopped
1 large Vidalia or yellow onion, diced
2 celery ribs, diced
2 garlic cloves, finely chopped
1 1/2 teaspoons Old Bay seasoning
1 tablespoon celery seeds
1/4 cup rice flour
2 8-ounce cans minced clams
1/2 cup dry white wine
2 cups bottled clam juice
2 cups low-sodium chicken broth
1 cup almond milk
1 tablespoon Worcestershire sauce
1 tablespoon hot sauce
2 dozen littleneck clams, scrubbed
1/4 cup chopped fresh dill
Salt
Pepper, freshly ground
Directions
In a medium saucepan, heat the oil over medium-high heat. Add the bacon, and cook until the fat is rendered and the bacon begins to brown, 2 to 3 minutes. Add the potatoes, onion, celery, garlic, Old Bay seasoning, and celery seeds. Cook, stirring frequently, until the onion and celery are translucent, 2 to 3 minutes.
Sprinkle the rice flour over the vegetables, and stir for 1 minute to make a roux. Add the canned minced clams and wine, stirring well to combine. Pour in the clam juice, broth, milk, Worcestershire sauce, and hot sauce. Bring the soup to a simmer, and cook, stirring occasionally, until the potatoes are fork-tender, about 45 minutes.
Add the whole clams and the dill, cover the pot, and cook until the clams open, 8 to 10 minutes. Discard any unopened shells. Season to taste with salt and pepper.
Nutritional information per serving: 236 calories, 15 grams protein, 25 grams carbohydrates, 7 grams total fat (1 gram saturated), 32 milligrams cholesterol, 3 grams fiber, 1,169 milligrams sodium
Reprinted from: The Sweet Life © 2011 by Sam Talbot. Permission granted by Rodale, Inc. Available wherever books are sold.
Information
Category

Chowder, Soups/Stews

Cuisine

North American

Yield

6 servings