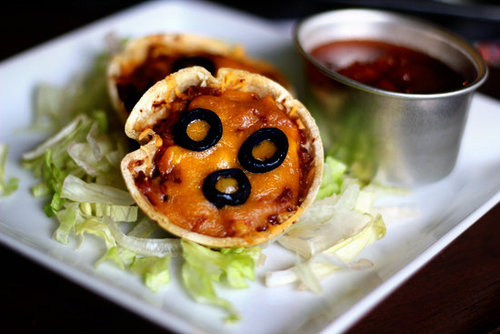 From Dashing Dish [4]
Mini Mexican Pizzas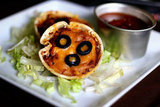 Ingredients
3–4 large whole-wheat tortillas, or enough to cut out 12 small circles (I prefer low-carb/high-fiber tortillas)
1 cup lean ground turkey, cooked (or 1 cup lean ground beef or 1 cup MorningStar meatless Crumbles)
1/2 cup salsa of choice (I used one with corn)
2 tsp dry taco seasoning
1/2 cup low-fat refried beans
1/2 cup low-fat shredded Mexican blend or 2 percent cheddar cheese
Optional Toppings: sliced black olives, shredded lettuce, low-fat sour cream, chopped tomatoes
Directions
Preheat oven to 425ºF. Spray a 12-count muffin tin with nonstick cooking spray.
Start by laying each tortilla out individually on a flat surface, and use an empty can, glass cup, or cookie cutter to cut 3–4 medium circles out of each wrap.
Press each wrap circle into muffin tin using your fingers. (Note: it doesn't have to cover the entire side of the tin. It should just fit snugly!)
Meanwhile, in a small bowl, mix together the ground meat, salsa, taco seasoning, and refried beans. Stir until well-combined.
Scoop one eighth cup of the meat mixture into each wrap.

Top with shredded cheese (dividing it evenly between each pizza) and olives, if desired.

Bake in the preheated oven for 12–15 minutes or until the cheese is melted.




Wait for the mini Mexican pizzas to cool and remove from the muffin tin using a fork or knife. The pizzas should pop out with ease!

Serve with a side of salsa, low-fat sour cream, chopped tomatoes, and/or shredded lettuce, if desired!
Makes 12.
Information
Category

Snacks, Other

Cuisine

Mexican