He'brew Funky Jewbelation Beer Review
Beer of the Day: He'brew Funky Jewbelation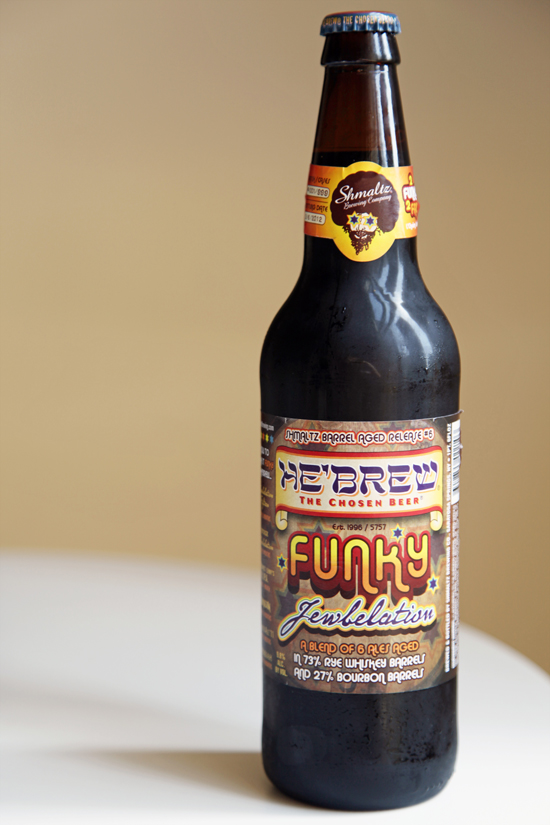 With a name like He'brew Funky Jewbelation ($13 for 22 ounces) and a whopping 9.8-percent ABV to boot, we're not sure what has us giggling more about this robustly flavored beverage. He'brew turned tradition on its head with this blended beer, which gets its nuanced flavor from a mishmash of six of their ales, including Origin (a pomegranate ale), Messiah (a nut-brown ale), Bittersweet Lenny's R.I.P.A. (a double-strength IPA), Reunion (a dark imperial ale), Jewbelation Fifteen (made from 15 varieties each of hops and malt), and Vintage Jewbelation. To top things off, this hybrid creature is then further aged in rye whiskey and bourbon barrels. All in all, it could've been a disastrous proposition, but in this brewmaster's skilled hands, the result is a beer with great depth and nuanced flavor.

Keep reading for our suggested pairings.
This molasses-hued beer reminded us of deep-dark pumpernickel bread, teriyaki sauce, and root beer. Despite its deep-dark hue and high alcohol content, this full-bodied beer goes down smoothly and would pair particularly well with salty, sharp cheeses like gruyere or cheddar. We're also dreaming of braising meat in it or employing this sweet, savory brew in beer-can chicken.

Would you try this blended beer?