Besides the stuffing and the mashed potatoes, one of the things I love about Thanksgiving is the turkey. If you've never made roast turkey before, don't be intimidated; I've got a simple and surefire technique for perfect turkey: make an herb butter. Soften, then season butter with tons of fresh herbs and rub the whole thing all over the turkey, including under the skin.

Depending on the theme of your menu, the butter can be seasoned with all sorts of herbs, spices, and condiments. This recipe gets extra fat and flavor from the addition of chopped bacon and tangy Dijon mustard; however, feel free to adapt the butter to your liking! The resulting turkey comes out of the oven with a glistening skin and moist meat. Check out the basic method now.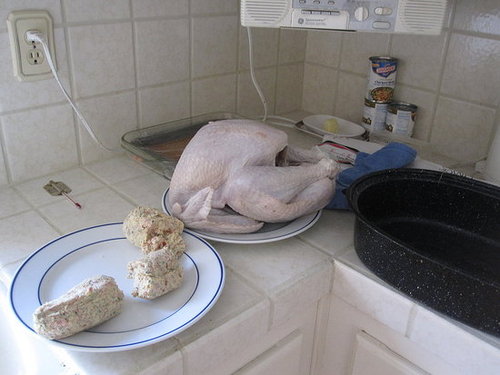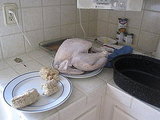 Ingredients
Herb Butter
1 cup (2 sticks) unsalted butter, room temperature
8 ounces applewood-smoked bacon slices, coarsely chopped
1/3 cup Dijon mustard
1/4 cup chopped fresh thyme
1/4 cup chopped fresh sage
1/4 cup fresh lemon juice
1 tablespoon coarse sea salt or coarse kosher salt
1 tablespoon freshly ground black pepper
1 tablespoon finely grated lemon peel
Turkey
1 12-15 pound turkey
1 onion, cut into chunks
1 carrot, cut into chunks
1 celery stalk, cut into chunks
several sprigs of thyme
several sprigs of sage
1 lemon cut into quarters
Directions
Make the herb butter: Blend all ingredients in processor until bacon is finely chopped. Transfer to sheet of plastic wrap. Using plastic wrap as aid, roll butter mixture into 2-inch-diameter log; chill until firm. Can be made 3 days ahead. Keep chilled.
Cut bacon-herb butter into 1/4-inch-thick rounds and let stand at room temperature 20 minutes. Rinse turkey inside and out; pat dry. Starting at neck end, carefully slide hand between skin and breast meat, then slide hand between skin and thigh meat. Carefully slide butter slices between skin and leg, thigh, and breast meat to cover (there will be a generous amount of butter mixture). Spread butter over the entire outside of turkey. Sprinkle 1 teaspoon coarse salt and 1 teaspoon pepper over turkey, and 1 teaspoon coarse salt and 1 teaspoon pepper in main cavity of turkey. Place turkey on rimmed baking sheet.
Set rack at lowest position in oven; preheat to 350°F. Stuff the turkey cavity with the onion, carrot, celery, extra herbs, and lemon. Place turkey in a roasting pan. Tuck wings under; tie legs together loosely to hold shape. Place turkey in oven; roast until instant-read thermometer inserted into thickest part of thigh registers 170°F, basting with pan drippings every 30 minutes and tenting loosely with foil if browning too quickly, about 4 hours total. Transfer turkey to platter (internal temperature of turkey will increase 5 to 10 degrees). Let turkey rest for 15 minutes. Carve and serve with your favorite gravy.
Serves 8-10.
Information
Category

Main Dishes, Poultry

Cuisine

North American