If you're searching for a gift to present to a loved one, why not go for something homemade and delicious? Whether you're looking for a quick and easy project or a more involved afternoon affair, these creative gifts will impress all of your friends and family. Likewise, we have picks for any palate and proclivity, including those with a raging sweet tooth, the salt obsessed, the boozehound, and more.
Jump ahead to:
Sweet spreads [1]
Savory snacks and nuts [2]
Pickles and other jarred goods [3]
Cookies and cakes [4]
Candy and chocolate confections [5]
Drinks, liqueurs, syrups, and sauces [6]
Homemade Biscoff Butter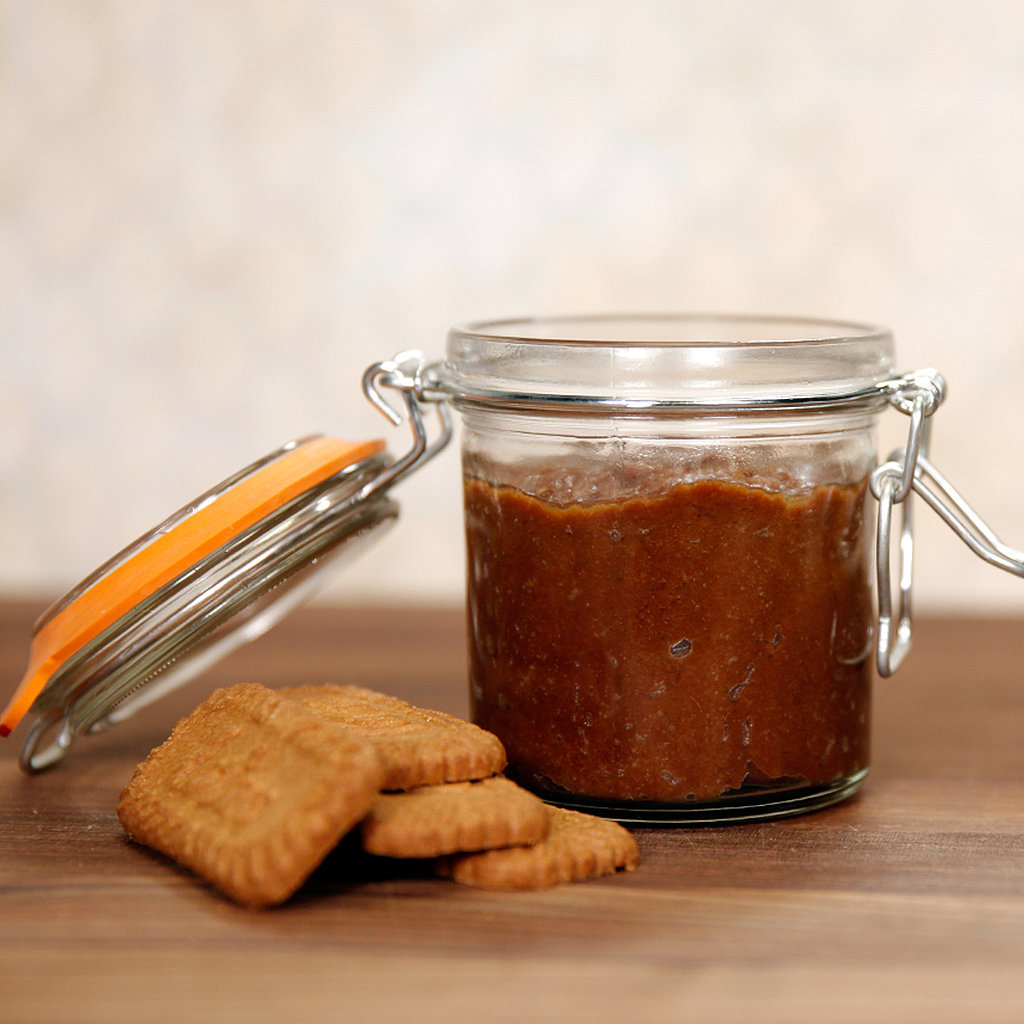 Blow their minds by giving them a jar of creamy, crunchy, completely irresistible Biscoff butter [7].
Earl Grey Kumquat Marmalade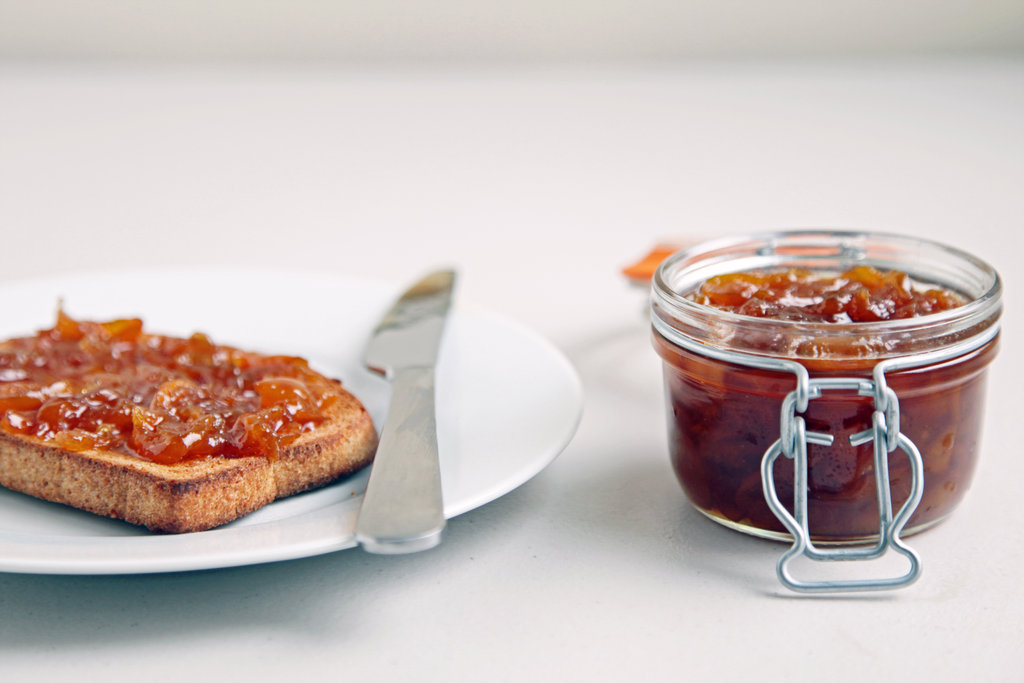 Like orange marmalade with training wheels — it's less bitter — Earl Grey kumquat marmalade [8] is a particularly lovely gift when packaged with a loaf of rustic bread.
Almond Nutella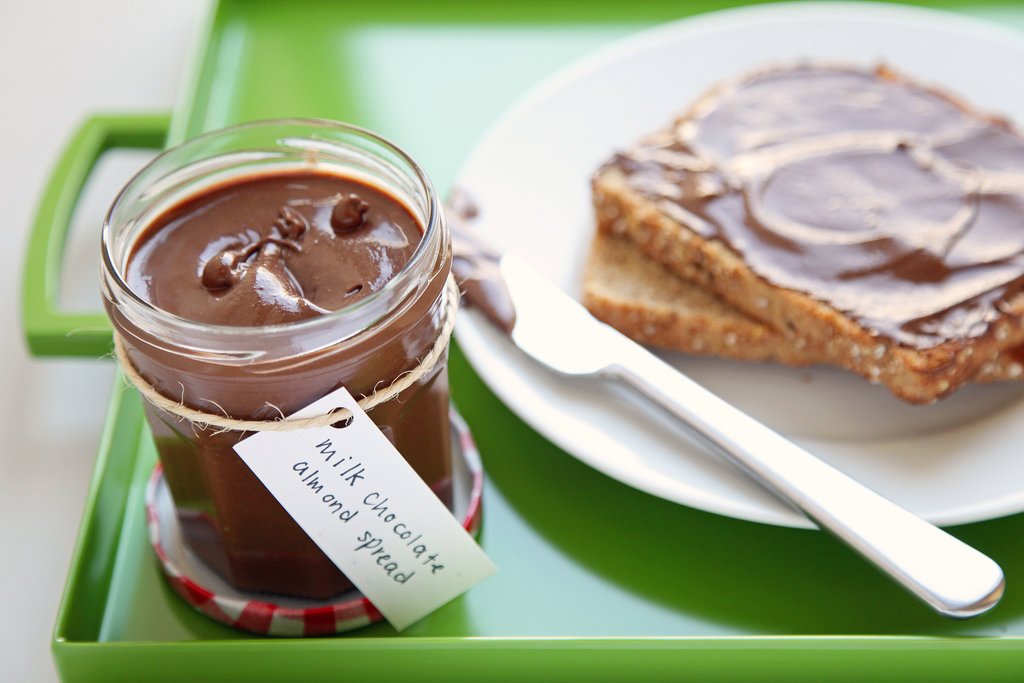 Almonds sub for the traditional hazelnuts in this easy-to-prepare and utterly addictive milk chocolate almond spread [9].
Quince Paste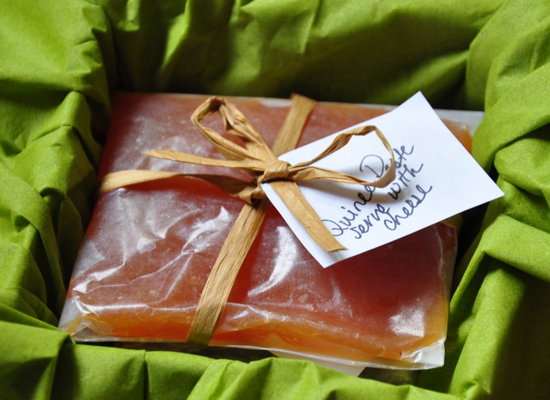 Want to wow a food snob? Make this quince paste [10], then package it with manchego cheese and serrano ham for an impressively gourmet gift.
Lemon Curd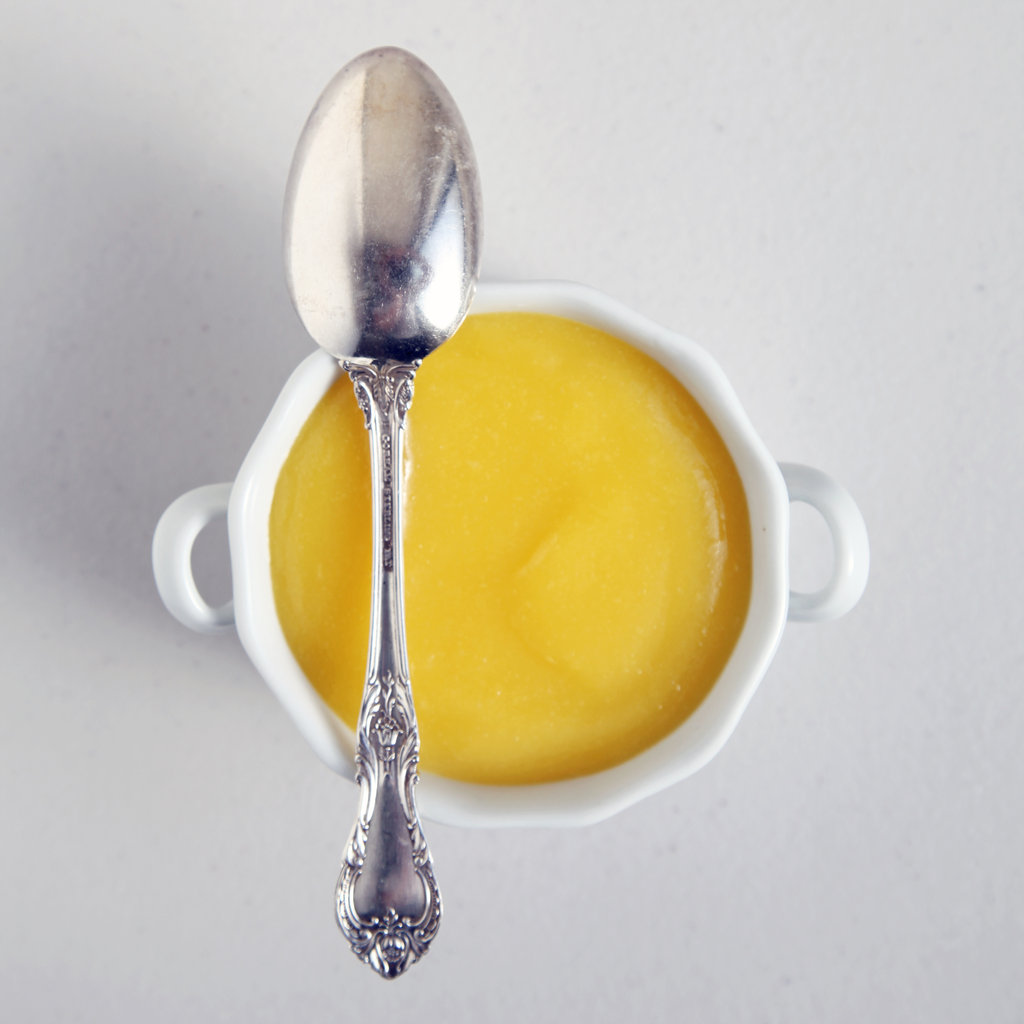 Pair a jar of lemon curd [11] with a package of crumpets or homemade shortbread cookies [12] for a thoughtful gift. Just make sure to refrigerate it until shortly before it will be unwrapped as it's relatively perishable.
Pepper Jelly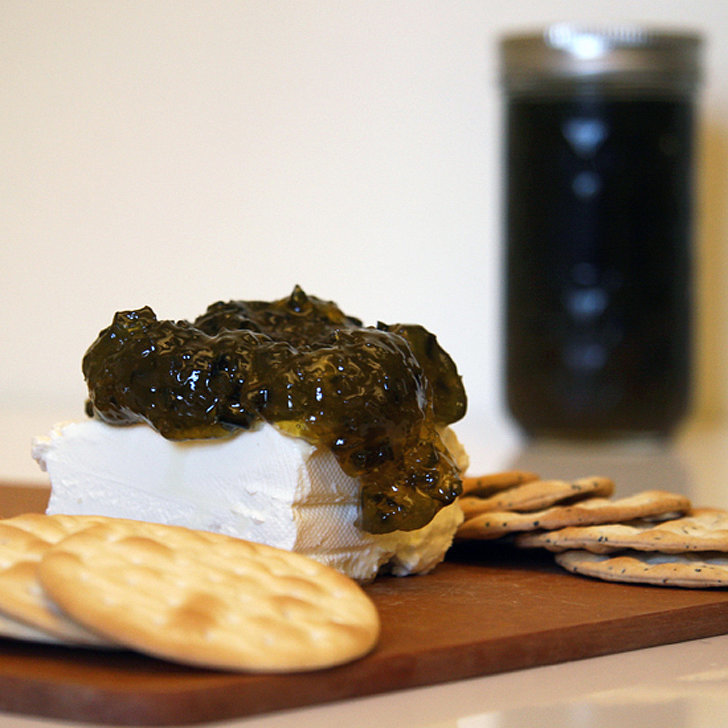 Give them a taste of the South with a jar of spicy-sweet pepper jelly [13].
Chocolate Hazelnut Spread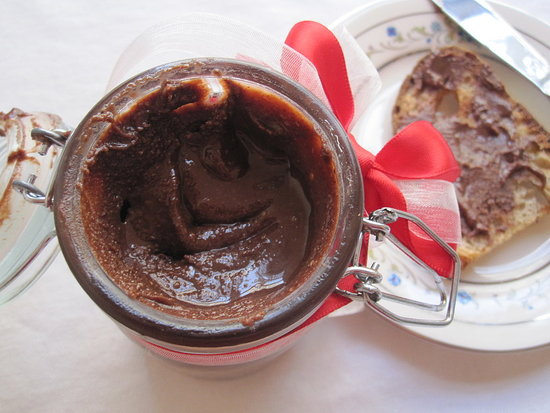 Thanks to a food processor, you can make a homemade version of Nutella [14], the popular chocolate hazelnut spread, in under 30 minutes.
Pomegranate Jelly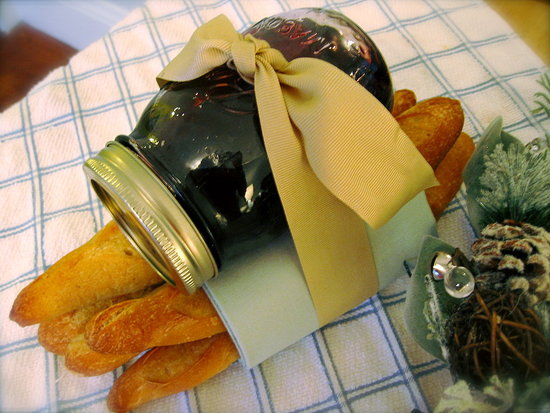 Send a heartfelt message with handmade pomegranate jelly [15], a gift that takes 15 minutes and less than $10 to make.
Marinated Feta Cheese With Oregano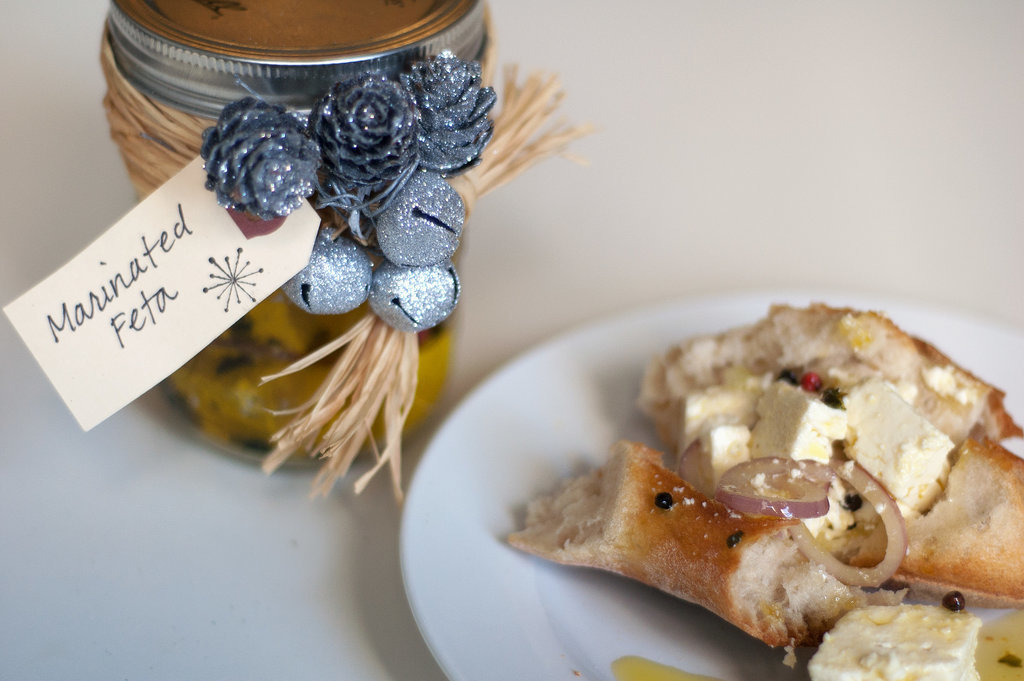 Briny and herbal marinated feta cheese [16] can be used to top salads, spread on toast, or added to a cheese platter.
Za'atar-Spiced Almonds
Short on time, but still want to tuck a few edible gifts under the tree? Roast up a few batches of zesty za'atar-spiced almonds [17].
Garam Masala Popcorn
Indian-spiced popcorn [18] makes for an excellent last-minute edible gift as it comes together in a flash, and each batch makes enough for many.
Rosemary-Sesame Pecans
Nutty, salty, and sweet, rosemary-sesame pecans [19] hit all the marks and are sure to tickle their taste buds.
Beef Jerky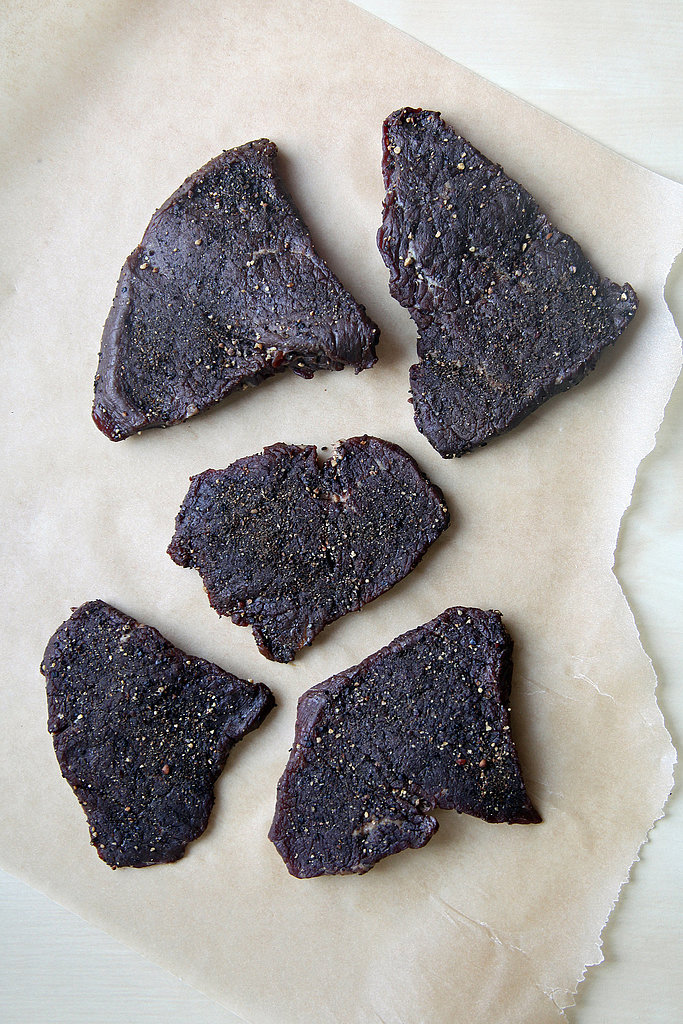 Although it takes over 10 hours to make, this black-pepper beef jerky [20] is downright addictive.
Smoky and Spicy Almonds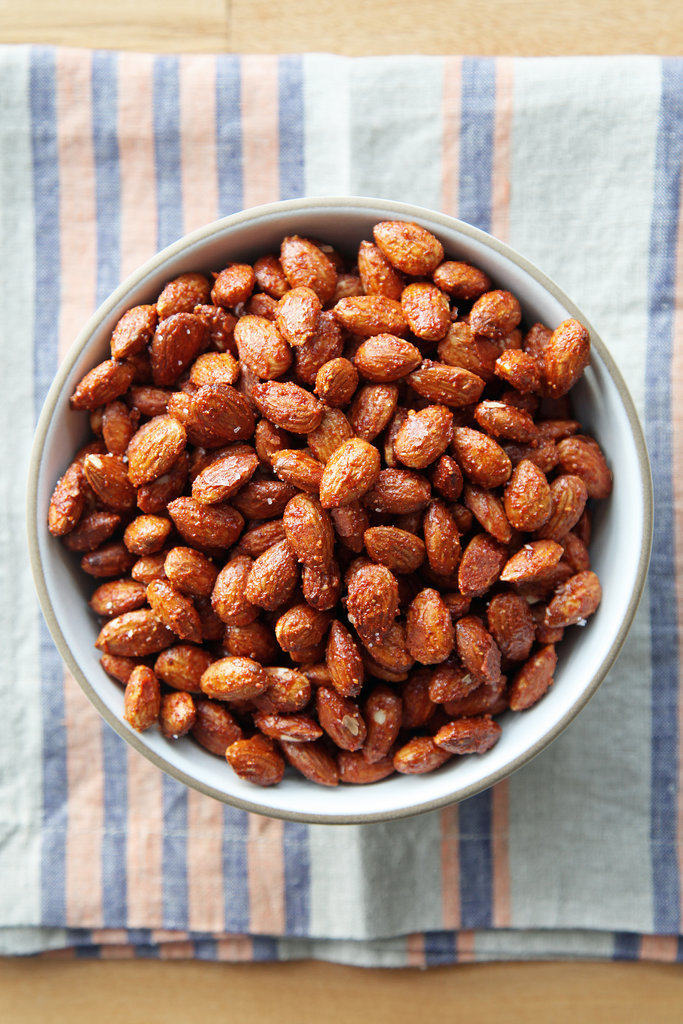 If you're traveling this holiday season, make two batches of these smoky and spicy almonds [21] — one to give your hostess upon arrival at your destination, and another for you to enjoy en route.
Cinnamon Apple Chips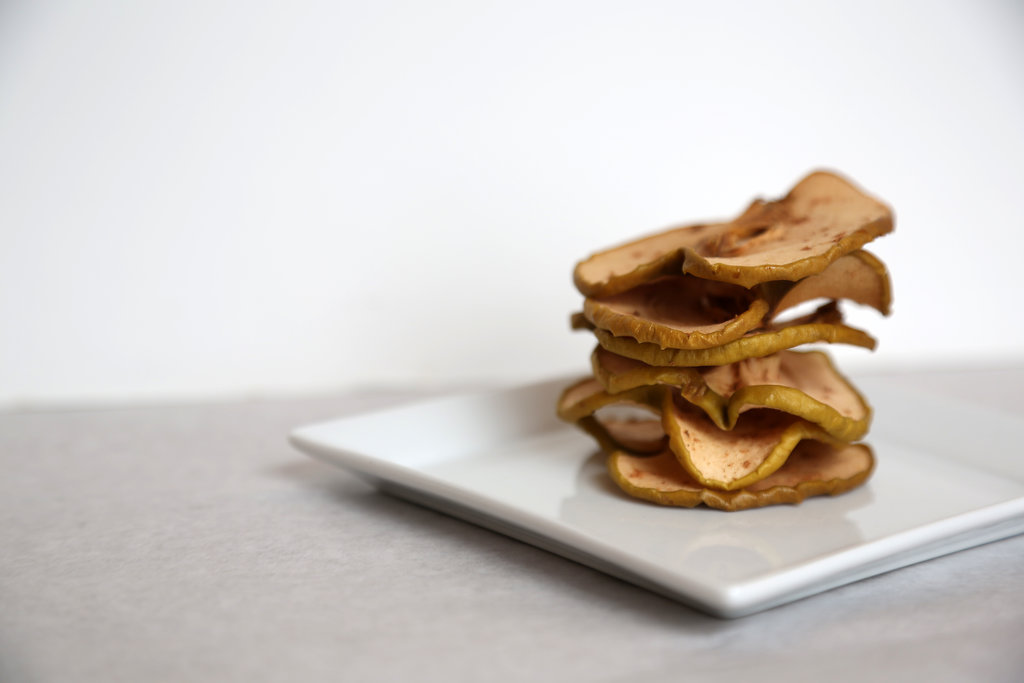 A package of crisp cinnamon apple chips [22] would make for a much-appreciated reprieve from the onslaught of holiday sweets.
Thyme Crackers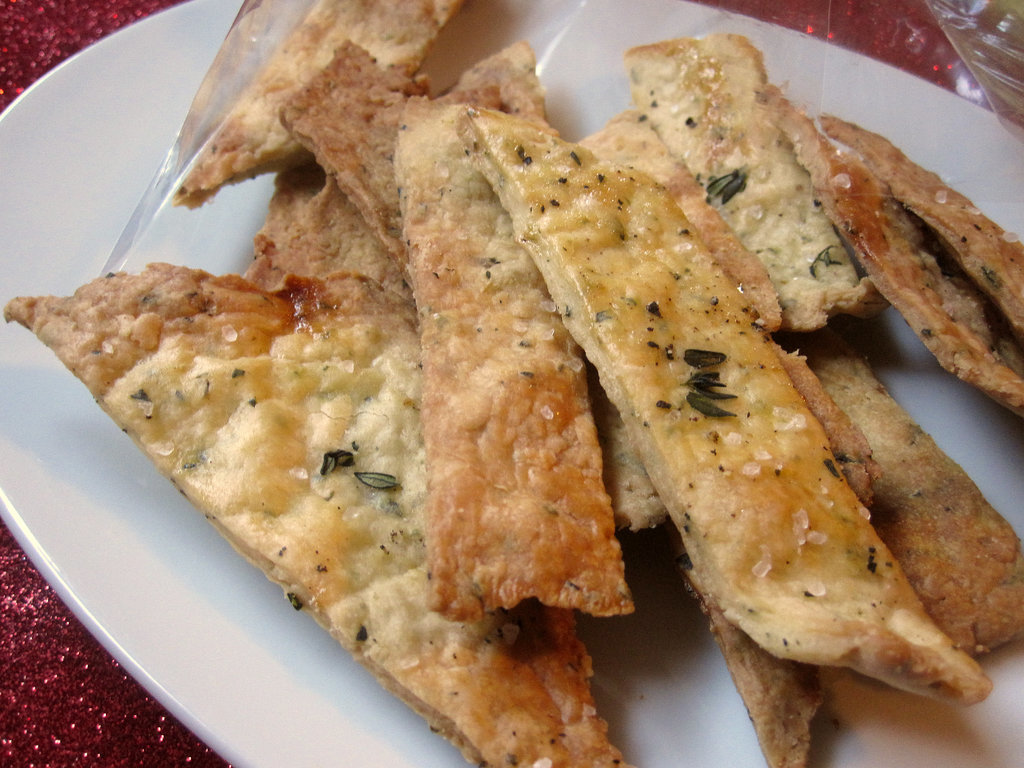 With the help of a food processor, homemade crackers [23] are quite simple to make. This version is seasoned with thyme and sea salt.
Spiced Pecans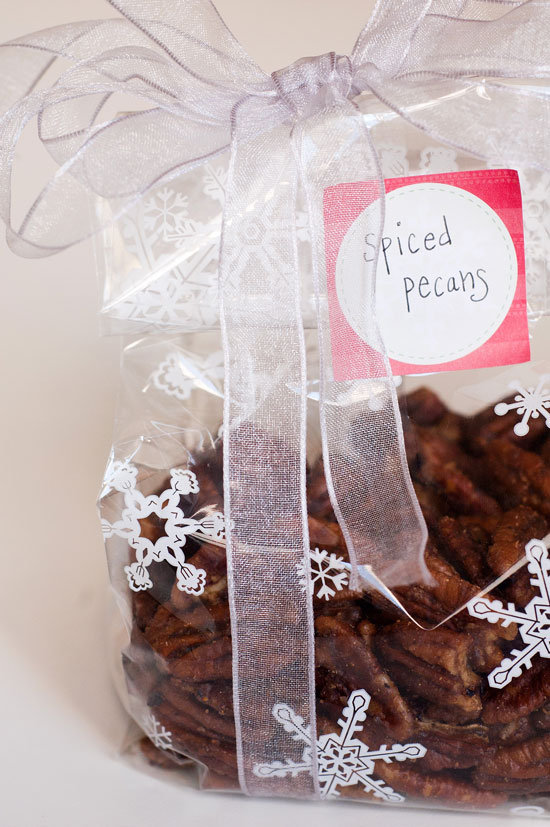 These spiced pecans [24] are an impressive and festive edible gift!
Brioche and Herbed Butter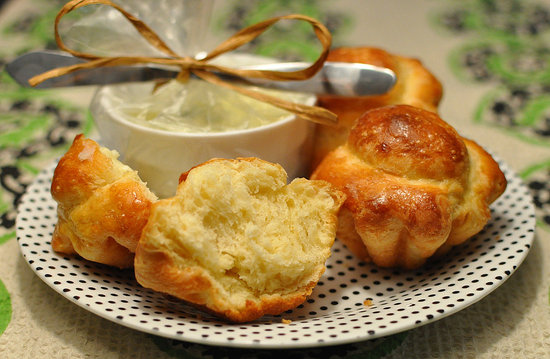 Bread with butter is one of life's simple pleasures, so who wouldn't love a batch of homemade brioche with a delectable herb butter [25]?
Parmesan Black Pepper Biscotti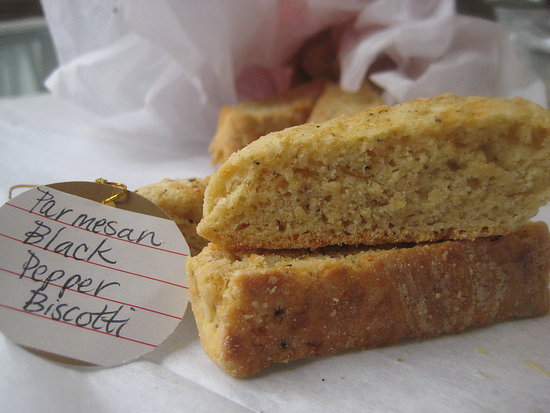 This peppery treat [26] is one part biscotti cookie, one part savory cracker, which makes it a thoughtful present for just about anybody.
Smoky Cashews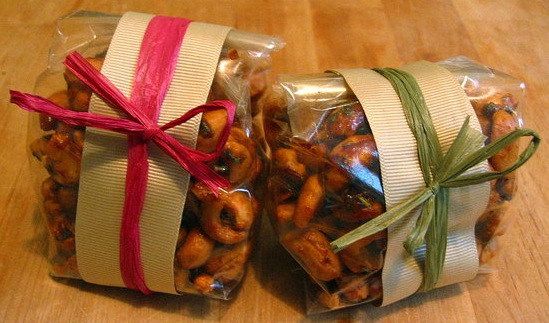 Don't shun those who lack a sweet tooth. Instead, send them home smiling with pretty parcels of smoky, herb-scented cashews [27].
Spicy Pickled Green Beans
Tart and spicy pickled green beans [28] are an excellent reprieve from the abundance of holiday sweets.
Homemade Hot Sauce
Spice things up — seriously — with homemade hot sauce [29]! It's a simple recipe that takes any dish to a whole new level.
Homemade Vanilla Extract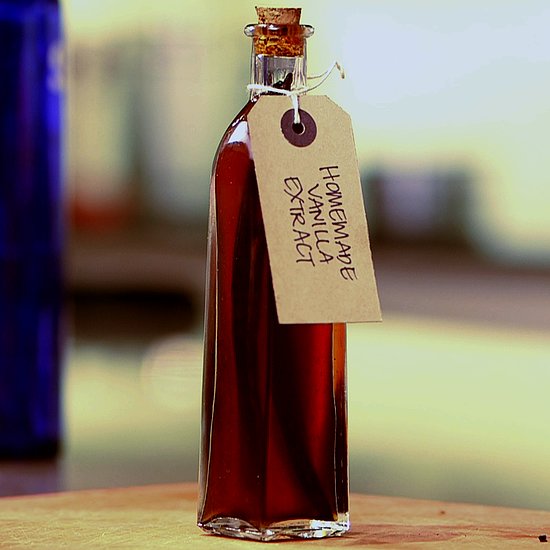 Give them a bottle of homemade vanilla extract [30], and they'll think of you every time the bake up a batch of cookies.
Bacon Jam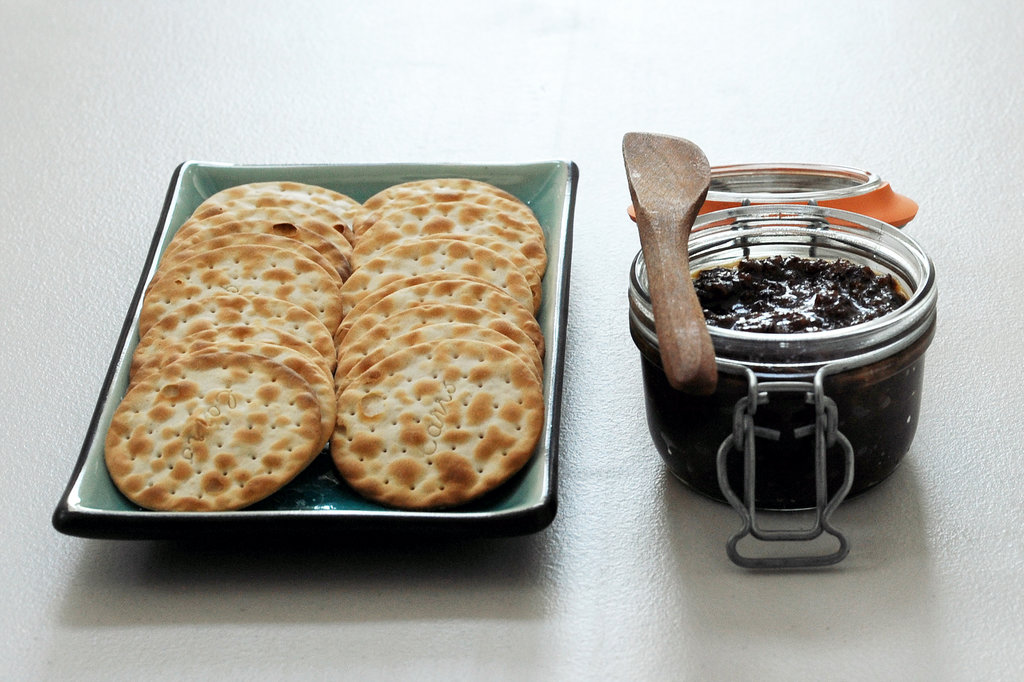 Yes, you read that right. I said bacon jam [31]! This savory, porky spread will have bacon-lovers weak in the knees.
Garlic Confit
Garlic transforms from sharp to smooth and slightly sweet when simmered in olive oil [32]. It's like two gifts in one, as the oil in the jar doubles as an excellent addition to salad dressing.
Flavored Salts
Whip up your own flavored salts [33], and package them in sweet little jars!
Roasted Red Peppers With Garlic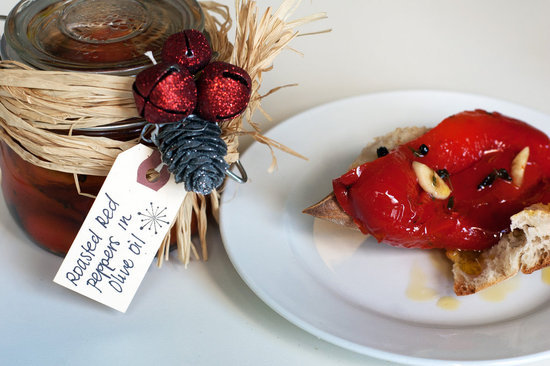 Roasted red peppers with garlic and olive oil [34] make a wonderful and unexpected edible gift!
Cocktail Onions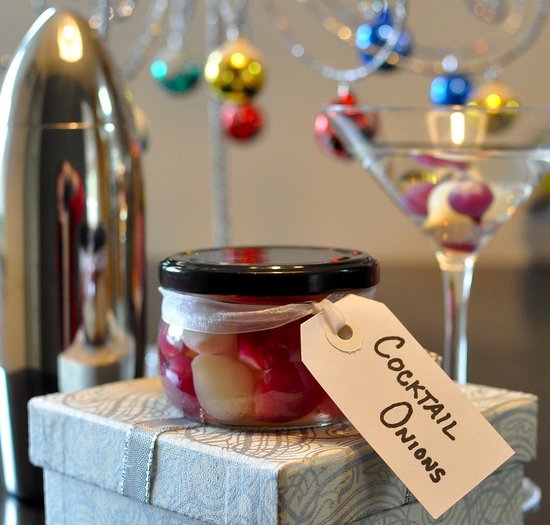 Turn a bottle of alcohol into a cocktail kit by packaging it with homemade cocktail onions [35]. These pickled onions are amazing in a gin martini!
Olive Tapenade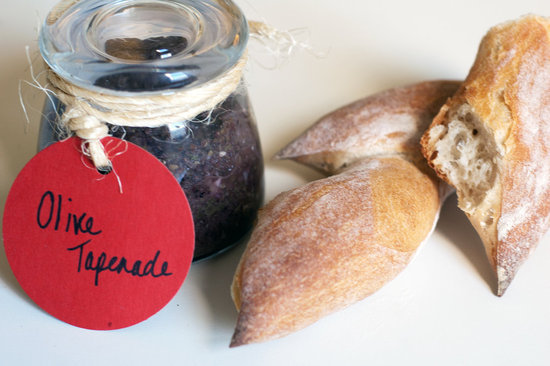 With a few flavorful ingredients and a food processor, you can whip up a batch of olive tapenade [36] that will make your friends and family very, very happy.
Homemade Sriracha Sauce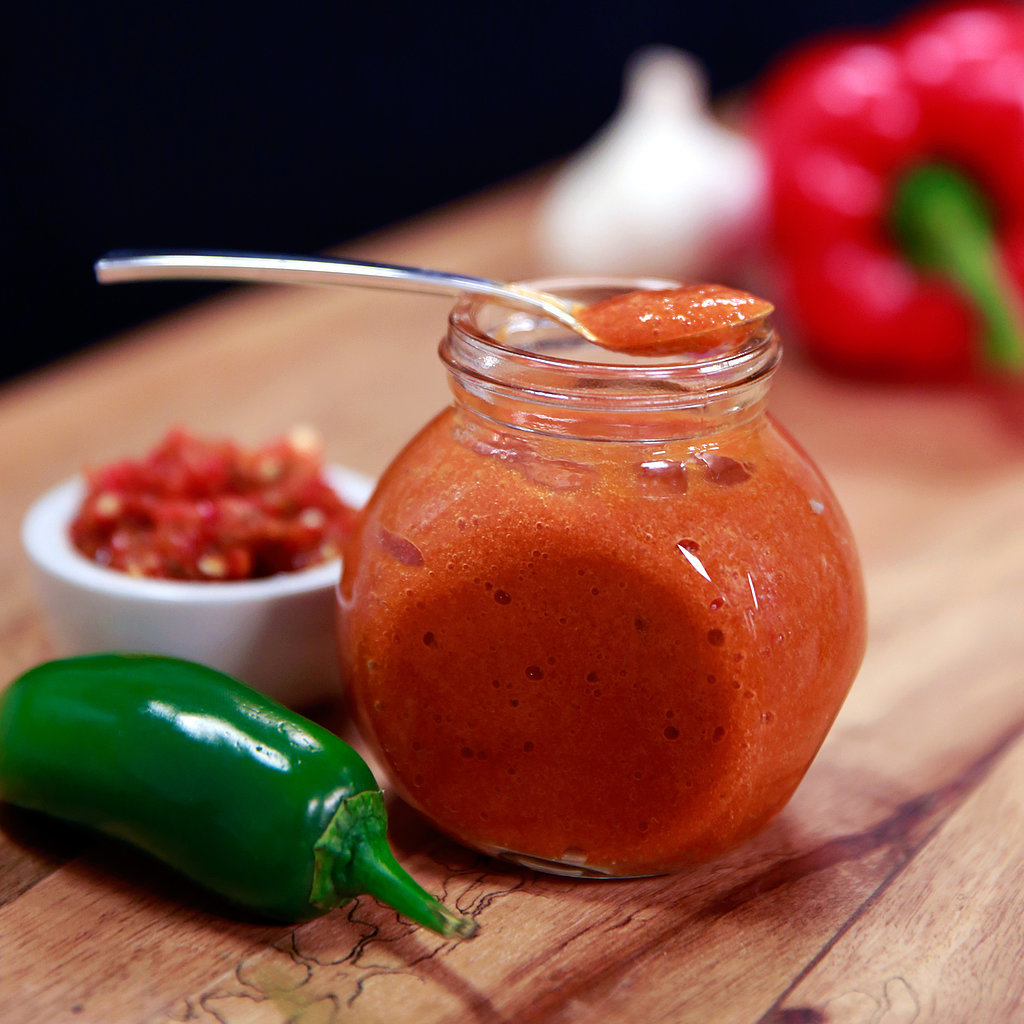 If advance planning is your forte, whip up a big batch of homemade sriracha [37] — it takes about 10 days to ferment.
Spice Rub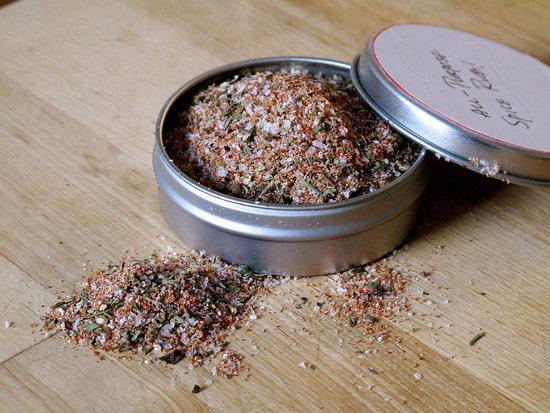 Grill masters will love a custom blend of spices [38] that can be massaged into chicken, beef, pork, or fish.
Butter-Braised Onions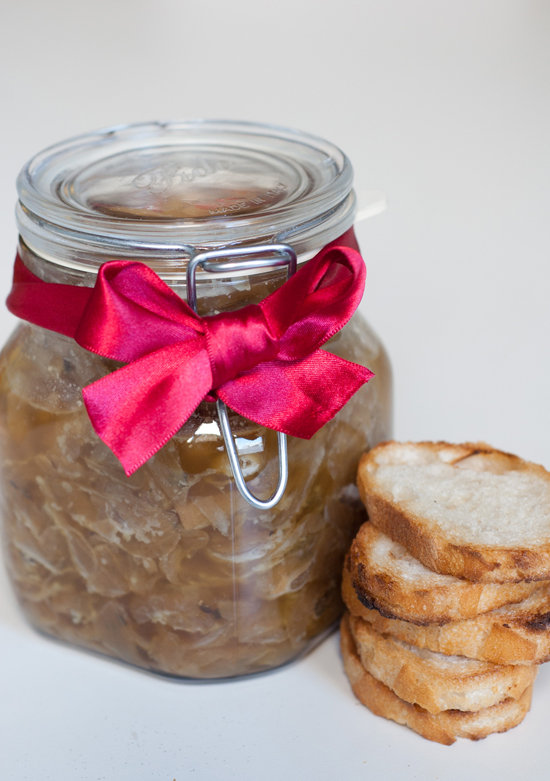 Butter-braised onions [39] are a thoughtful gift, designed to make cooking flavorful dishes a whole lot easier.
Chicken Liver Paté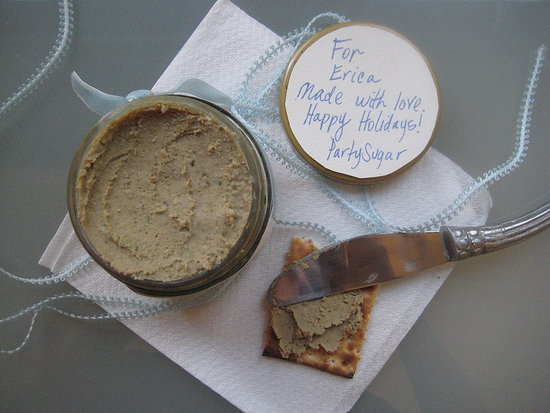 This chicken liver paté [40] is absolutely irresistible: it has a silkiness that seemingly melts away as soon as it hits the tongue. The ingredients may be ultra-affordable, but they come together to produce a truly luxurious gift.
Chewy Sugar Cookies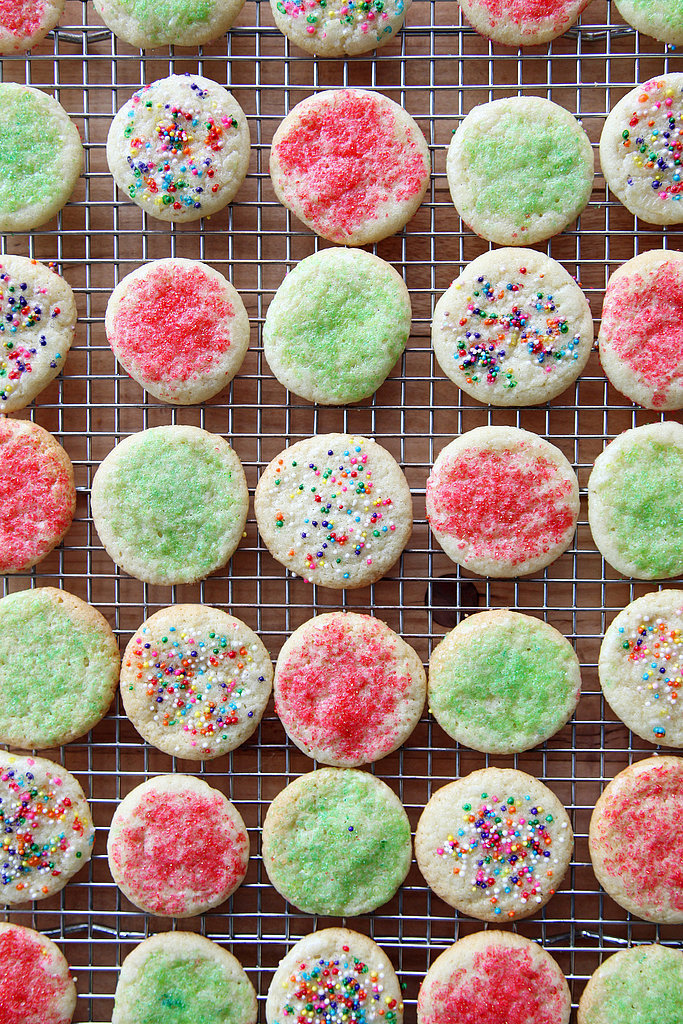 Cute as a button and oh so easy to make, these bite-size chewy sugar cookies [41] are the perfect last-minute gift.
Chocolate Marshmallow Crinkle Cookies
Fudgy and almost brownie-like, chocolate marshmallow crinkle cookies [42] are a go-to gift for any sweet tooth in your life.
Ginger Pear Corn Muffins
These ginger pear corn muffins [43] have great texture. They're savory and sweet at the same time!
Chocolate Ganache Thumbprint Cookies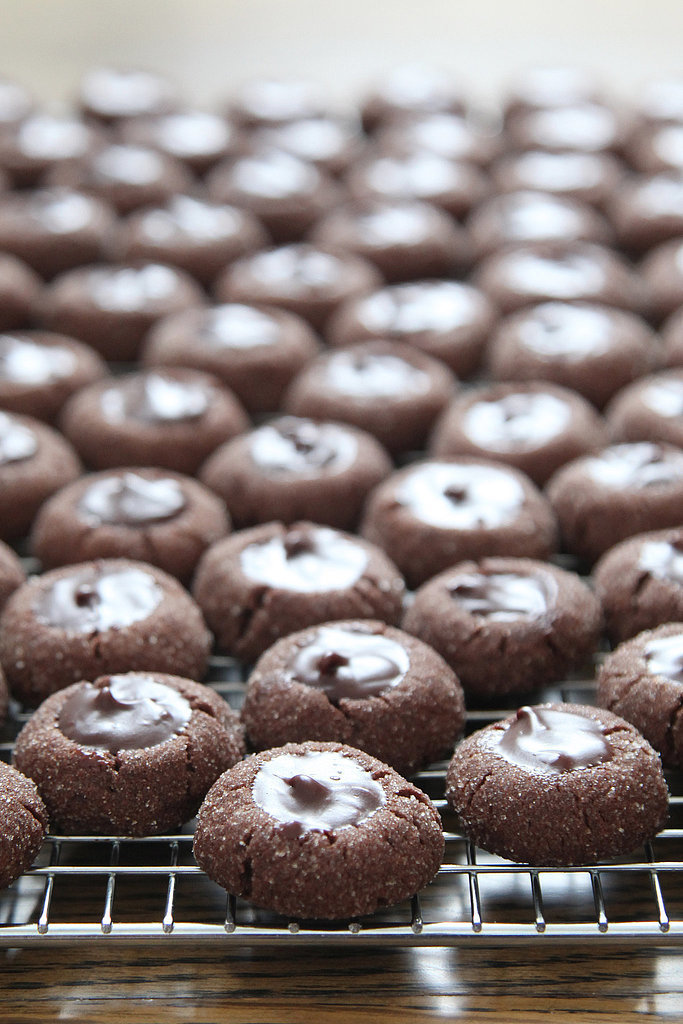 For something a bit more elevated than brownies but with a similarly rich chocolate flavor, try these ganache-filled thumbprints [44].
Banana Nut Bread
Perk up their mornings with a loaf of not-too-sweet nut-studded banana bread [45].
Chocolate Cranberry Cookies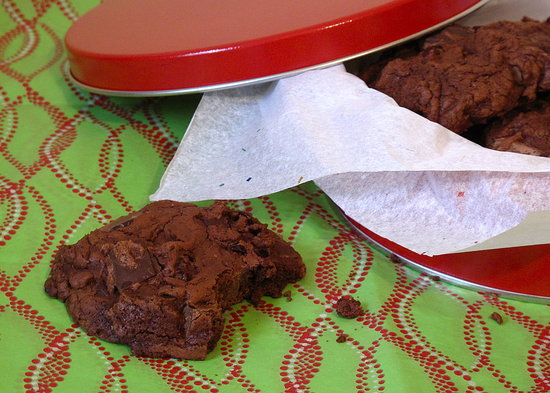 Traditionalists who enjoy receiving cookies will swoon over a tin full of these chewy, chocolaty cranberry cookies [46].
Homemade Thin Mints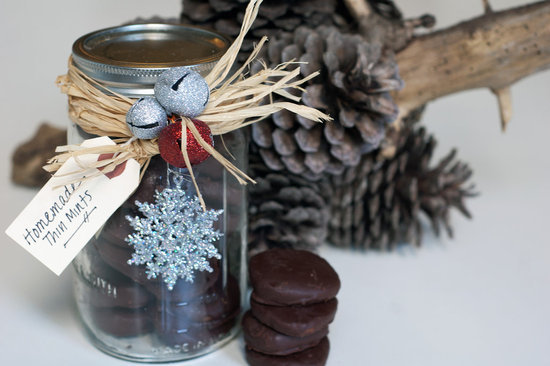 Homemade thin mints [47] help satisfy Girl Scout cookie cravings any time of the year.
Bacon, Blue Cheese, and Pecan Cookies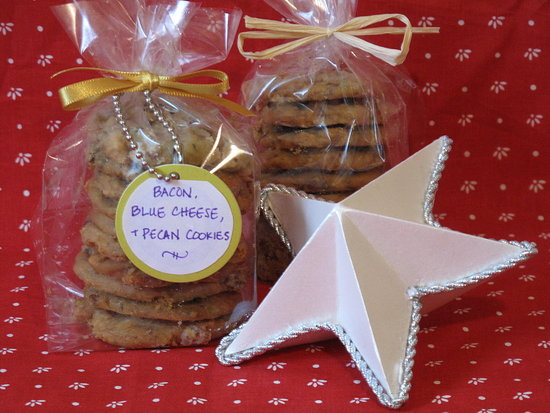 If you only make one gift from this list, then you have to make these bacon, blue cheese, and pecan cookies [48]. They are to die for.
Hazelnut Kiss Cookies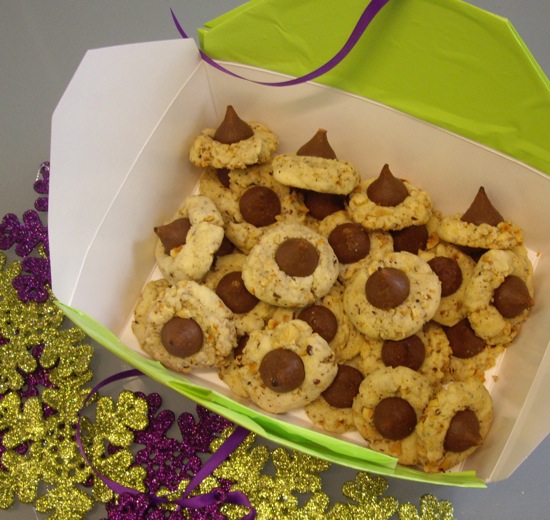 For something familiar yet new at the same time, spring for these hazelnut treats [49], a delightful spin on the traditional peanut butter kiss — only with a short, crumbly texture and a toasted hazelnut flavor.
Chocolate Peppermint Cookies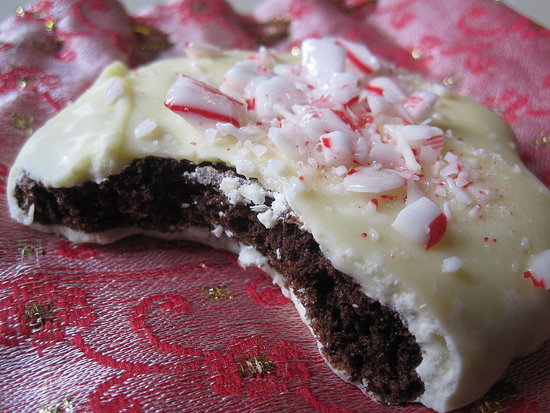 Fans of the classic peppermint bark will love these chocolate peppermint cookies [50]. The center is a mint- and chocolate-flavored chewy cookie, and the outside is a shell of white chocolate.
Fruit and Nut Bars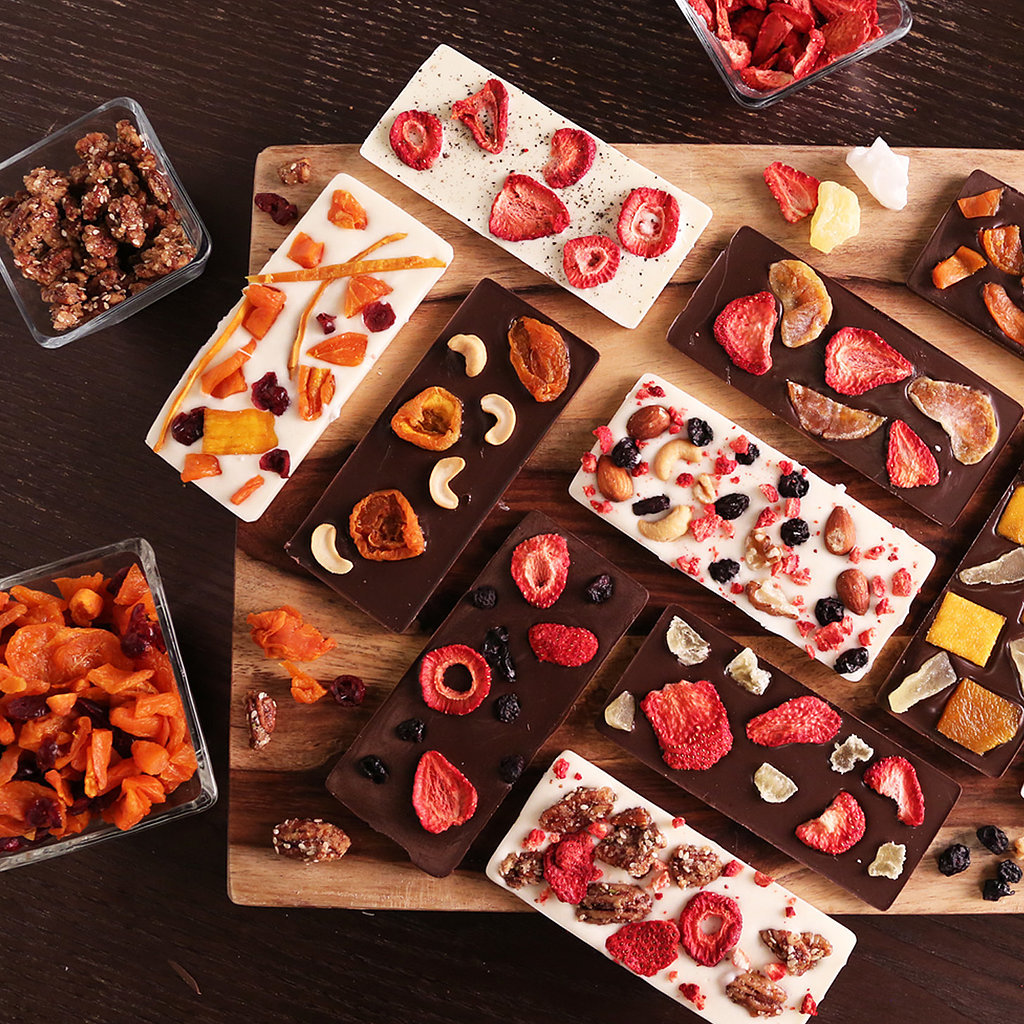 Hit up the bulk bin at your supermarket to stock up on dried fruit, nuts, even candied ginger, and then go crazy creating custom chocolate bars [51] for everyone on your list.
Cookie Dough Truffles
Let's be real, the best part about baking cookies is nibbling on the uncooked dough. Skip the nonsensical step of baking them off and instead make these irresistible chocolate chip cookie dough truffles [52].
Speculoos Puppy Chow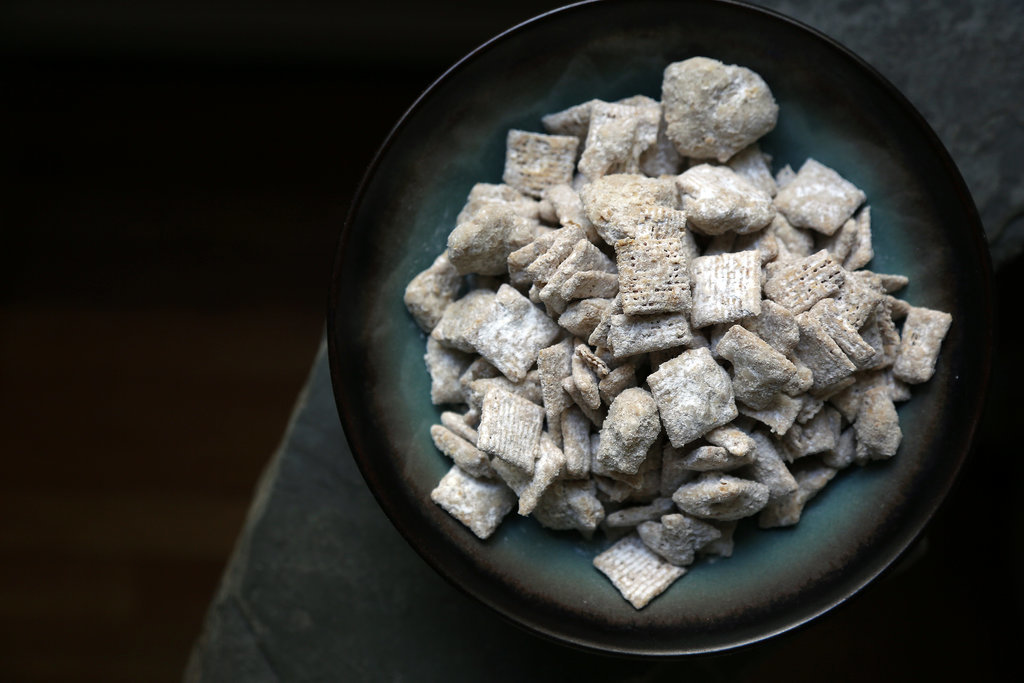 Biscoff makes pretty much everything better, including puppy chow [53].
Chocolate-Almond Toffee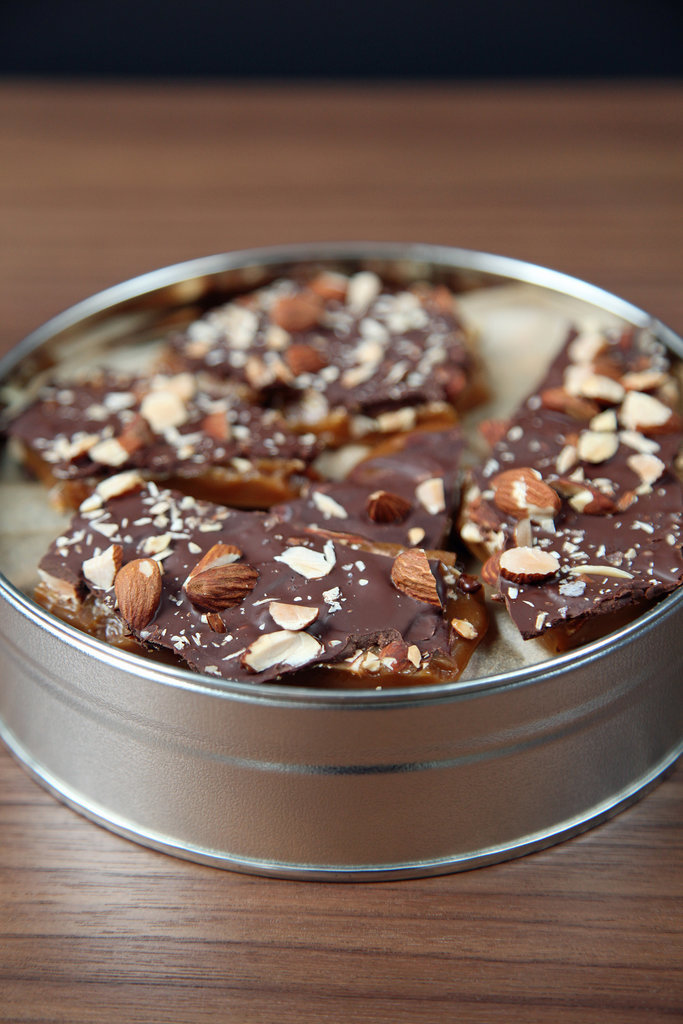 Provided you have an offset spatula and a candy thermometer, chocolate-almond toffee [54] is easily made at home.
Candied Citrus Peel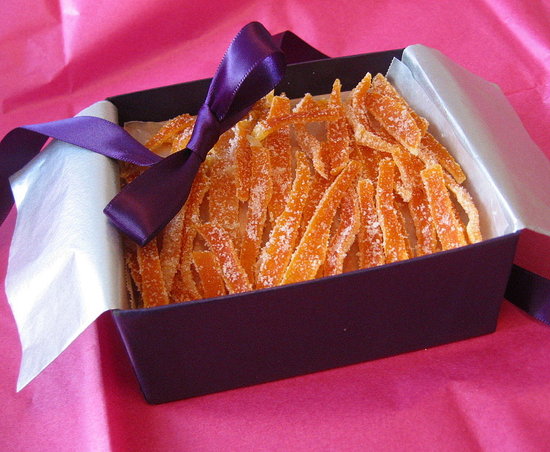 It's amazing how two ingredients — citrus and sugar — can produce such a stunning confection. Preservative-free candied peel [55] has a vivid hue, a clean taste, and an addictive texture.
Chocolate-Covered Bacon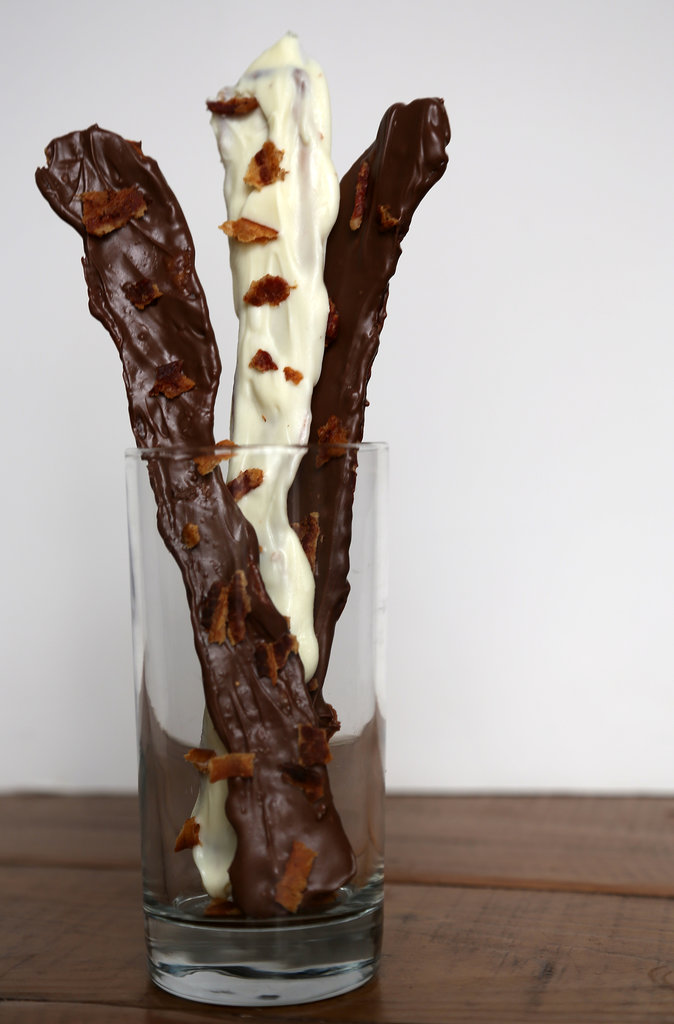 Scrumptiously smoky chocolate-covered bacon [56] will satisfy their sweet and salty cravings simultaneously.
Easy Chocolate Fudge
Fudge might seem intimidating to make at home, but this simplified version [57] gleaned from a children's cookbook is near foolproof and some of the best we've ever tasted.
Peppermint Bark
Nothing says Christmas like a tin full of peppermint bark [58]. You might be surprised to find that, as it requires no thermometers or fancy tools, it's nearly as easy to make as it is to eat!
Date Balls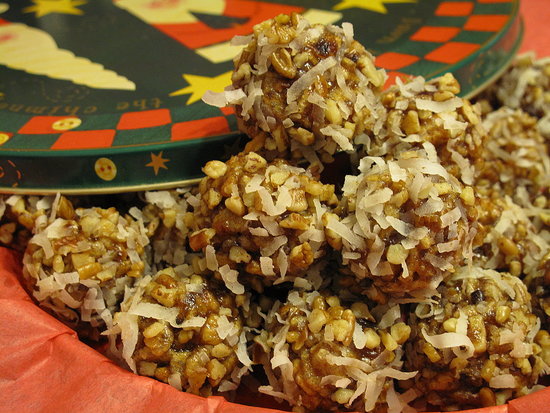 These divine date balls [59] are coated in chopped walnuts and sweetened coconut flakes. Not only are they an uncomplicated edible gift, but they're also wonderful for a cookie swap.
Peanut Butter Cups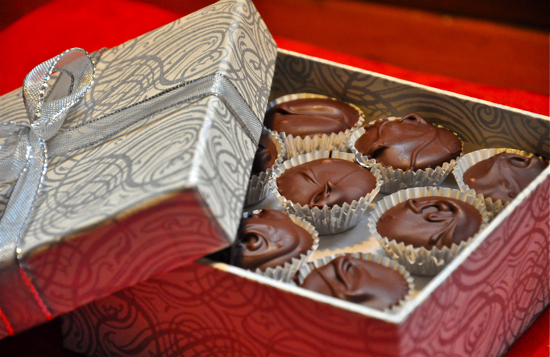 If you have a mini muffin [60] tin, you can make peanut butter cups [61] — yum!
Peppermint Fudge
Peppermint fudge [62] is seasonal, festive, and incredibly delicious, making it the perfect edible holiday gift!
Peppermint Candy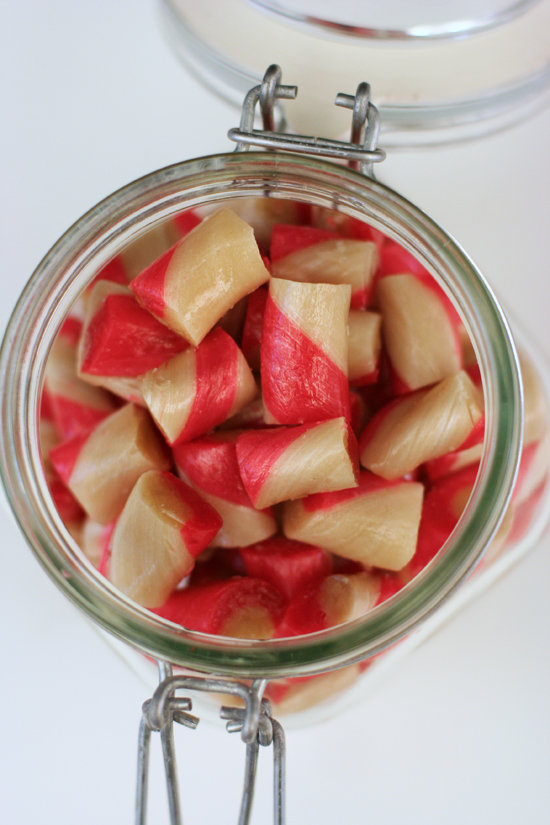 Flex your confectioner muscles when making peppermint hard candy [63]. It's sure to be a crowd-pleaser whether sliced into chubby lozenges or bent into a classic candy-cane shape.
Chocolate Truffles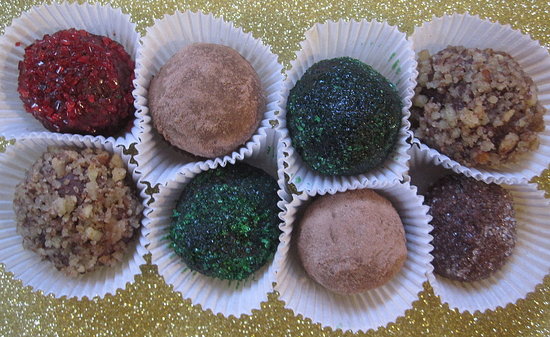 Homemade chocolate truffles are actually incredibly easy to make. This recipe [64] shows you how it's done and lets you choose from three different flavors: Champagne, bourbon-pecan, and Irish coffee.
S'mores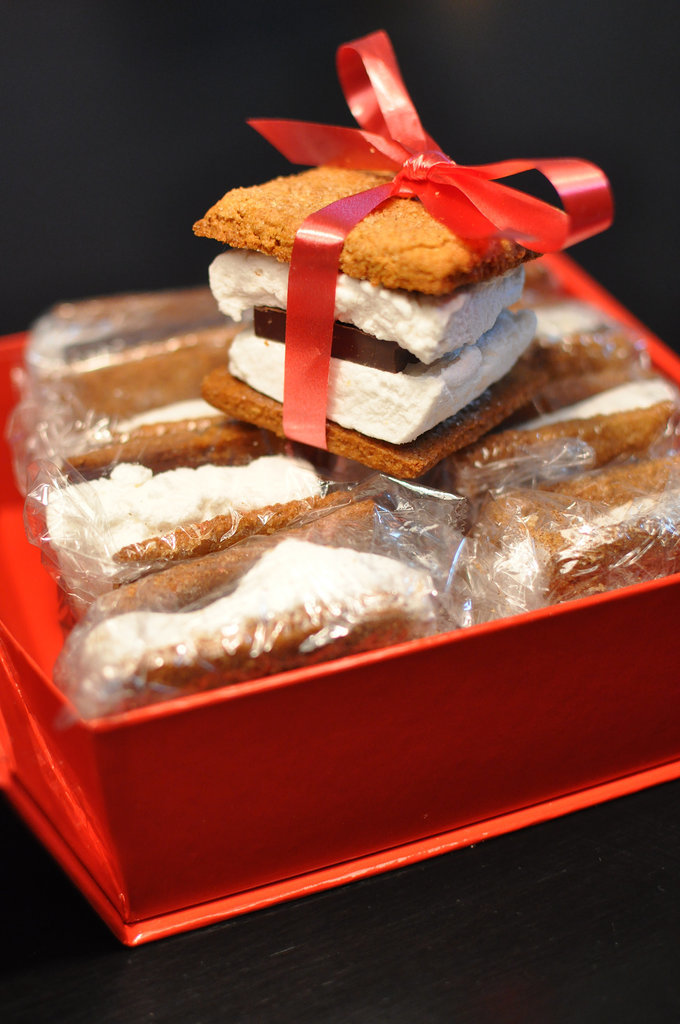 Package homemade graham crackers with homemade marshmallows and your favorite chocolate bar to create the ultimate s'more [65].
Toffee Bark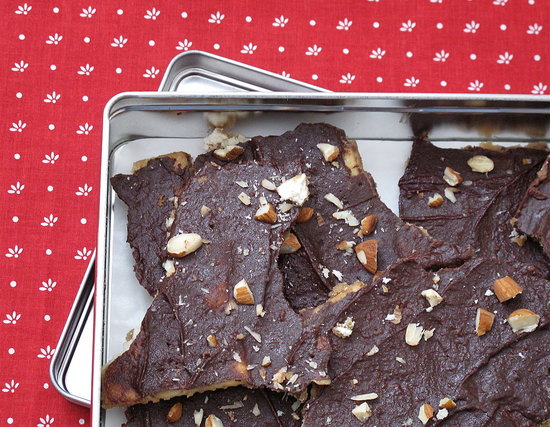 When you only have 15 minutes to spare, throw together this addictive bark [66]. It combines saltines with dark chocolate and almonds.
Peppermint Patties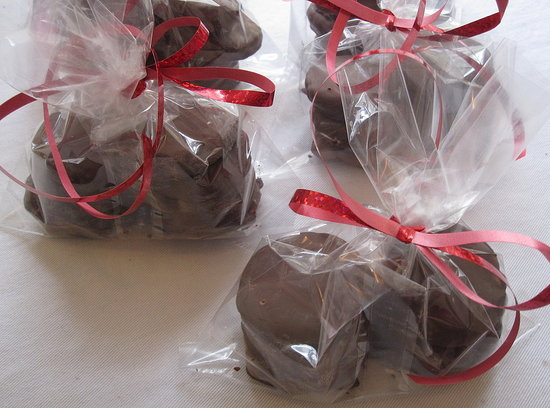 Chocolate and mint are two flavors of the season, and they come together splendidly in this peppermint patty [67] recipe.
Chocolate Caramel Popcorn With Macadamia Nuts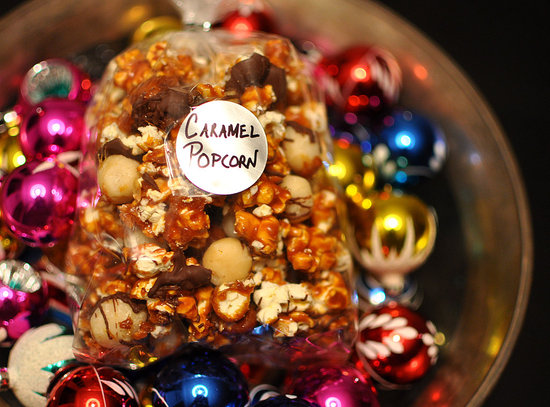 For the sweet snacker, consider making a batch of "moose mix." [68] It's a combination of popcorn, chocolate, and macadamia nuts that's coated in a delicious caramel.
Sweet and Spicy Brittle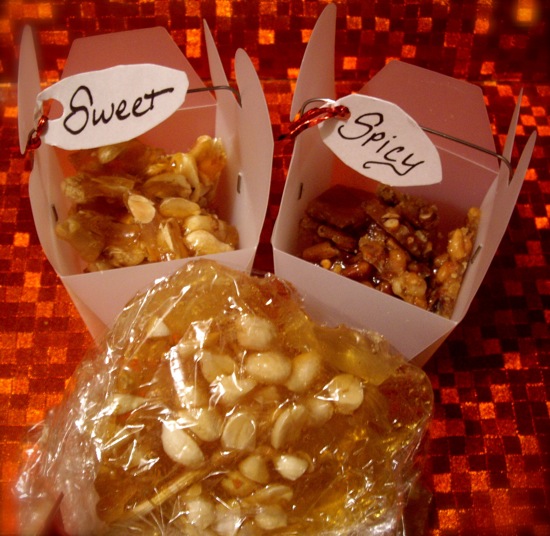 Homemade nut brittle [69] may sound daunting, but all you need is a little bit of preparation and patience, and you'll find the process to be uncomplicated.
Peppermint Cookies and Cream Clusters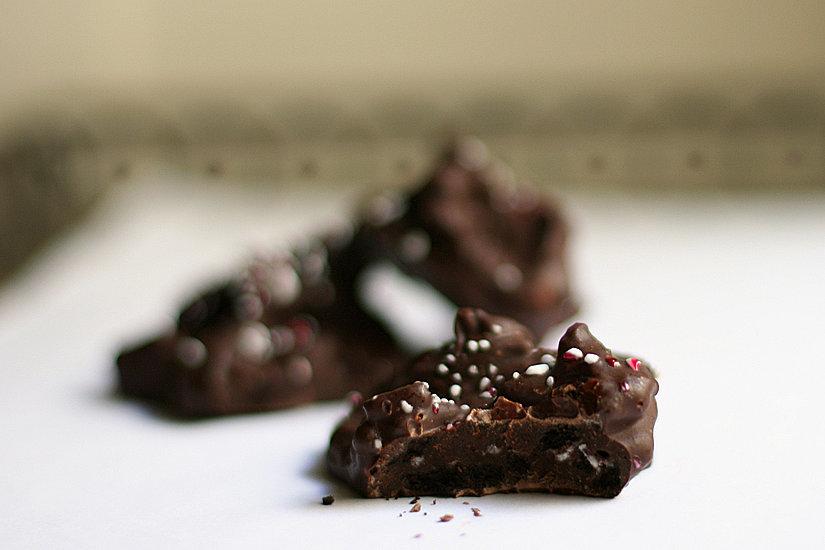 Love Trader Joe's Candy Cane Joe-Joe's? Fold the crushed cookies into melted chocolate to make chocolate clusters [70], topped with peppermint pieces.
Limoncello
Need a gift for the amateur bartender in your life? Look outside the liquor store, and infuse a batch of zesty homemade limoncello [71] instead.
Homemade Grenadine
Contrary to popular belief, grenadine isn't a cloying syrup with an artificial cherry flavor. Teach your friends that the sweet liquid is really made from fresh pomegranate juice when you present them with a delightful handcrafted bottle [72].
Butterscotch Sauce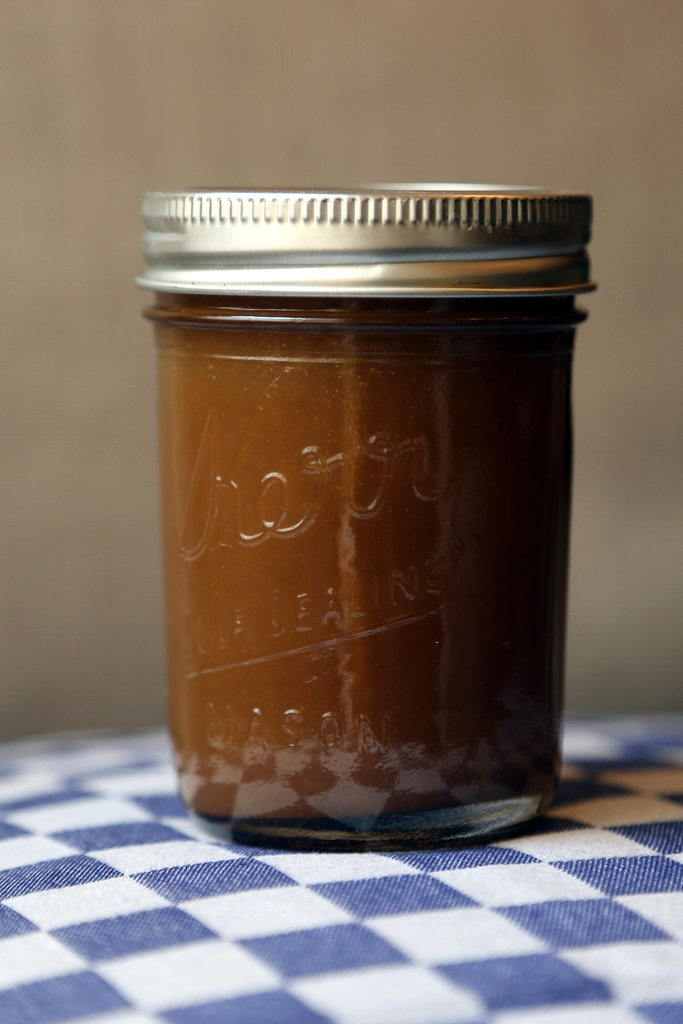 If they love ice cream sundaes, they'll be elated to receive a jar of homemade butterscotch sauce [73].
Homemade Aquavit
Give a Norwegian-themed gift this year to warm your friends up from the inside out. Homemade aquavit [74] is simple, spicy, and trendy!
Cranberry Vodka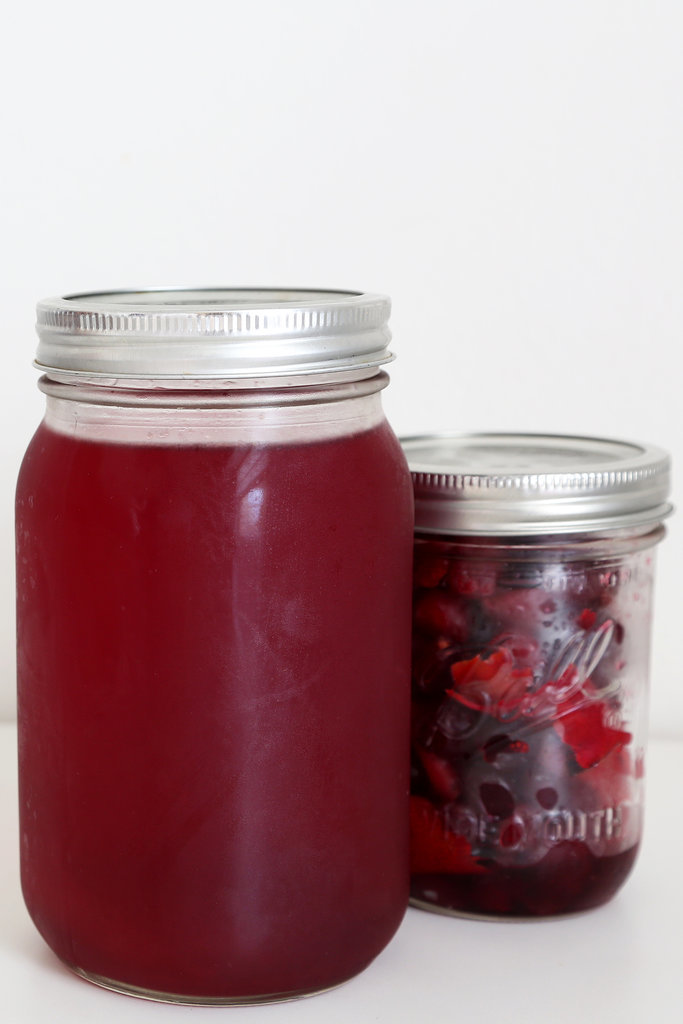 Skip the birthday-cake-, whipped-cream-, and pumpkin-pie-flavored vodkas for something that is far more sophisticated: cranberry-infused vodka [75].
Vanilla Hot Chocolate Mix
Not all gourmet gifts have to involve cooking or baking. If you have a food processor, then you have the ability to make this ultraintense vanilla hot chocolate [76]!
Kahlua
Warm loved ones' hearts (and their bellies) with a bottle of homemade Kahlua [77], which requires little effort to make.
Hot Buttered Rum Mix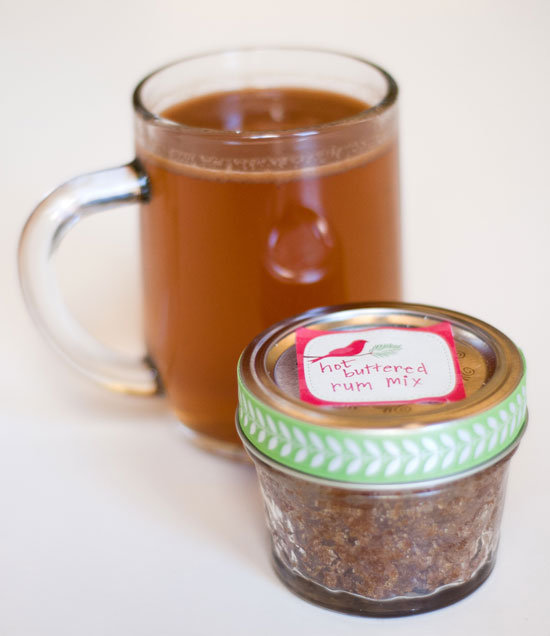 With the gift of hot buttered rum mix [78], a toasty, tasty tipple will be mere minutes away.
Arancello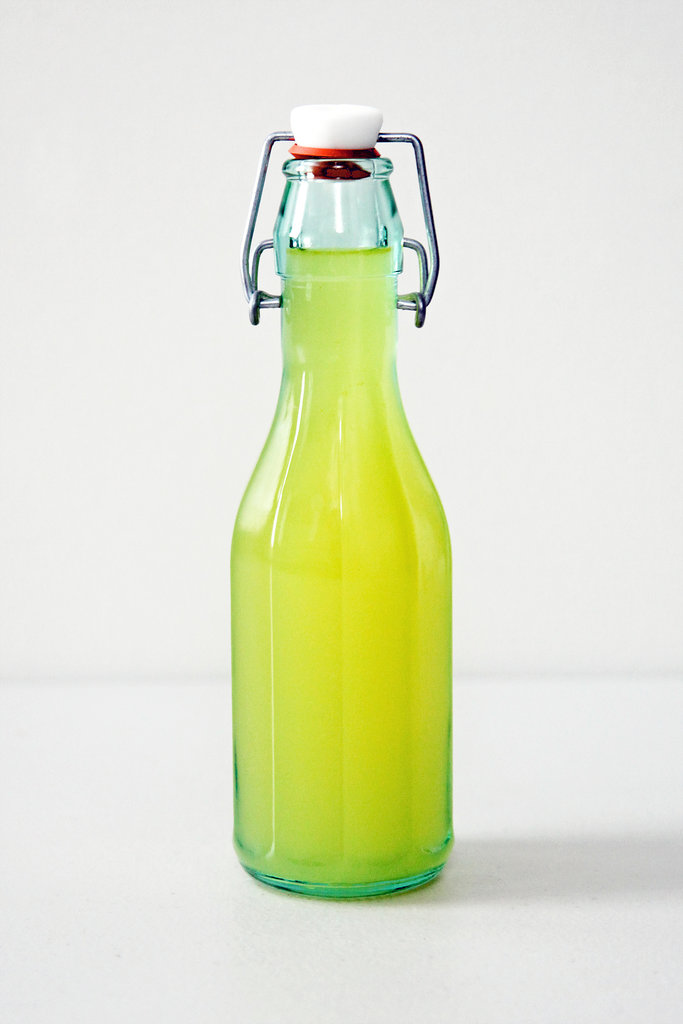 Chances are they've never tried arancello, limoncello's zesty orange-based cousin. Give them the gift of discovery (and delicious cocktails) with a homemade bottle [79].
Cherry Bounce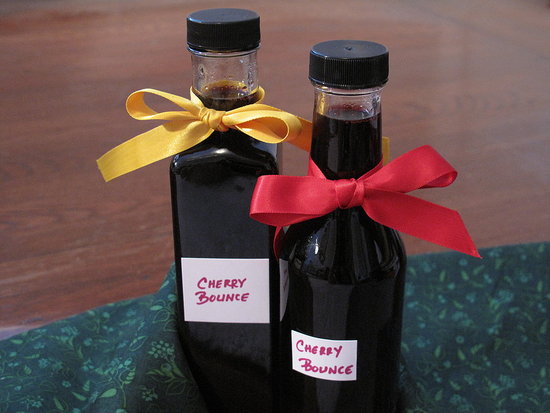 For an old-fashioned treat, whip up a batch of cherry bounce [80], a delightful cherry-flavored spirit that was once enjoyed by Martha Washington.
Gin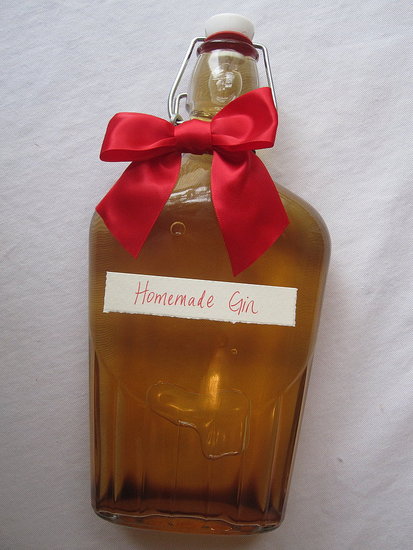 Yes, you can make gin! Just follow this uncomplicated recipe [81] that infuses vodka with juniper berries and an assortment of other aromatics.
Hot Fudge Sauce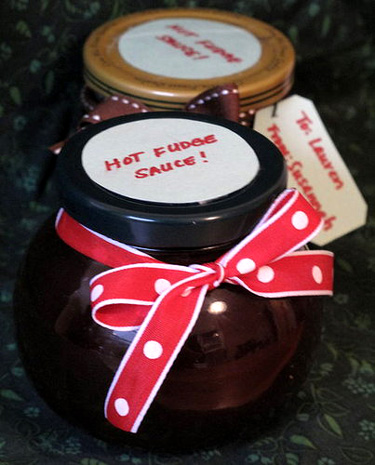 With its thick texture and rich flavor, homemade hot fudge sauce [82] is a superb gift.
Caramel Sauce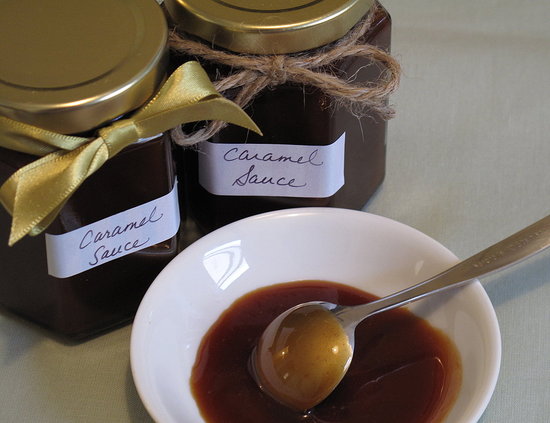 It's thick, it's gooey, it's creamy, it's sweet — it's homemade caramel sauce [83]!