How to Enjoy Baby Artichokes
In Season: Baby Artichokes
Like us on Facebook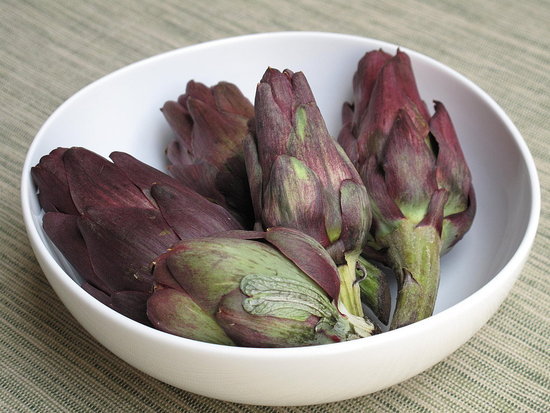 Along with English Peas and a number of lesser-known vegetables, baby artichokes are in abundance during March, April, and May. The petite-sized baby artichokes are simply a smaller version of any regular-sized variety that's been picked from the shaded, lower part of the artichoke stalk. They have little to no developed fuzz in their center and a greater amount of edible leaves. Because they're quick-cooking and almost entirely edible, they're relatively easy to prepare. Learn more about enjoying them when you

.

When purchasing these miniature thistles, select ones that are firm, heavy, and consistent in size so they'll cook evenly together. It can be difficult to discern between small artichokes (which still need to have their chokes removed) and the choke-less baby artichokes, so it's best to ask your grocer for help. Once at home, sprinkle them with water, seal in a bag, and keep in the crisper drawer for up to five days.

To begin preparing baby artichokes, snap off the lower petals until you've reached a yellow-green core. Then, cut off the top inch of the artichoke. Finish by trimming the stem and remaining dark areas near the base, and soak in lemon juice water to prevent oxidation. At this point, they can be cooked in a multitude of ways:



What are your favorite ways to enjoy baby artichokes? Have you ever made them?