From the invitation to the decor, there are plenty of ways to personalize your wedding [1]. However, don't overlook the food! Instead of serving a standard buffet or boring chicken, use the food to showcase your culinary style as a couple. Are you crazy about barbecue? Offer a down-home menu of ribs, brisket, and beans. Catering the meal to suit your taste buds is just one way to personalize the food at your reception. Keep reading for 10 more awesome suggestions.
— Additional reporting by Aemilia Madden
Photo by Olivia Leigh [2] via Style Me Pretty [3]
Pour a signature drink.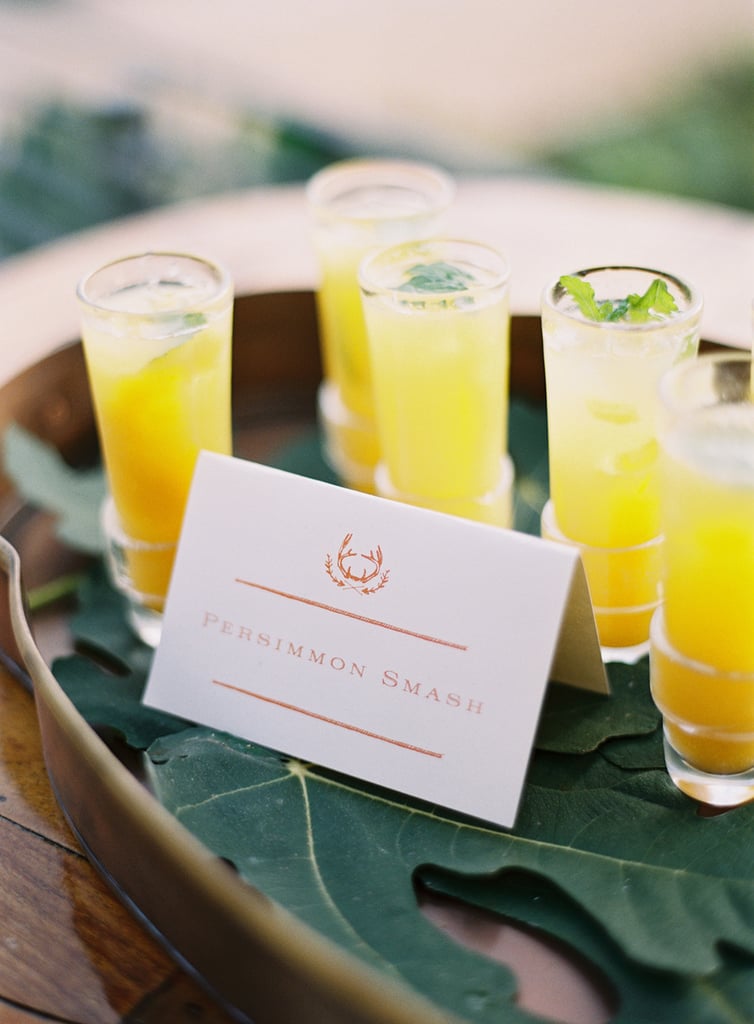 Instead of having an open bar, offer one (or an array) of signature drinks [4]. Select your favorite drink or a cocktail that's meaningful to you as a couple. Did he propose while you were sipping margaritas in Mexico? Serve them at the wedding [5]. A giant bowl of punch or drink dispenser filled with sangria are other options. If hard alcohol isn't your thing, offer wines that are significant to you. Is your groom's mother Chilean? Pour a Chilean white. Did you first declare love for each other while on a trip to Italy? Pour an Italian red.
Photo by Tec Petajay [6] via Style Me Pretty [7]
Have your favorite restaurant cater the reception.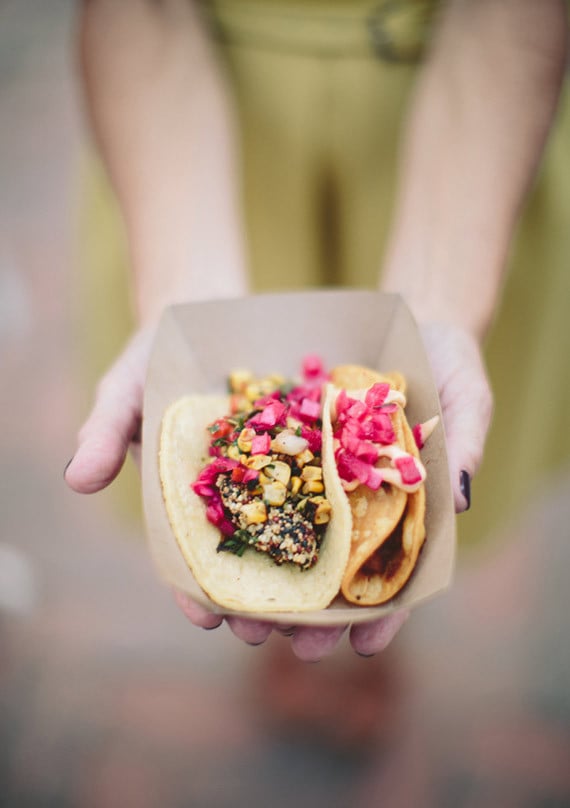 You'd be surprised by how many restaurants offer catering services. If you're a regular at a local place, approach the manager and find out if they do weddings. Another idea would be to select a favorite cuisine and find a local food truck that serves this type of food. Have them cater your wedding meal [8].
Photo by Jenny Markham [9] via 100 Layer Cake [10]
Write out the menu.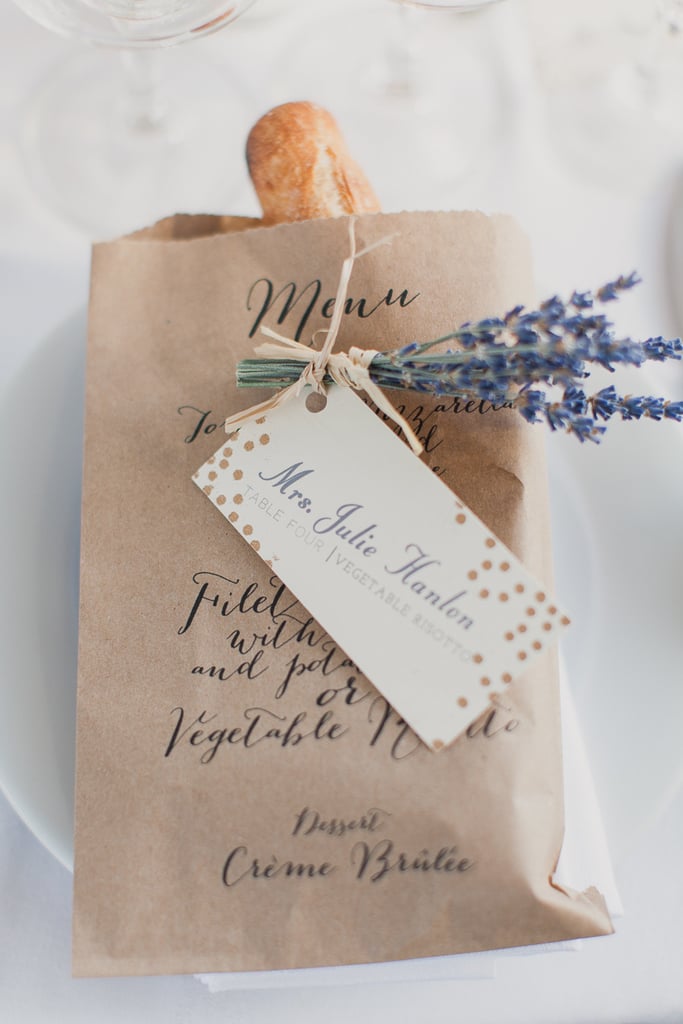 Your guests need to know what they are eating, so if you're going to do a menu, why not make it special? Are you teachers? Set up several large chalkboards and write the menu in chalk. Getting hitched at a museum? Paint the menu on canvas and place them around the reception location. For those who prefer something more elegant and formal, print the menus on beautiful paper and put one on each plate. A menu can also double as a place card.


Photo by Mademoiselle Fiona [11] via Style Me Pretty [12]
Offer comfort food as appetizers.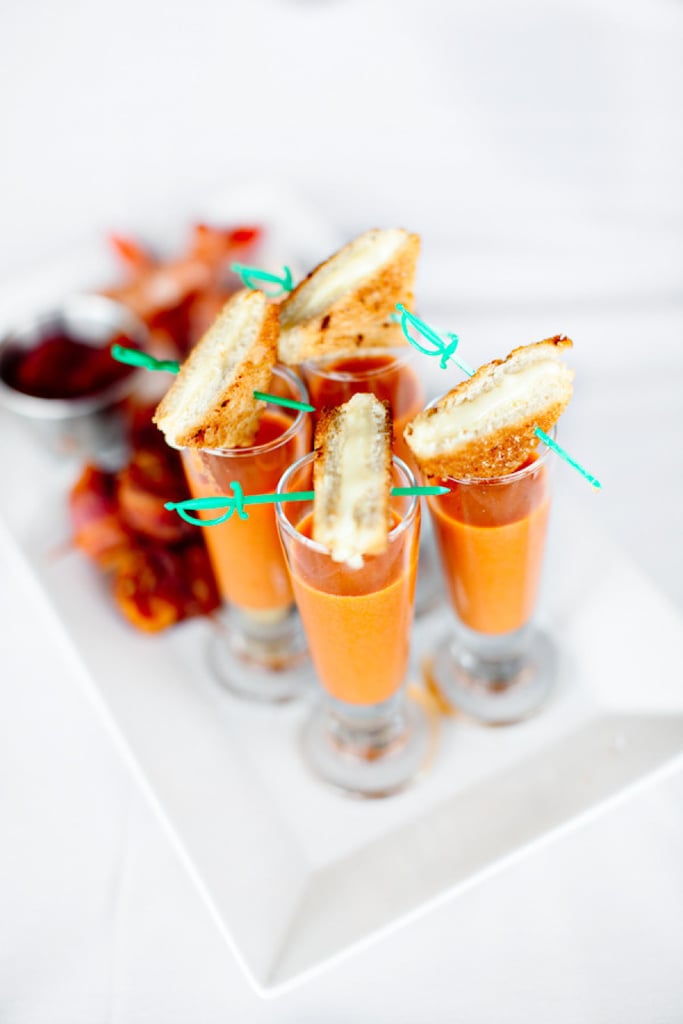 Pigs-in-a-blankets, grilled cheese sandwiches, popcorn, macaroni and cheese — serve your favorite comfort foods for appetizers. Especially if your wedding [13] is on the formal side, nostalgic appetizers will have everyone feeling more comfortable.


Photo by Kelly Dillon Photography [14] via Style Me Pretty [15]
Serve a family-style meal.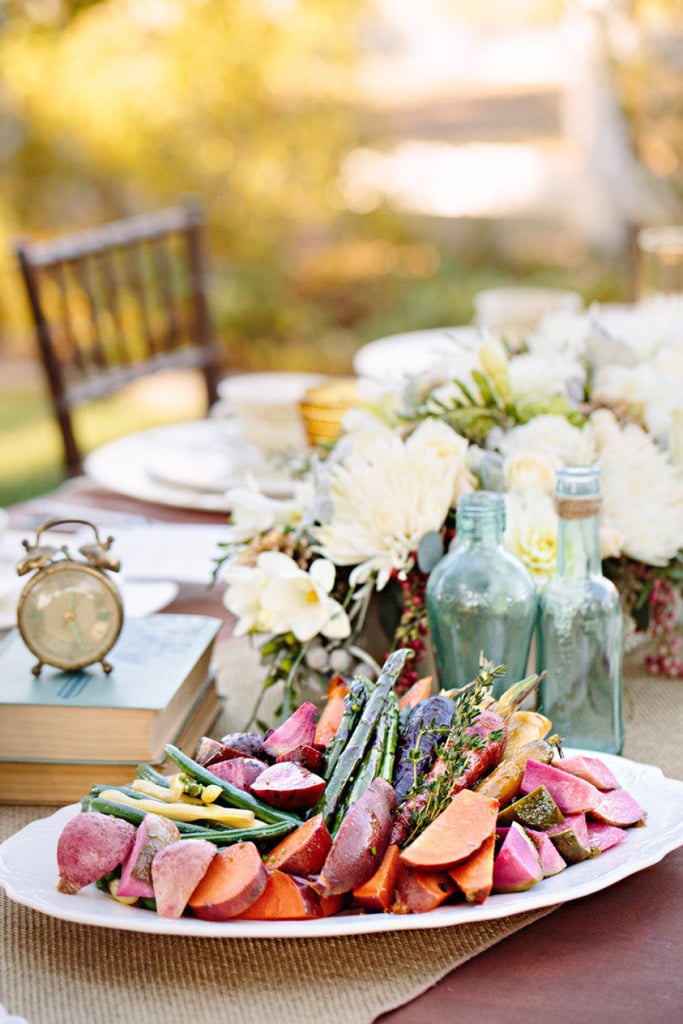 Instead of a buffet or plated entrees, offer the food family style on large platters. It's unexpected, casual, and will force guests to mingle tableside. That single girlfriend you're trying to hook up with your fiancé's golf buddy? She'll be forced to ask him to pass the Caprese salad — mission accomplished!


Photo by Mirelle Carmichael Photography [15] via Style Me Pretty [16]
Offer miniature versions of your favorite foods.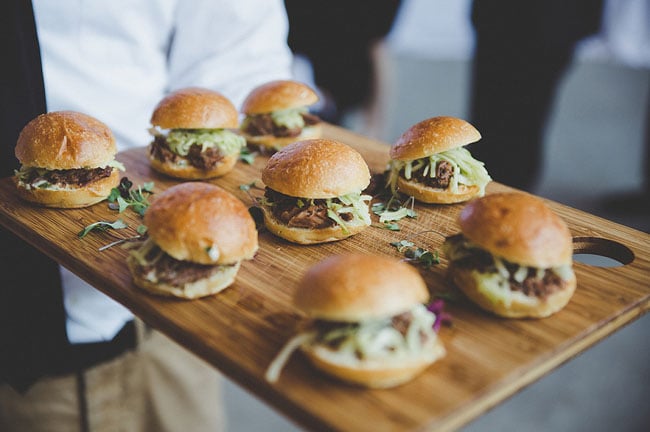 Many couples don't want to host a sit-down dinner. If that's the case, serve your favorite dishes in mini! Who can resist trays covered with slivers of pizza, bite-sized quiche, and teeny BLTs?


Photo by Bayly and Moore [17] via Green Wedding Shoes [18]
Skip the cake.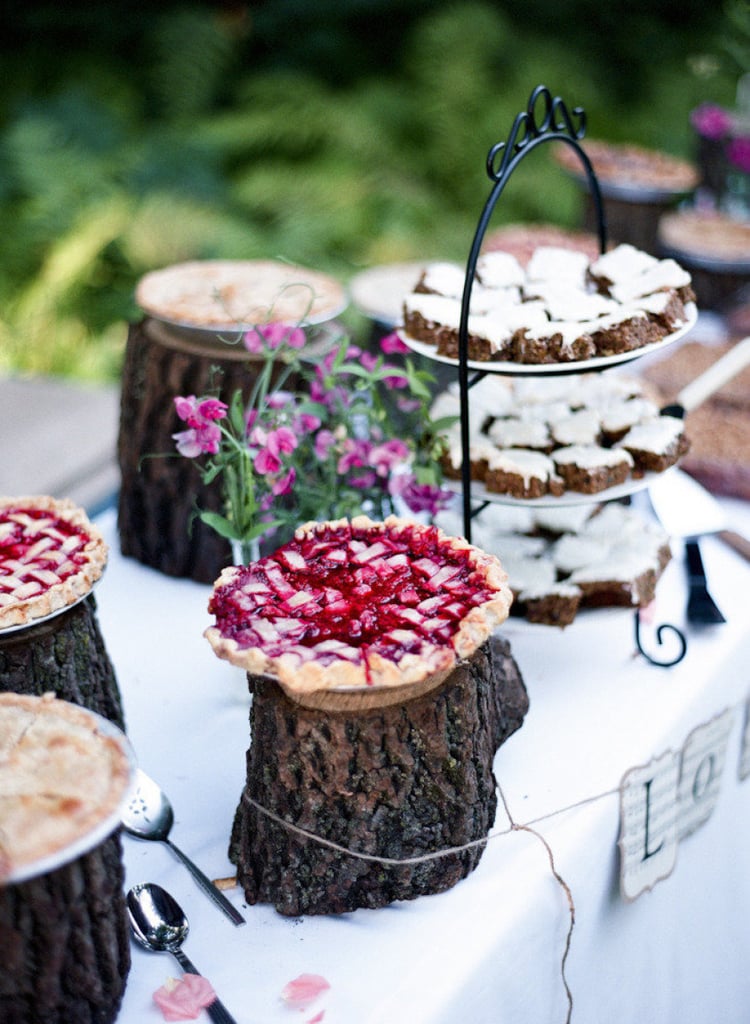 Not everyone loves cake [19] ,and if it's not your thing, don't serve it at your wedding [20]! There are so many extraordinary desserts out there: pie, ice cream, brownies, crème brulée, etc. Finish the meal with your preferred dessert.


Photo by Tanja Lippert Photography [21] via Style Me Pretty [22]
Surprise guests with a late-night snack.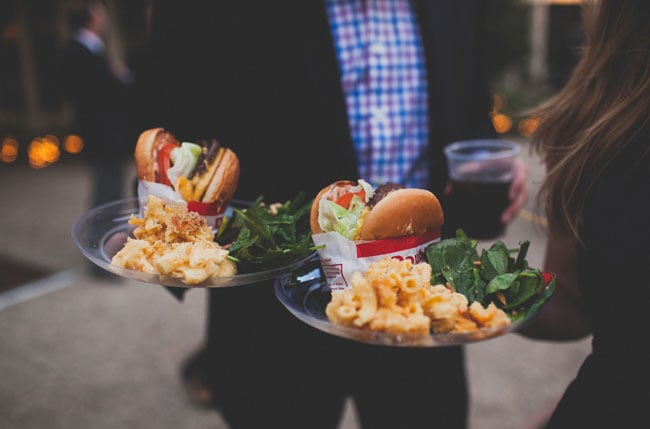 With all that dancing and drinking, guests will get hungry! Surprise them with a late-night snack like small sandwiches, cones with french fries, or shot glasses of soup. One of my girlfriends decided to surprise her groom with White Castle-style sliders at midnight. It's his favorite fast-food burger joint, so it was a nice personal touch. Another idea: have a food truck come late at night [23]!


Photo by Floataway Studios [24] via Green Wedding Shoes [25]
Give an edible favor.
Don't give your guests a useless favor. Opt for a delicious edible treat that they can savor the following morning or even in the weeks to come. A serve-yourself candy bar doubles as decoration, while sweet jars of honey are a perfect topping for tomorrow's breakfast. Other ideas? Jam, honey, and pickles [26]!


Photo by Kirsten Ellis [27] via Green Wedding Shoes [28]
Don't forget about the paper goods.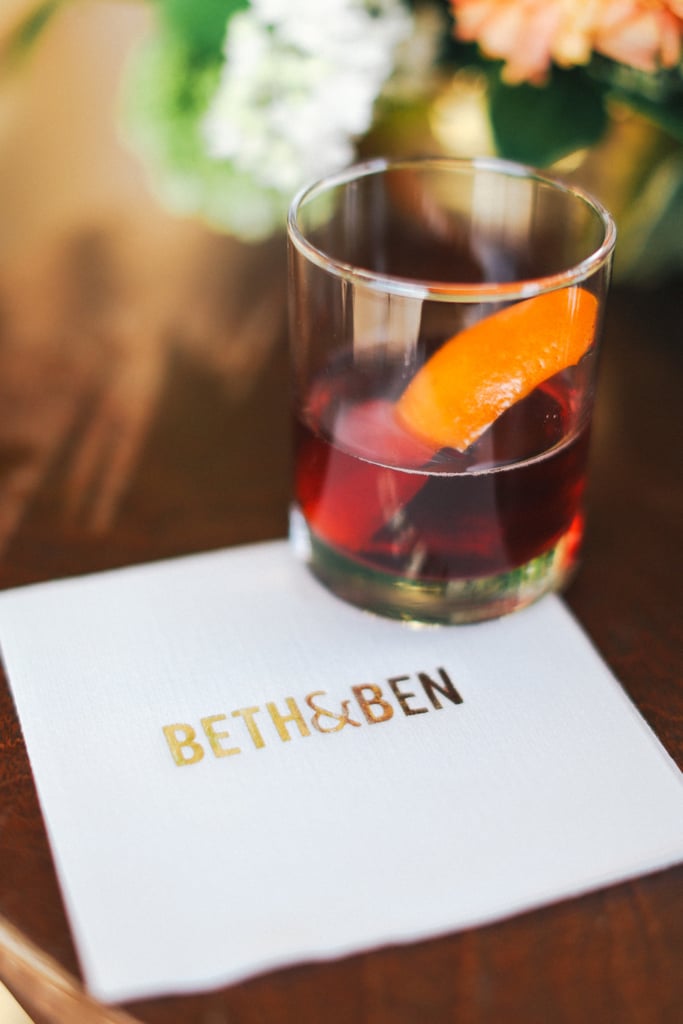 Napkins, cupcake flags, cocktail garnishes (tiki umbrellas!), and the like can all be personalized. Sites like Print Your Party [29] make it easy to personalize everything from water bottles to paper cups.


Photo by Max Wanger [30] via Style Me Pretty [31]
---
Links:
[1] http://www.popsugar.com/Wedding
[2] http://www.olivialeighweddings.com/
[3] http://www.stylemepretty.com/gallery/gallery/591/
[4] http://www.popsugar.com/food/Signature-Wedding-Cocktail-Ideas-29493678
[5] http://www.popsugar.com/Wedding
[6] http://tecpetaja.com/
[7] http://www.stylemepretty.com/living/gallery/picture/1460848/
[8] http://www.yumsugar.com/Tips-Hiring-Food-Truck-Cater-Party-16050293
[9] http://jennymarkham.tumblr.com/
[10] http://www.100layercake.com/blog/2013/06/19/indie-southern-california-bohemian-wedding-paige-keith/
[11] http://www.mademoisellefiona.com/
[12] http://www.stylemepretty.com/gallery/gallery/15682/
[13] http://www.popsugar.com/Wedding
[14] http://kellydillonphoto.com/
[15] http://www.stylemepretty.com/gallery/gallery/9136/
[16] http://www.stylemepretty.com/gallery/gallery/10454/
[17] http://www.baylymoore.com/
[18] http://greenweddingshoes.com/los-angeles-warehouse-wedding-stephanie-scott/
[19] http://www.yumsugar.com/Wedding-Cake-Alternatives-23631662
[20] http://www.popsugar.com/Wedding
[21] http://tanjalippertphotography.com/
[22] http://www.stylemepretty.com/gallery/gallery/11424/
[23] http://www.popsugar.com/food/Food-Trucks-Weddings-30468178
[24] http://www.floatawaystudios.com/
[25] http://greenweddingshoes.com/homespun-california-ranch-wedding-kate-nick/
[26] http://www.yumsugar.com/Edible-Wedding-Favor-Ideas-1550399
[27] http://www.beauxartsphotographie.com/#home/
[28] http://greenweddingshoes.com/beautiful-dos-pueblos-ranch-wedding-lara-david/
[29] http://www.printyourparty.com/
[30] http://www.maxwangerblog.com/
[31] http://www.stylemepretty.com/gallery/gallery/15525/

---