Huggies® Gets Fashion-Forward With New Denim Diaper Design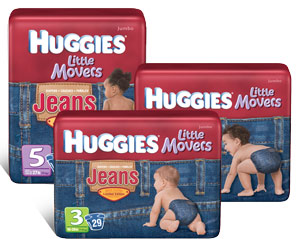 The limited-edition Huggies® Jeans Diaper offers a unique, fun, and stylish way to make little ones the coolest and cutest around. Huggies® Jeans will be available nationwide for a limited time in June and July at retail outlets where diapers are sold.
Try on a pair today! They are shaped to fit like classic Huggies® Little Movers Diapers, featuring a revolutionary design and technology that allow little ones to move, crawl, and scoot like never before. Huggies® Jeans Diapers offer serious leakage protection moms have come to know and trust from the Huggies® brand.