Italian Sausage, White Bean, and Kale Soup Recipe
Soup's On: Sausage, Cannellini, and Kale Soup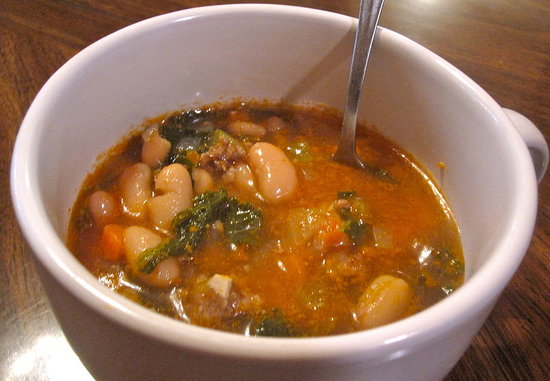 Three humble ingredients — Italian sausage, white beans, and crinkly kale — come together to make one superbly comforting bowl of soup. I love this recipe because it's very basic, but the resulting dish is earthy, filling, and wonderful. It's the rustic kind of soup that you enjoy in a cabin after a long day on the slopes. Or for a casual and relaxed dinner party, it can be served alongside a grilled cheese sandwich and green salad. It's definitely a crowd-pleaser, so get the recipe after the jump.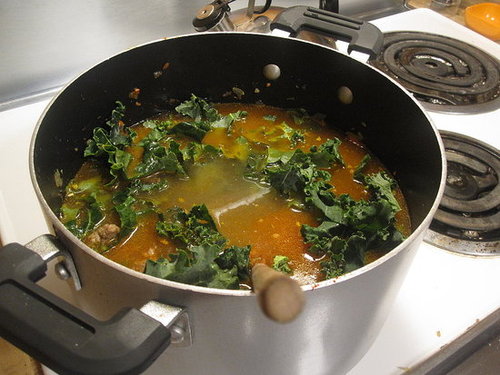 Modified from Fine Cooking
Sausage, Cannellini, and Kale Soup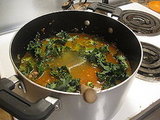 Ingredients
1-1/2 Tbs. extra-virgin olive oil
1 lb. sweet or hot bulk Italian sausage, broken into bite-sized pieces
1 medium yellow onion, finely chopped (1-1/2 cups)
1 medium carrot, peeled and finely chopped (3/4 cup)
1 medium celery stalk, finely chopped (3/4 cup)
1-1/2 tsp. minced fresh rosemary
2 Tbs. tomato paste
2 large cloves garlic, minced (1 Tbs.)
1 quart homemade or lower-salt chicken broth
Two 15-oz. cans cannellini beans, rinsed and drained
6 oz. Lacinato kale, center ribs removed, leaves chopped (about 4 firmly packed cups)
1 Parmigiano-Reggiano rind (1x3 inches; optional)
1-1/2 tsp. cider vinegar
Kosher salt and freshly ground black pepper
Directions
Heat 1 Tbs. of the oil in a 4- to 5-quart pot over medium heat. Add the sausage, crumbling. Cook until browned about 8 minutes.
Add the onion, carrot, celery, and rosemary and cook, stirring occasionally, until the vegetables begin to soften, about 6 minutes.
Add the tomato paste and garlic and cook until fragrant, 45 seconds. Add the broth, beans, kale, and Parmigiano rind (if using). Bring to a boil, reduce the heat to medium low, and simmer gently until the vegetables are tender, about 15 minutes.
Bring to a simmer over medium-high heat. Cook 5 minutes more to meld the flavors. Stir the cider vinegar into the soup and season to taste with salt and pepper.
Serves 4.
Information
Category

Soup, Main Dishes

Cuisine

Italian