Jalapeño Popper Mac
Adapted from The Mac + Cheese Cookbook [2] by Allison Arevalo and Erin Wade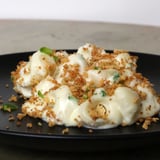 Ingredients
Mac sauce:
3 cups whole milk
1/2 cup unsalted butter
1/2 cup all-purpose flour
2 teaspoons kosher salt or 1 teaspoon table salt
Jalapeño popper mac:
1/2 pound dried elbow pasta
2 cups grated sharp cheddar cheese
1/2 cup cream cheese
1/4 cup stemmed, seeded, and chopped jalapeño chiles, plus extra for garnish
1/2 cup panko (Japanese bread crumbs), toasted
Directions
To make mac sauce: Heat the milk in a pot over medium heat until it just starts to bubble, but is not boiling, 3 to 4 minutes. Remove from the heat.
Heat the butter over medium heat in a separate heavy-bottomed pot. When the butter has just melted, add the flour and whisk constantly until the mixture turns light brown, about 3 minutes. Remove from the heat. Slowly pour the warm milk, about 1 cup at a time, into the butter-flour mixture, whisking constantly. It will get very thick when you first add the milk, and thinner as you slowly pour in the entire 3 cups. This is normal. Once all the milk has been added, set the pot back over medium-high heat, and continue to whisk constantly. In the next 2 to 3 minutes, the sauce should come together and become silky and thick. Use the spoon test to make sure it's ready. To do this, dip a metal spoon into the sauce — if the sauce coats the spoon and doesn't slide off like milk, you'll know it's ready. You should be able to run your finger along the spoon and have the impression remain. Add the salt.
To make jalepeño popper mac: Cook the pasta in salted boiling water until a little less than al dente. Drain, rinse the pasta with cold water, and drain it again.
Add the mac sauce, cheddar, cream cheese, and jalapeño to a large heavy-bottomed pot and cook over medium heat. Stir until the cheese is barely melted, about 3 minutes. Turn off the heat and stir in the cooked pasta. Take a taste to check the potency of the chiles — jalapeños can vary in their heat, depending on the batch and season, so you may want to add more to increase the fire.
Pour the cheesy noodle mixture into a large baking dish. Top evenly with panko and a few extra jalapeño bits on top for an extra kick.
Information
Category

Pasta, Main Dishes

Cuisine

North American

Yield

4-6 servings