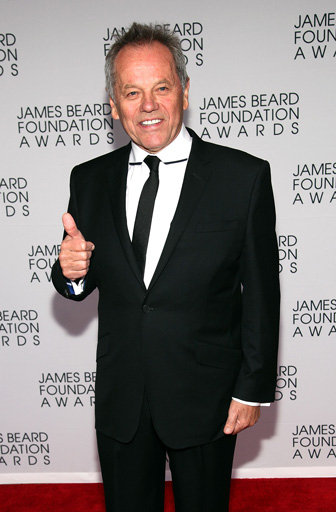 The time has finally arrived: the James Beard Awards, or the Oscars of the food world, have just been announced. After months of suspense following the announcement of this year's
semifinalists
and subsequent
finalists
, the results were announced at a star-studded gala in New York's Lincoln Center, where a smattering of top talent from Grant Achatz to
Top Chef
winner Paul Qui walked home with medals.
For the first time ever, there was an Outstanding Bar Program award, and it went to Jim Meehan, owner and bar manager at PDT in New York City. Other highlights? Eleven Madison Park's Daniel Humm nabbed top prize for Outstanding Chef; Wolfgang Puck spoke at length as he accepted a Lifetime Achievement Award.
Christina Tosi of Momofuku Milk Bar fame took home title of Rising Star Chef; the pastry wunderkind declared that if she could cook anything for James Beard, it would be turkey pot pie. Read ahead to see the full list of 2012 James Beard Award winners.
Outstanding Chef Award
Daniel Humm
Eleven Madison Park
New York, NY
Outstanding Pastry Chef Award
Mindy Segal
Mindy's HotChocolate Restaurant and Dessert Bar
Chicago, IL
Outstanding Restaurant Award
Boulevard
San Francisco, CA
Chef/Owner: Nancy Oakes
Partner: Pat Kuleto
Best New Restaurant
Next
Chicago, IL
Chef: Dave Beran
Partners: Grant Achatz and Nick Kokonas
Outstanding Restaurateur Award
Tom Douglas
Tom Douglas Restaurants
Seattle, WA
Outstanding Service Award
La Grenouille
New York, NY
Chefs: Noah Metnick and Colin Whiddon
Owner: Charles Masson, Jr.
Outstanding Restaurant Design
Le Bernadin
New York, NY
Design Firm: Bentel & Bentel Architects
Outstanding Restaurant Graphics
The Americano at Hôtel Americano
New York, NY
Design Firm: Pandiscio Co.
Outstanding Wine and Spirits Professional Award
Paul Grieco
Terroir
New York, NY
Outstanding Wine Service Award
No. 9 Park
Boston, MA
Wine Director: Cat Silirie
Outstanding Bar Program Award
PDT
New York, NY
Owner: Jim Meehan
Rising Star Chef of the Year Award
Christina Tosi
Momofuku Milk Bar
New York, NY
Best Chef: Great Lakes (IL, IN, MI, OH)
Bruce Sherman
North Pond
Chicago, IL
Best Chef: Mid-Atlantic (DC, DE, MD, NJ, PA, VA)
Maricel Presilla
Cucharamama
Hoboken, NJ
Best Chef: Midwest (IA, KS, MN, MO, NE, ND, SD, WI)
Tory Miller
L'Etoile
Madison, WI
Best Chef: New York City
Michael Anthony
Gramercy Tavern
Best Chef: Northeast (CT, MA, ME, NH, NY STATE, RI, VT)
Tim Cushman
O Ya
Boston, MA
Best Chef: Northwest (AK, ID, MT, OR, WA, WY)
Matt Dillon
Sitka & Spruce
Seattle
Best Chef: Pacific (CA, HI)
Matt Molina
Osteria Mozza
Los Angeles, CA
Best Chef: South (AL, AR, FL, LA, MS)
Chris Hastings
Hot and Hot Fish Club
Birmingham, AL
Best Chef: Southeast (GA, KY, NC, SC, TN, WV) — Tie
Linton Hopkins
Restaurant Eugene
Atlanta, GA

Hugh Acheson
Five and Ten
Athens, GA

Best Chef: Southwest (AZ, CO, NM, NV, OK, TX, UT)
Paul Qui
Uchiko
Austin, TX
Who's Who of Food & Beverage in America Inductees
Grant Achatz
Chef and Author
Chicago, IL

Dana Cowin
Editor and Journalist
New York, NY

Mark Bittman
Journalist and Author
New York, NY

Emily Luccheti
Pastry Chef and Author
San Francisco, CA

Marvin Shanken
Publisher
New York, NY

America's Classics Awards
St. Elmo Steak House
Indianapolis, IN

Nora's Fish Creek Inn
Wilson, WY

Jones Bar-B-Q Diner
Marianna, AR

Shady Glen
Manchester, CT

The Fry Bread House
Phoenix, AZ

Lifetime Achievement Award
Wolfgang Puck
Humanitarian of the Year
Charlie Trotter
Founder
The Charlie Trotter Culinary Education Foundation
Chicago, IL