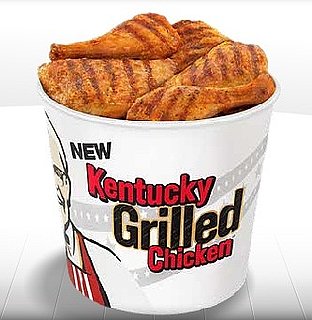 KFC's Kentucky Grilled Chicken made quite the
headlines
when it first hit the market — and the media attention doesn't look like it's about to stop. Yesterday vegetarian advocacy group
Physicians Committee for Responsible Medicine
, or PCRM, announced its plans to sue KFC, alleging the chain failed to warn customers that its
grilled chicken contains a carcinogen
.The cancer-causing compound in question? PhIP, an amino that can be found in grilled meat. PCRM says it submitted samples to an independent lab that confirmed the presence of the carcinogenic compound in all pieces.
The suit follows a similar 2008 PCRM case against McDonald's, Burger King, Chick fil-A, Chili's, Applebee's, Outback Steakhouse, and TGI Friday's. Burger King, the only chain that wound up settling with the advocacy group, now posts signs inside its California locations warning against the possible presence of PhIP.
Do you believe these findings? Are they enough to deter you from eating Kentucky Grilled Chicken?