Let's Make Ice Cream Cake!
Let's Make Ice Cream Cake!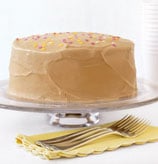 When we asked your opinion of ice cream cakes, the overwhelming response was positive. I'm with all of you, I love ice cream cakes. In fact, when I was in high school my bff and I were famous for our homemade ice cream cakes.
Although it's a stunning dessert that looks like it's hard to make, ice cream cake is actually super simple to put together. The recipe here features a yellow cake with coffee ice cream, but feel free to use the technique described to make any flavored cake and ice cream combination. To take a look at the recipe,
.