Make Yourself With the Nike Training Club App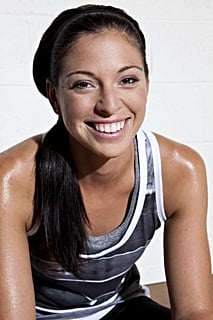 Nike Women and Nike master trainer Marie Purvis teamed up to develop one of our favorite new fitness products. It's the Nike Training Club, and it has changed the way women are hitting the gym. NTC is an app that can be downloaded on your iPhone®, iPod Touch®, or iPad® and offers countless goal-oriented workouts with step-by-step guides and how-to tutorials, so you're guaranteed to maximize your time. Whether you want to lose weight, tone up, or just feel better in your jeans, it's designed for you to make yourself whatever you want to be. One of our favorite NTC workouts is the 15-minute Get Focused Ab Burner, targeting just your abdominal muscles. Try combining this routine with 30 minutes of cardio for a full-body workout.
Feeling motivated? Start by downloading the app and doing a workout. You can even upload your workout directly from your phone to Facebook. Tell us what your favorite drill is in the Arm Definer Get Focused workout in the NTC app for a chance to win awesome Nike workout gear, including a Nike Victory Series bra (designed to give you the support you need while you're hard at work at the gym).
Official Rules