American road trippers can count on McDonald's to provide a familiar, predictable meal for highway-weary travelers. East or west, you can count on a Big Mac or Chicken McNuggets to battle a grumbling tummy. But if your vacation plans take you to international destinations, what was a predictable meal before you stepped on that plane can become a culture shock to the system. We've rounded up some of the most interesting meal options you can expect when dining at the golden arches overseas.
— Additional reporting by Nicole Perry
Source: Flickr user brunogirin [1]
Argentina
Breakfast at an Argentinian McDonald's might mean a McCafé espresso drink and pancakes. The Argentinian spin: instead of maple syrup, this breakfast staple is served with dulce de leche.
Source: Instagram user ashelemm [2]
Belgium and France
If you love the creamy cheesiness of a croque-monsieur, then try a Croque McDo, filled with ham and two slices of Emmentaler cheese. In Belgium, polish it off with a Jupiler beer.
Source: Flickr user geographyalltheway_photos [3]
Canada
Order your fries as poutine in Canada, and they will come topped with gravy and cheese curds.
Source: Instagram user lauramlloyd [4]
China
In addition to the famed McDonald's apple pie, Chinese restaurants serve pies stuffed with sweet taro.
Source: Flickr user johnjoh [5]
Cyprus
In Cyprus, the Greek Mac is essentially a Big Mac in a pita, drizzled with tzatziki sauce.
Source: Flickr user robbyt [6]
Germany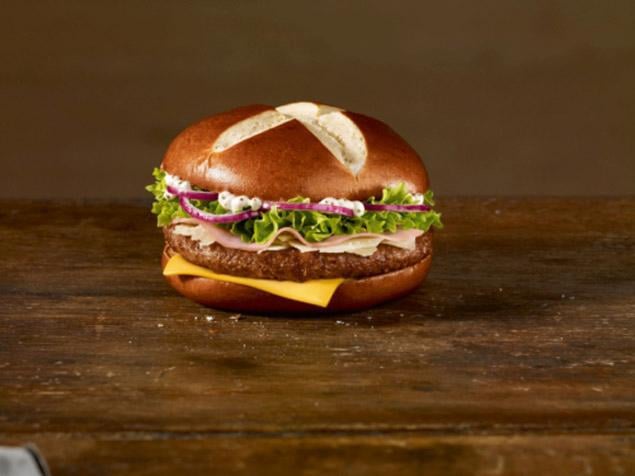 While it's no longer available, Germany McDonald's has a history of crowd-sourcing menu item ideas like the Pretzelnator [7], a beef patty sandwiched in a pretzel bun and topped with ham, lettuce, onions, mayonnaise, and American and Italian cheeses. And for fans of the elusive McRib, you can find it year-round at German McDonald's restaurants.
Source: McDonald's Germany [8]
Greece
The ham and cheese McToast is a popular offering in Greece and many other European countries.
Source: Instagram user james_winters [9]
Hong Kong
The kao fan burger in Hong Kong serves up a fried chicken patty in a bun made from rice.
Source: Flickr user oxborrow [10]
India
India's famous paneer cheese makes up the meaty part of this McDonald's wrap.
Source: Instagram user rahulshah_3197 [11]
Indonesia and Malaysia
Want something fast and comforting while in Indonesia? Order up a bowl of Buryam: rice porridge with chicken and fried crisps.
Source: Wikipedia [12]
Italy
Il Mac may sit on desktops in Italy, but it's not a computer; these McDonald's sandwiches contain a beef patty, cheese, lettuce, and tomato hugged by a ciabatta roll.
Source: Instagram user luxgandi [13]
Japan
Japanese McDonald's wants customers to do some of the work with Shaka Shaka Chicken: place the fried chicken piece in a paper bag, add your choice of seasonings, and shake it for a flavorful bite.
Source: Flickr user morikenstyle [14]
Mexico
Sidle up to a McDonald's breakfast in Mexico, and you can have the McMollete: English muffins topped with beans, melted cheese, and pico de gallo.
Source: Flickr user tinou [15]
The Netherlands
A croquette of beef-stuffed potato, a popular dish in the Netherlands, sits at the center of a McKroket's bun.
Source: Instagram user lootje_x [16]
Philippines
Though McDonald's isn't known for its Italian fare, restaurants in the Philippines aren't afraid to offer McSpaghetti.
Source: Instagram user pautasticxoxo [17]
South Korea
In a country known for its wonderfully seasoned beef, it makes sense that South Korean McDonald's offer the Bulgolgi Burger.
Source: Wikipedia [18]
Taiwan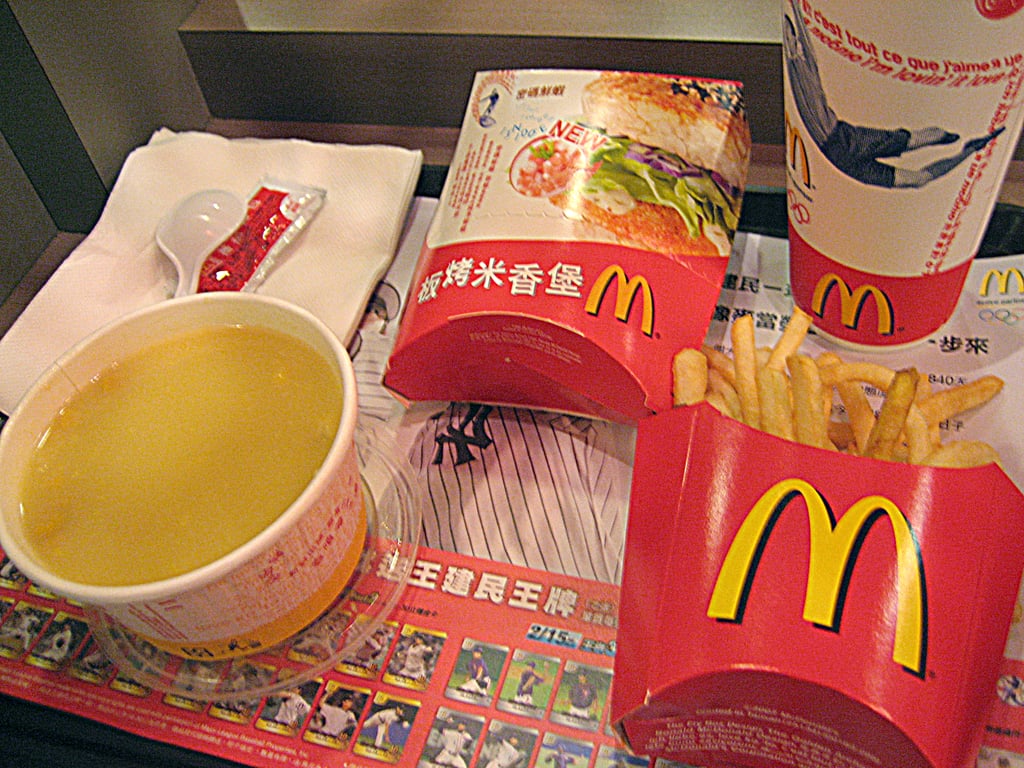 In addition to your fries, order up a shrimp burger with a side of corn soup in Taiwan.
Source: Wikipedia [19]
United Arab Emirates
While in the Middle East, sink your teeth into a flat-bread-wrapped McArabia sandwich for a different take on McDonald's grilled chicken.
Source: Instagram user garozob [20]
Guatemala and Mexico
The Pay de Queso, or queso pie, is a popular offering at McDonald's in Guatemala and Mexico.
Source: Flickr user tannazie [21]