While we are certainly meat-lovers over here, we're also big proponents of Meatless Mondays. Not only does it help out with our carbon footprint, but sometimes it's just nice to switch things up a little bit, especially at the start of a week. Here are 13 delicious meat-free soups that are sure to fill you up and not let you down!
Source: Anna Monette Roberts, Nicole Perry, Snixy Kitchen [1], Alexandra's Kitchen [2]
Slow-Cooker Vegetarian Chili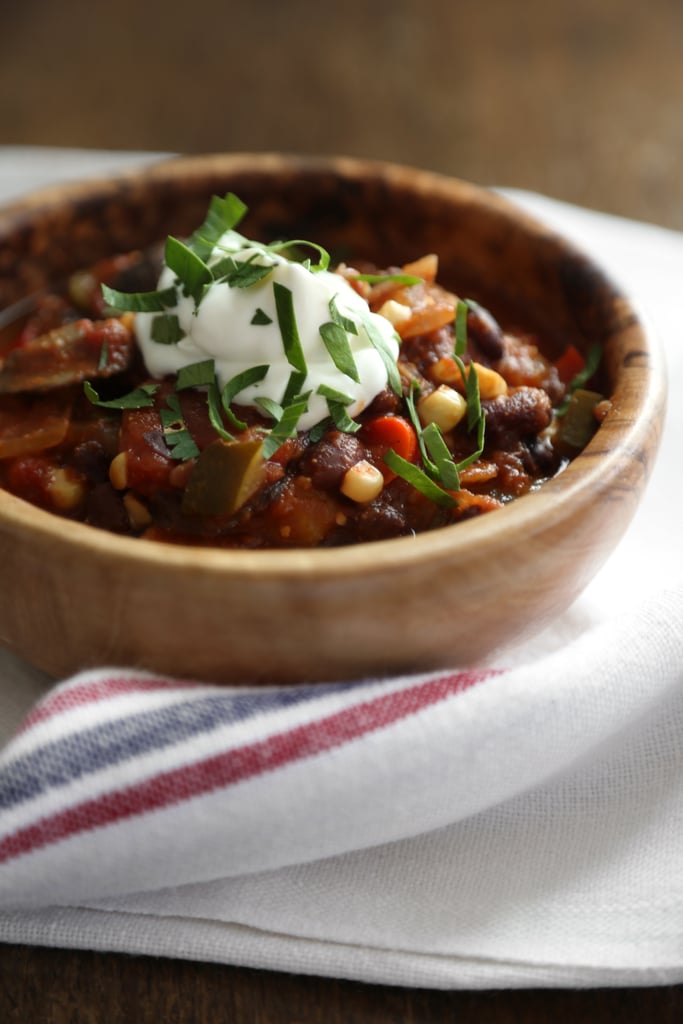 Let your slow cooker do the heavy lifting on this veggie-packed vegetarian chili [3] while you're at work; when you get home you'll have a superfilling and comforting meal ready to eat.
Photo: Anna Monette Roberts
Spicy Tomato Soup With Grilled Cheese Croutons
Tomato soup and grilled cheese were practically made to be paired with each other. That's why this spicy tomato soup with grilled cheese croutons [4] is going to blow your mind.
Photo: Nicole Perry
Zucchini Noodle Egg Drop Soup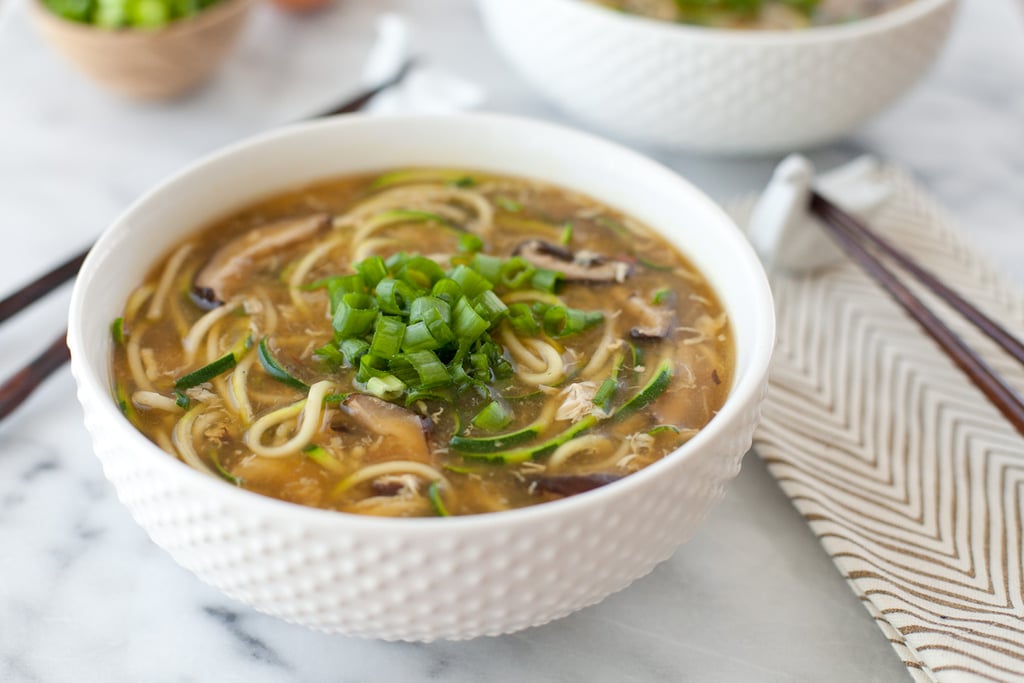 Zucchini "noodles" bulk up this spin on Chinese egg drop soup [5].
Source: Snixy Kitchen [6]
Curried Pumpkin Soup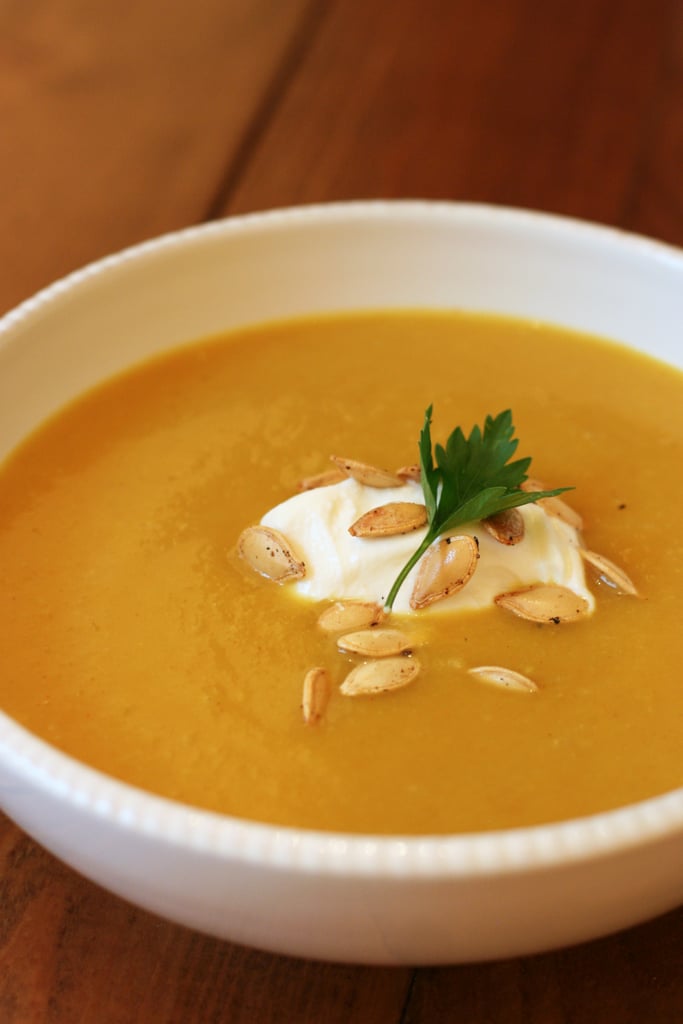 Curry and ginger make this pumpkin soup [7] plenty spicy while the pumpkin makes it thick, fibrous, and slightly sweet. Garnish it with a dollop of Greek yogurt for a tart bite and roasted pumpkin seeds for crunch.
Photo: Anna Monette Roberts
Potato Leek Soup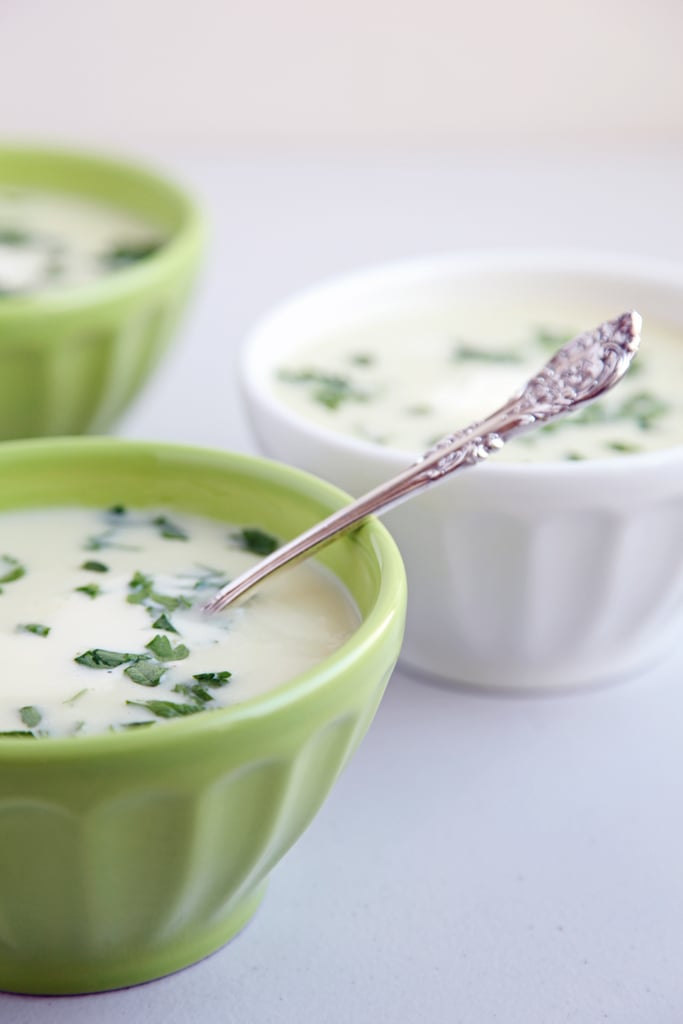 Velvety potato leek soup [8] would make the perfect first course to a French meal.
Photo: Nicole Perry
Spiced Carrot Soup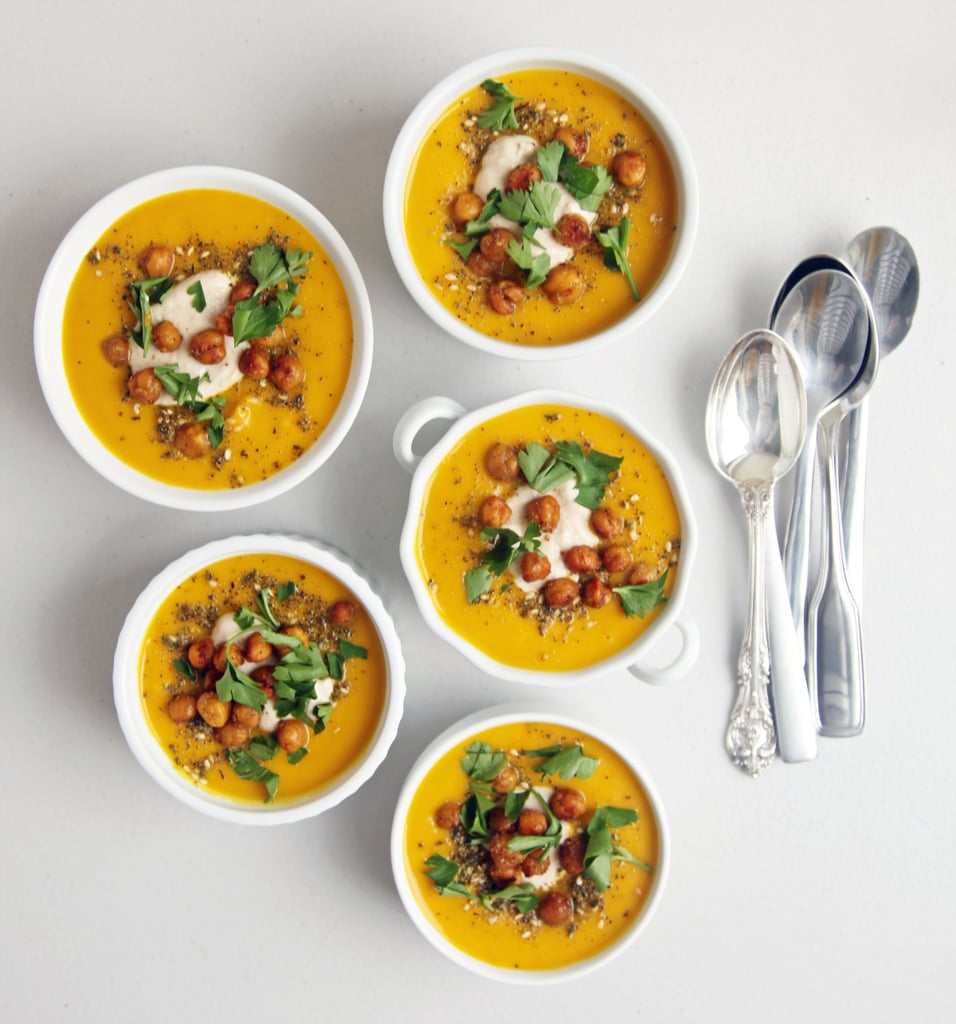 You'll be going back for more once you taste this spiced carrot soup [9] that's garnished with roasted chickpeas, tahini, and plenty of parsley. It's creamy without using any cream and hearty enough to serve as a light meal.
Photo: Nicole Perry
Roasted Tomato Soup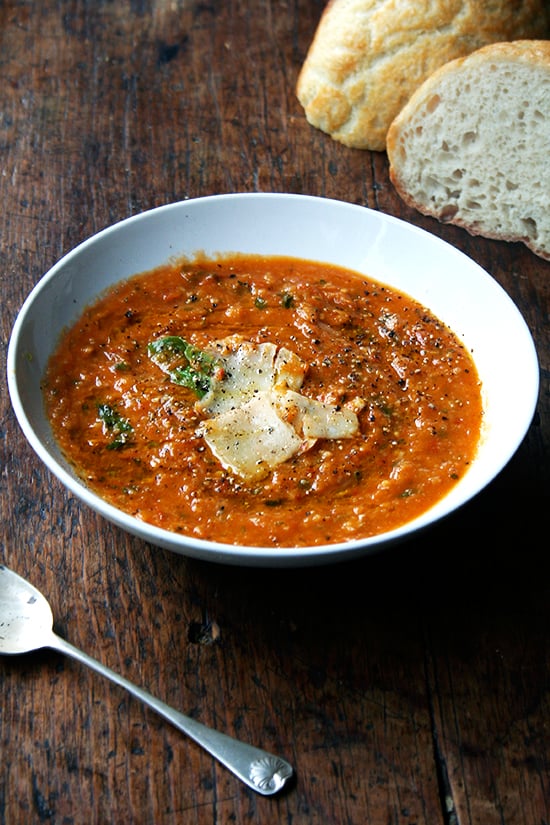 Slow-roasted tomatoes, onions, shallot, garlic, and carrot add robust caramelized notes to this roasted tomato soup recipe [10]. Sprinkle a hefty dose of parmesan onto the soup and serve with peasant bread for dipping.
Source: Alexandra's Kitchen [11]
Butternut Squash Soup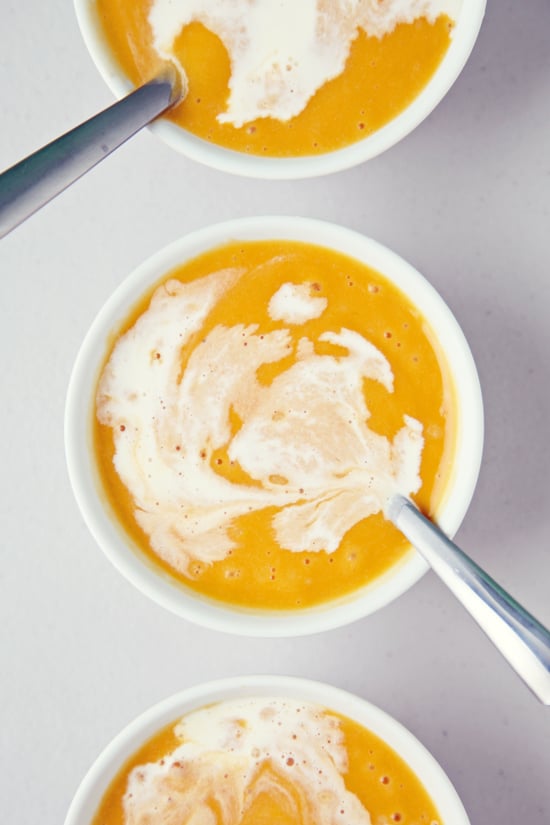 Simply swap rich vegetable stock [12] for chicken broth to make this simple, silky-smooth butternut squash soup [13] vegetarian.
Photo: Nicole Perry
Beet and Red Cabbage Borscht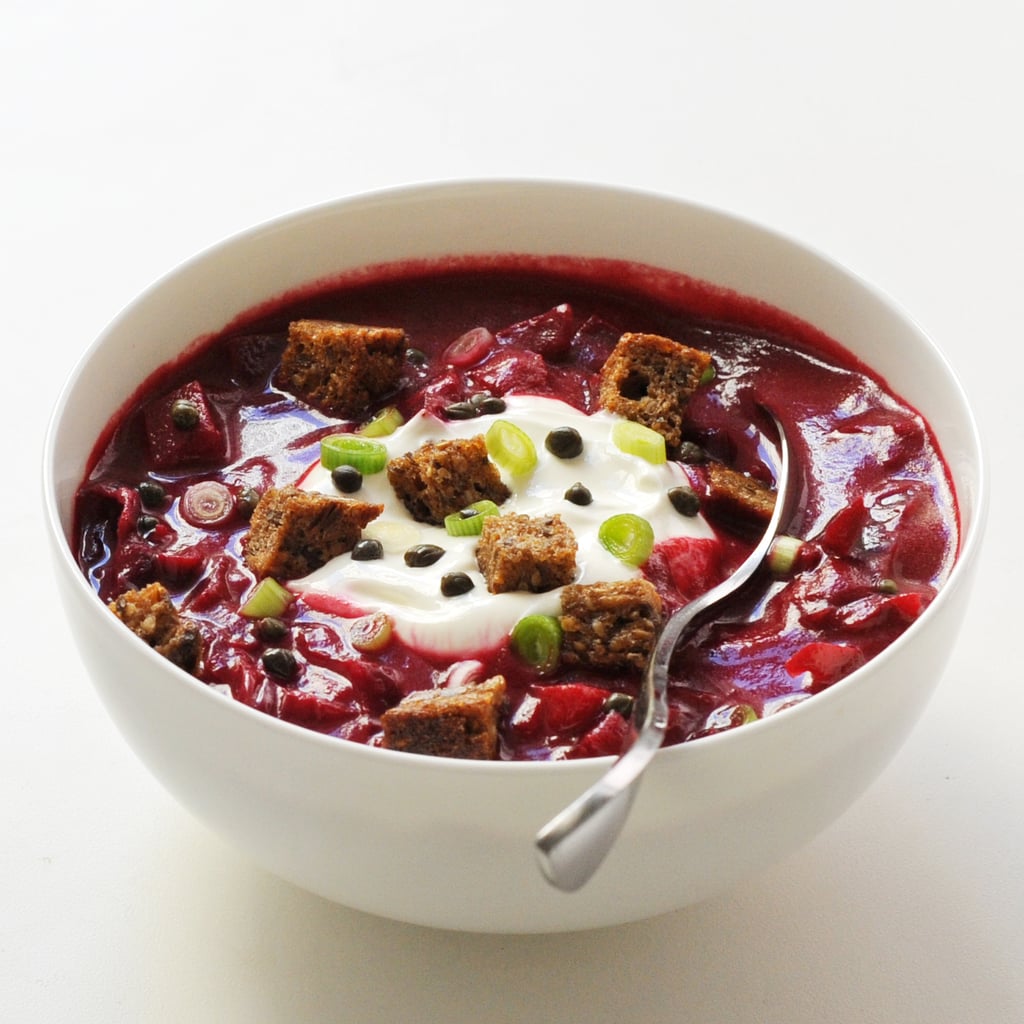 Red wine vinegar, capers, scallions, and sour cream balance out the sweet, earthy beets in this thick, chilled beet and red cabbage borscht recipe [14].
Photo: Nicole Perry
Irish Onion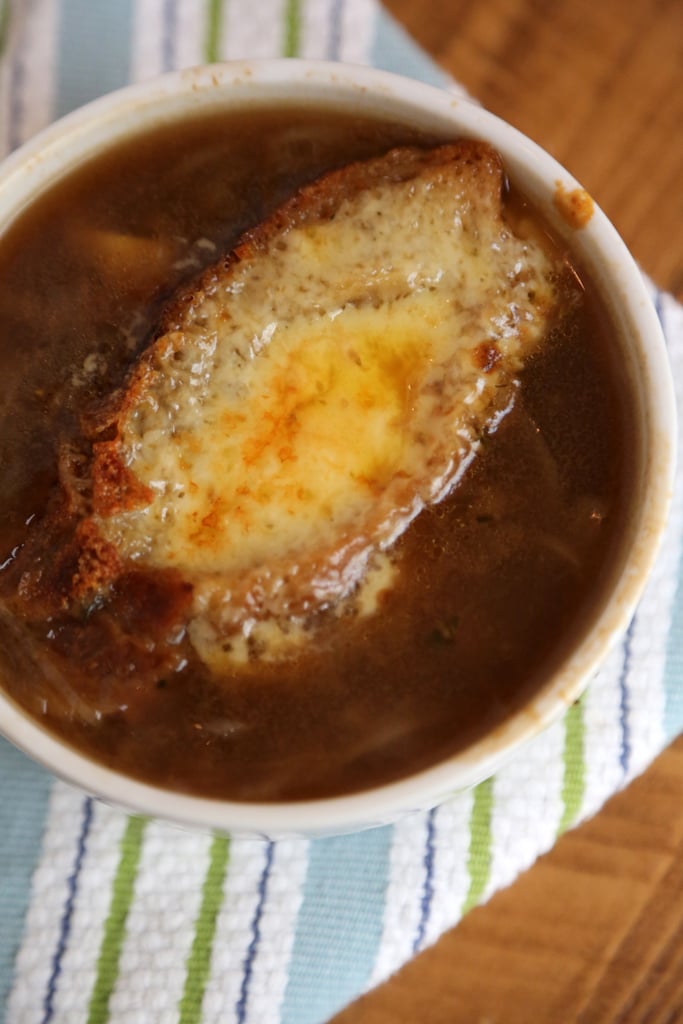 A cup of chef Michael Chiarello's Guinness and onion soup [15] may be an Irish-inspired meal, but it's definitely not just for St. Patrick's Day. To make it Meatless Monday and vegetarian friendly, replace the beef stock with a veggie version.
Photo: Anna Monette Roberts
Garlicky Broccoli Soup
Greek yogurt and cheddar cheese make this garlicky broccoli soup [16] creamy without masking its fresh green flavor.
Photo: Anna Monette Roberts
Sweet Potato Soup With Za'atar Oil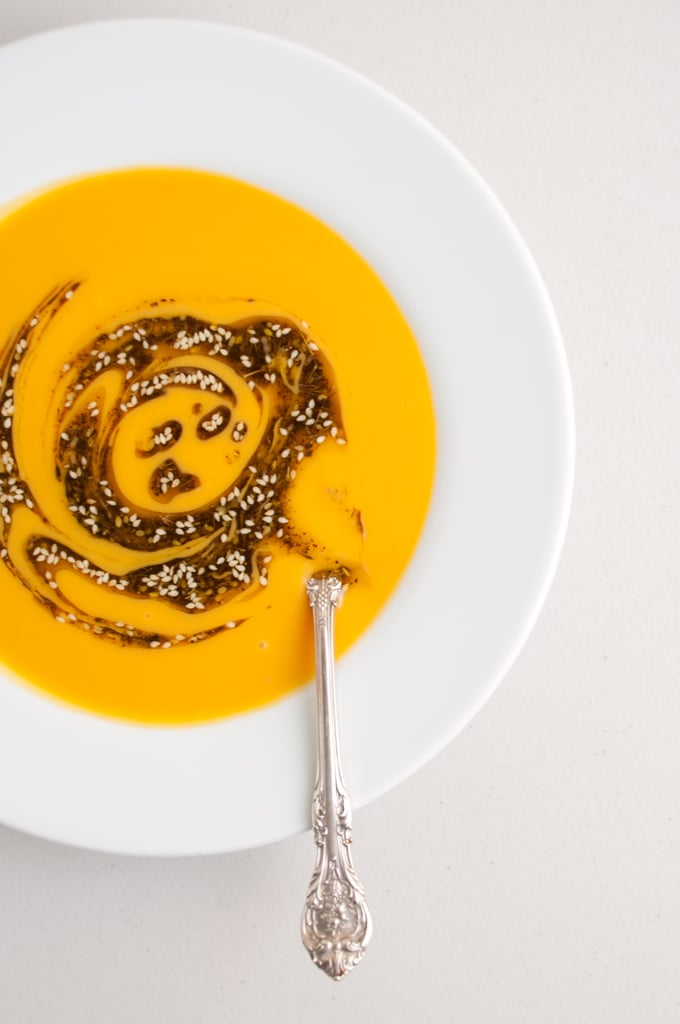 This tangerine-hued sweet potato soup [17] is enlivened with a swirl of za'atar oil that's both rich in flavor and easy on the eyes.
Photo: Nicole Perry
Vegan Pumpkin Chili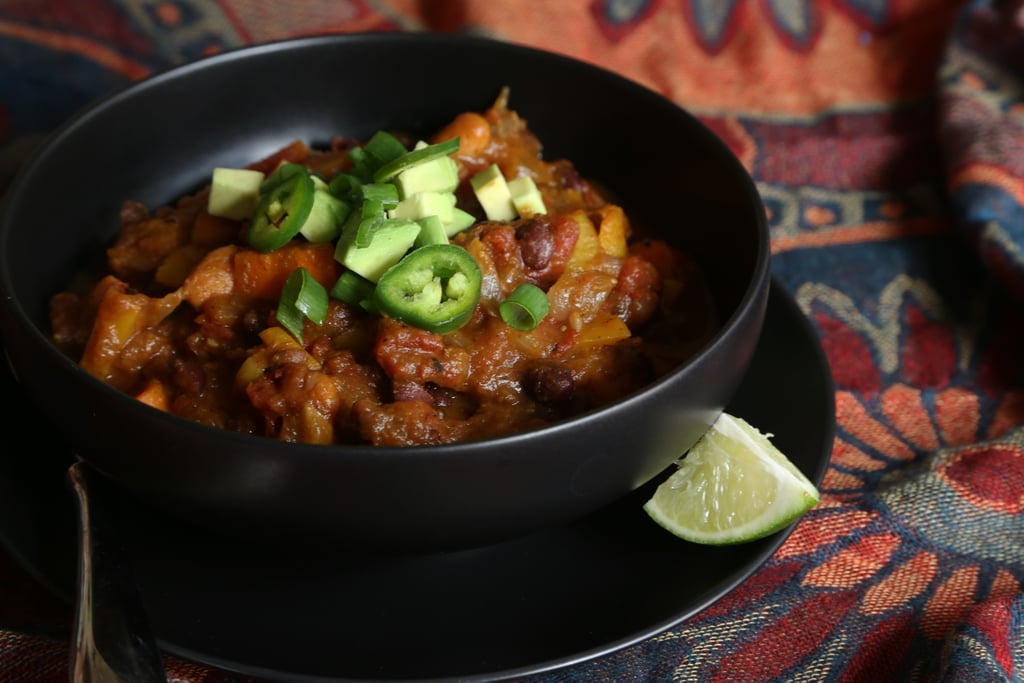 So thick you can stand a spoon up in it, this vegan pumpkin chili [18] tastes like Fall in a bowl.
Photo: Anna Monette Roberts