The health benefits of the Mediterranean diet [1] are endless, so why not swap out the standard burger-and-beans fare and host a Mediterranean-themed cookout? Start with these tips for decorating an outdoor table [2], and then it's time to think about the menu. A loaded mezze platter, juicy lamb kebabs, and a captivating cheese plate are just a few of the highlights. Want to know a little secret? Many of the items can be made ahead, and the recipes are foolproof, even for a beginner. So go ahead and get those barbecue invitations [3] sent out. Your friends are going to want in on this.
— Styling by Emily Bibb, Angela Elias, Annie Gabillet, and Nicole Perry
Mediterranean Tablescape
Whether you're a pro in the decorating department or a total newbie, the stylish POPSUGAR Home team can guide you through all of the details to re-create this Mediterranean tablescape [7]. The food won't be the only part turning heads!
Family-Style Service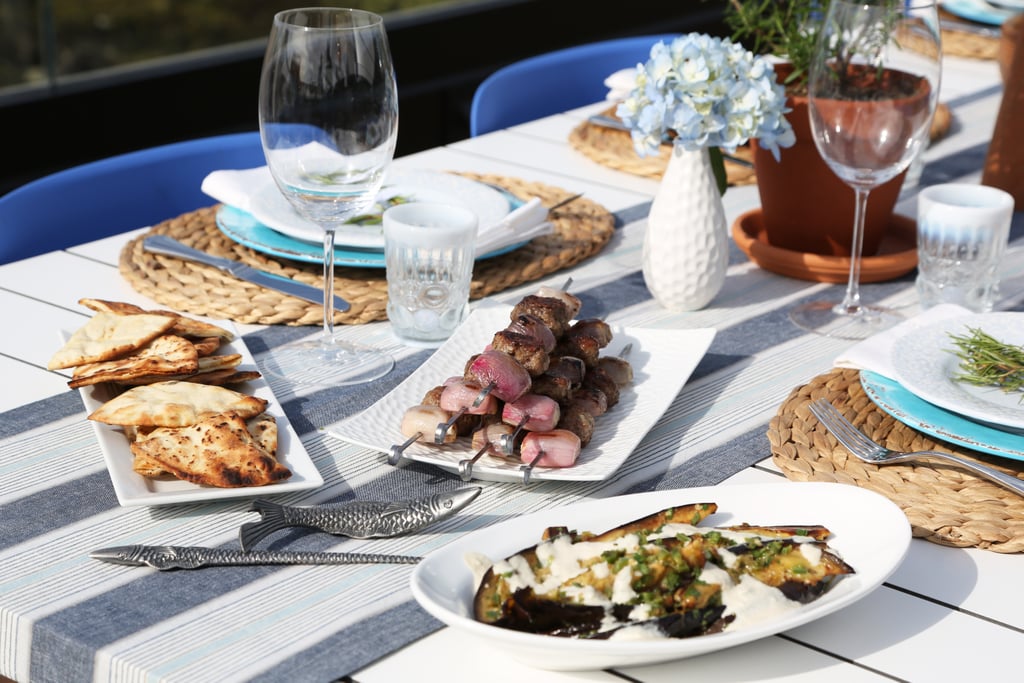 If you're pressed for space and don't have enough room to set up a buffet, serve everything family-style. The act of passing and sharing the food makes the dinner experience more communal and casual.
Mezze Platter With Grilled Pita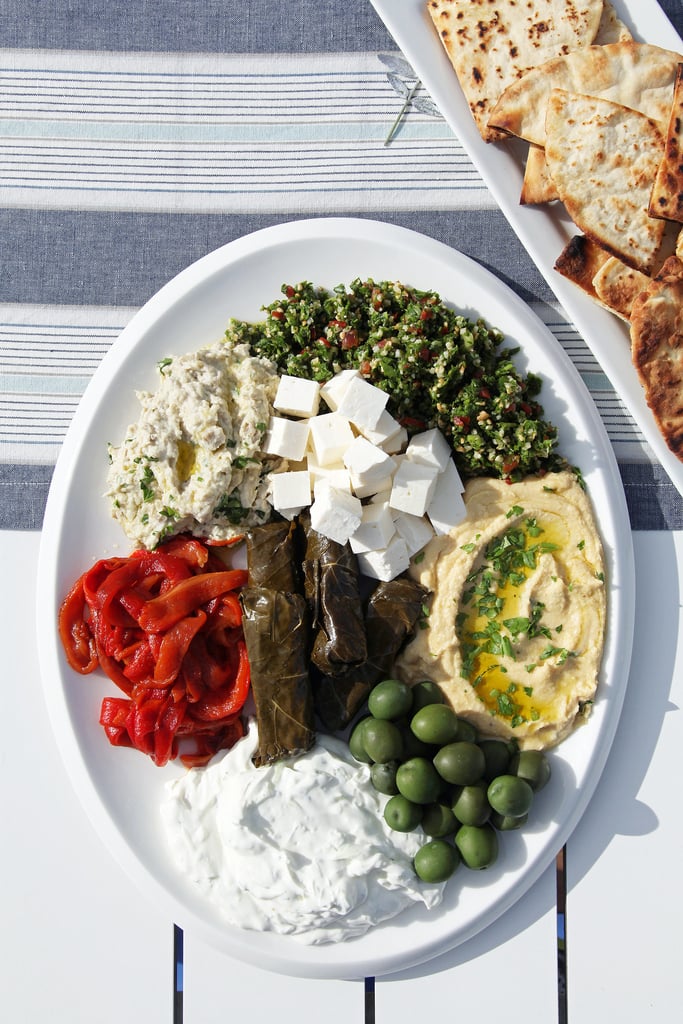 A mezze platter [8], filled with hummus, tzatziki, tabbouleh, and more, staves off hunger and can withstand outdoor temperatures for several hours (so long as it's in the shade). Many of the components can be store-bought if you're on a time crunch. Otherwise, make them a day or two before the party and assemble on a plate before your guests arrive.
Orzo Pasta Salad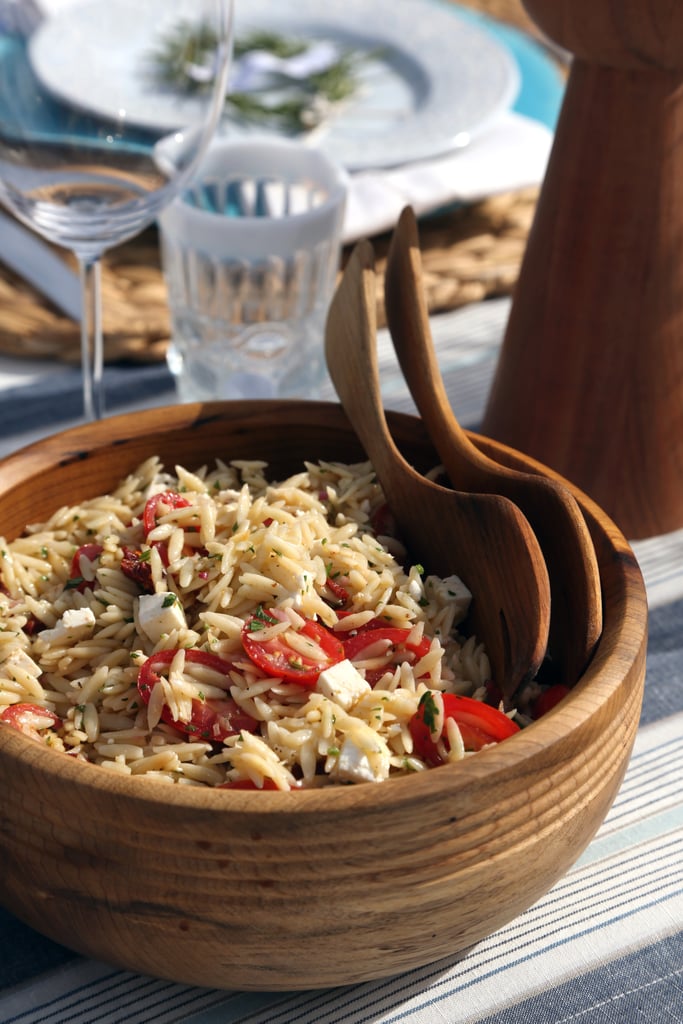 The morning before the party, whip up this orzo pasta salad [9] to let the red wine vinegar dressing soak into all the ingredients. We especially love this side because it tastes best at room temperature and highlights seasonal tomatoes.
Grilled Broccolini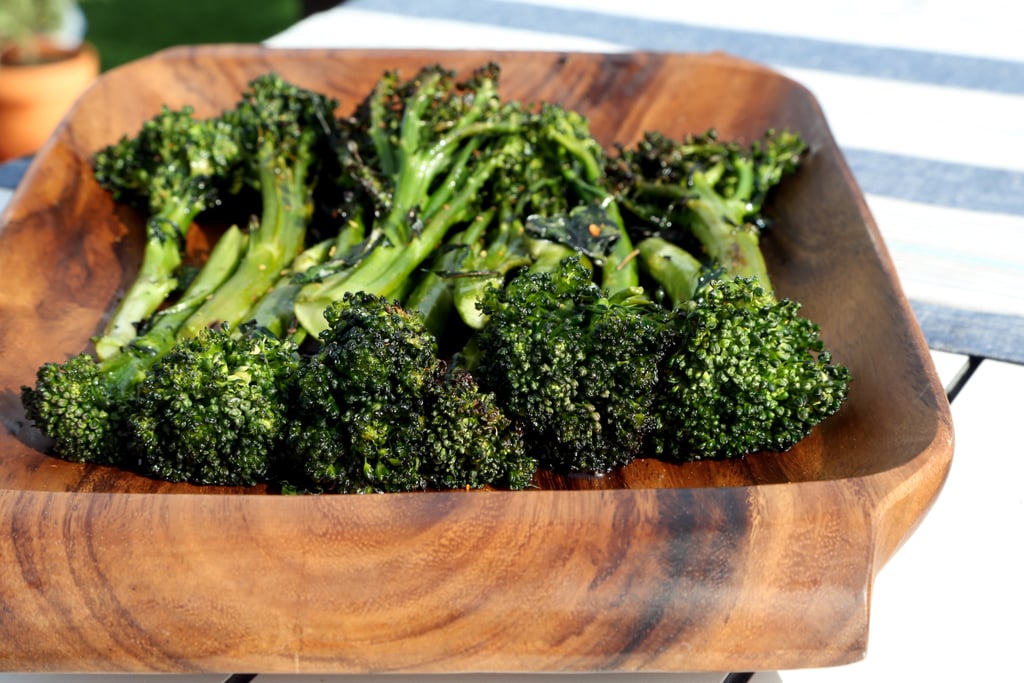 Simply toss the broccolini with olive oil, salt, and red pepper flakes, then cook in a grill basket [10] over a medium flame until they are bright green and nearly tender. The slightly smoky char provides an additional layer of flavor, and as long as you don't accidentally overcook them, the stalks taste great at room temperature, too.
Lamb Kebabs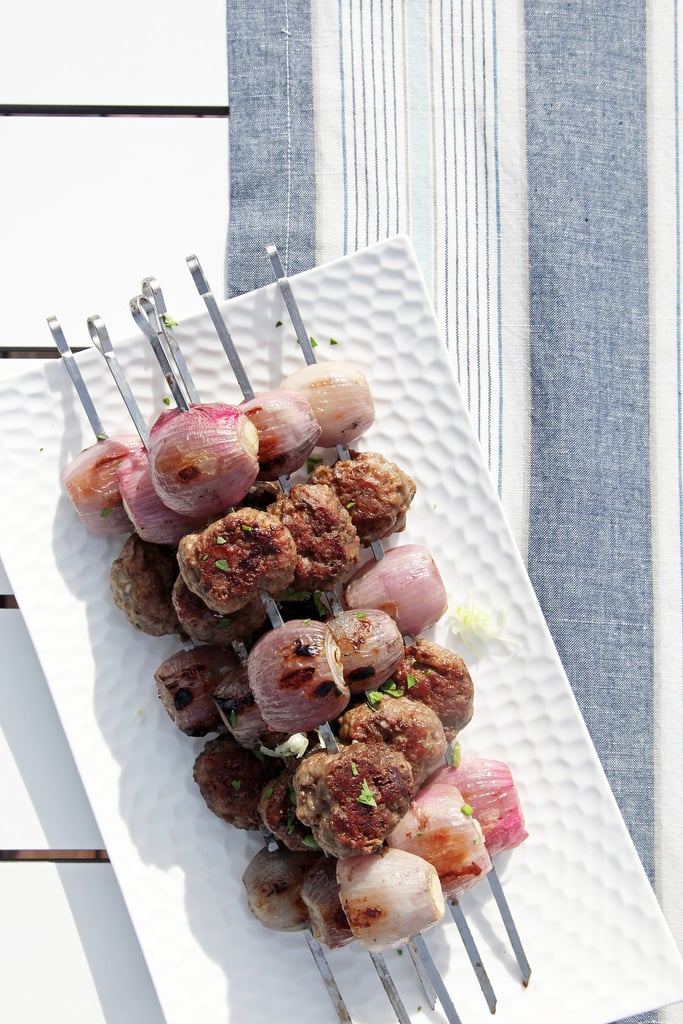 These lamb and shallot kebabs [11] are first seared on the grill and then are finished on the stovetop with a pomegranate molasses glaze. Cook them up as guests are noshing on the mezze platter.
Marinated Eggplant With Tahini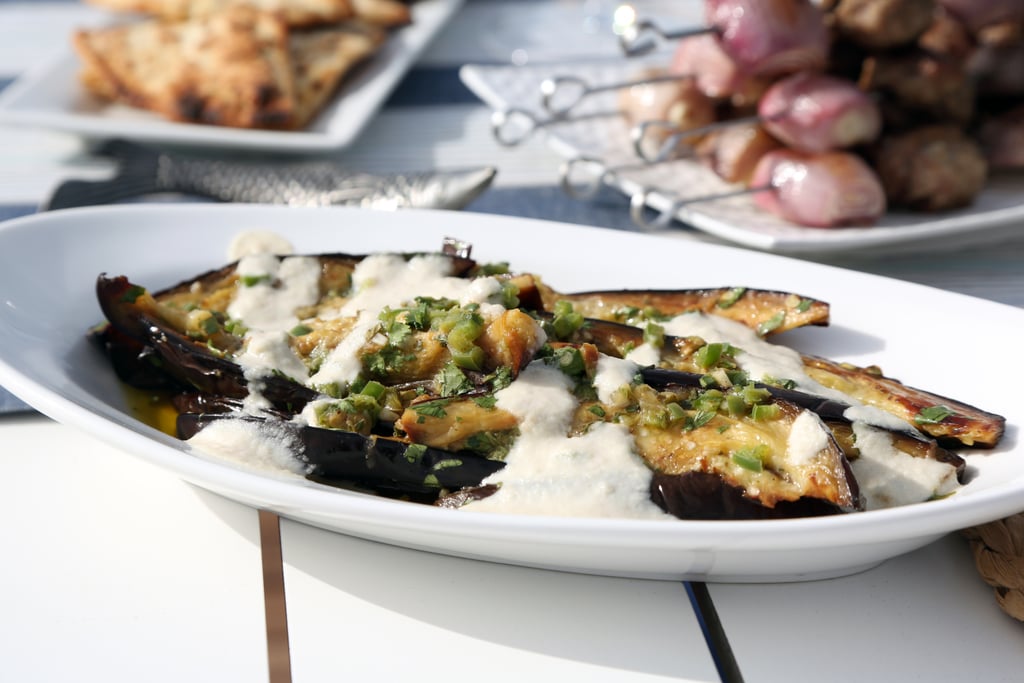 Yotam Ottolenghi's responsible for this boldly flavored marinated eggplant [12], dressed in a tahini sauce. It too can be made the morning of the party and left out at room temperature.
The Plate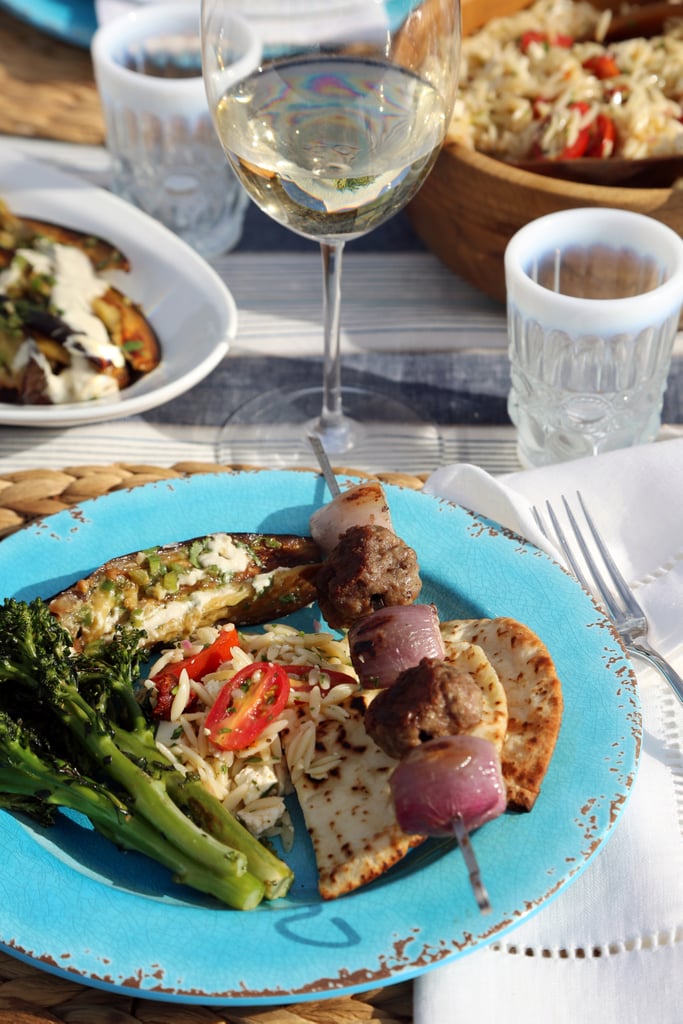 Serve everything family- or buffet-style, depending on what your space will allow. All the flavors complement one another, so encourage guests to load up their plates with a bit of everything.
Cheese Course
Who needs dessert when you can eat cheese? Move away from the table, and enjoy a cheese course with a crisp white to match. The key is in the assembly of the cheese plate [13].
Cheese Plate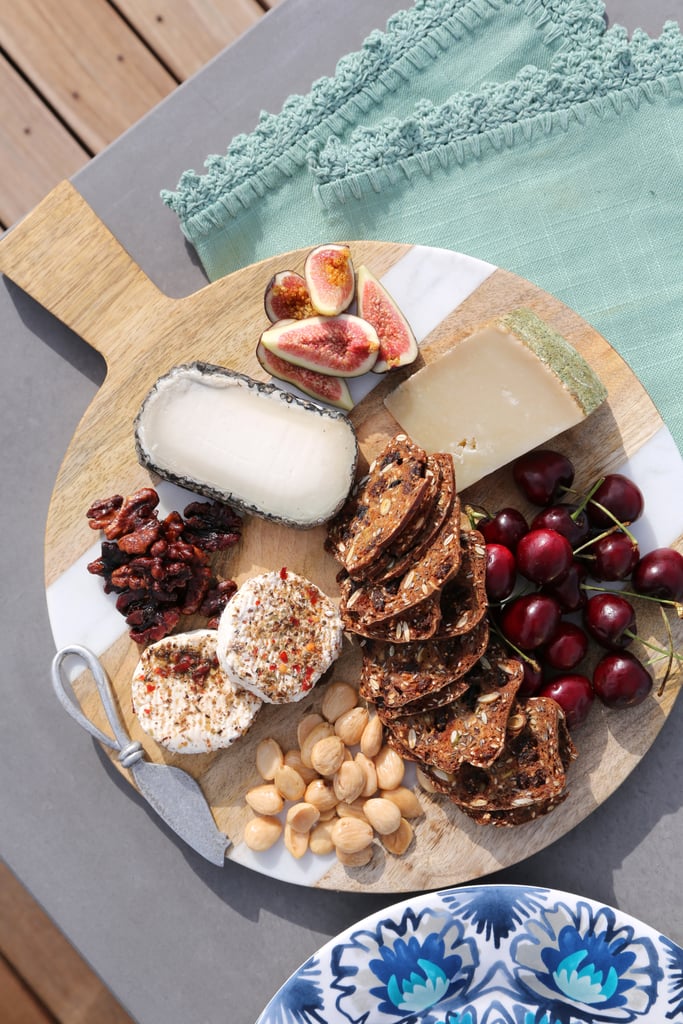 For this cheese plate, we found everything at Whole Foods. Starting at the top and moving clockwise, we used fresh figs, Fiore Sardo (a hard, salty sheep's milk cheese), cherries, Lesley Stowe's Raincoast Crisps, Marcona almonds, Tomini Guffanti (a soft cow's milk cheese dusted in chili flakes), caramelized walnuts, and Monte Enebro Consorcio de Quesos (a gooey aged goat cheese).