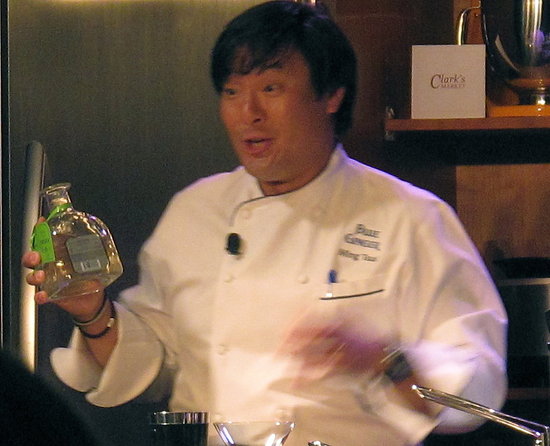 When public television chef Ming Tsai spoke at
last year's Classic
, I learned that he was wildly hilarious. Thus, at this year's festival, I couldn't wait to catch some more laughs. Ming shared tips for East-West cuisine while making blue cheese burgers and bacon potstickers, a ginger margarita, and a tempura shrimp cocktail. In addition to offering up lots of advice to home cooks, the
Blue Ginger
chef and owner also shared his thoughts on everything from eating at Alinea ("I thought it'd be gimmicky, but it was unbelievably sexy, delicious food") to his approach to dining out ("When I walk into a restaurant, I only want to see locals"). Get more of his cooking tips after the break.
Ming echos fellow speaker Michael Symon's sentiments: Cooks should buy whole spices, then invest in grinders for everything from black pepper to coriander.
Read the written works of Brillat-Savarin and Escoffier. Other than that, take advantage of Google for recipes and tips.
To ensure the flavors are well-balanced, always taste your food as you're making it.
Don't buy into the rule about pairing red wine with meat and white wine with poultry.
When making tempura, to achieve the ultimate in what Ming calls GB&D ("golden brown and delicious"): Use cold club soda in your tempura batter to keep the batter's gluten cold — and always test the temperature of your oil with a bit of batter. Don't waste precious vegetables or protein!
Focus on quality ingredients: stock your bar with tequila that's made from 100 percent agave and use only naturally-brewed soy sauce.
I can't wait to try out tempura with Ming's tips and attempt my own rendition of his potstickers inspired by the West. What do you think of the chef's suggestions? Are you a fan his East-West style cooking?