Mini Macaroni and Cheese Appetizer Recipe
Mac Attack! Three-Cheese Mini Macs
Like us on Facebook
Looking for something orange to serve at your Halloween bash on Saturday? Why not make these adorable and delicious macaroni and cheese bites?! This mac gets its vibrant hue from cheddar and American cheeses.

The technique is like a typical macaroni and cheese recipe, but the ratio of cheese to liquid is different. There's more cheese and less milk resulting in a dense, easily-compactable pasta with thick sauce.

Although the recipe calls for five minutes of cool time, I found that these macs, which are cooked in mini muffin pans, need about ten minutes to set. If you try to get them out of the pan too early, the pasta won't hold its shape and instead of mac and cheese minis, you'll just have a mac and cheese mess. To look at the recipe, keep reading.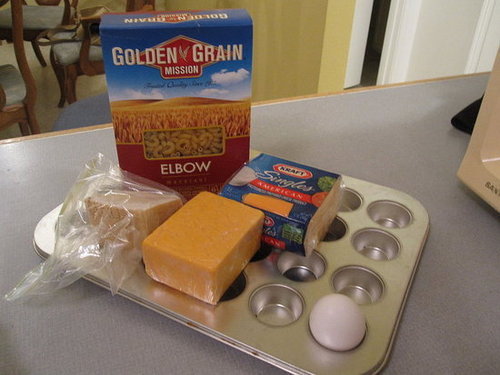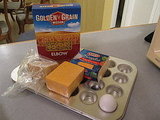 Ingredients
1/2 pound elbow macaroni
1 1/2 tablespoons unsalted butter, plus more for brushing
1/4 cup freshly grated Parmigiano-Reggiano cheese
2 tablespoons all-purpose flour
3/4 cup milk
4 ounces cheddar cheese, shredded (1 packed cup)
4 ounces deli-sliced American cheese, chopped
1 large egg yolk
1/4 teaspoon smoked Spanish paprika
Directions
Preheat the oven to 425°. In a large saucepan of boiling salted water, cook the macaroni until al dente, about 5 minutes. Drain, shaking off the excess water.
Brush four 12-cup, nonstick mini muffin tins with butter. Sprinkle with 2 tablespoons of the Parmigiano; tap out the excess.
In a large saucepan, melt the 1 1/2 tablespoons of butter. Whisk in the flour over moderate heat for 2 minutes. Whisk in the milk and cook, whisking, until boiling, about 5 minutes.
Add the cheddar and American cheeses and whisk until melted.
Off the heat, whisk in the egg yolk and paprika. Fold in the macaroni.
Spoon slightly rounded tablespoons of the macaroni into the prepared muffin cups, packing them gently. Sprinkle the remaining 2 tablespoons of Parmigiano on top.
Bake the mini macs in the upper and middle thirds of the oven for about 10 minutes, until golden and sizzling. Let cool for 5 min­utes. Using a small spoon, carefully loosen the mini macs, transfer to a platter and serve.
Serves 4-6.
Make ahead: The recipe can be prepared through Step 5 and refrigerated overnight.
Information
Category

Appetizers, Finger Foods