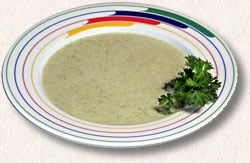 In the long cold days of winter there is nothing more soothing than sitting down to a warm bowl of soup and a glass of wine. Soups chock full of ingredients and flavor are hearty and heating, yet sometimes a simple soup that highlights the goodness of one or two vegetables is the only way to go. I first heard about this technique when I read French Women Don't Get Fat.
Apparently one of the reasons French women stay so thin is because they eat a lot of simple vegetable soups. I propose that tonight we all pretend we are French by enjoying a no frills simple cream of broccoli soup that reader Colormesticky requested. To be French for a night, and to celebrate National Soup Month,

Simple Cream of Broccoli Soup
From Food Network
2 tablespoons butter
1/2 cup cream, heavy, light or half-n-half
1 onion, chopped
1 russet potato, peeled and chop
Nutmeg, to taste
6 cups canned chicken stock, warmed
Salt
3 cups chopped broccoli florets and stems
Pepper
In a large pot, melt butter and cook onion until tender over medium high heat.
Add potato and toss to coat with butter.
Add hot stock and bring to a simmer.
Stir in broccoli and return to a simmer.
When potato and broccoli are tender, puree in batches in a blender or food processor.
Return to pot and add cream.
Season to taste and serve warm.
Oh and if you're interested in (or enjoyed) the French Women book, BuzzSugar pointed out that there's also a book called Japanese Women Don't Get Old or Fat.