National Food Festivals and Food Events, July 21-28, 2009
Noteworthy Nibbles — July 21-28, 2009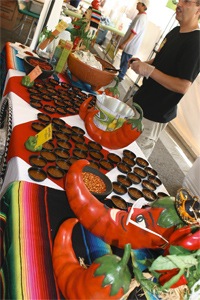 Food events this week are all over the map, both literally and figuratively speaking. This weekend, I'm hoping to join some friends in a budget- and eco-friendly Slow Food potluck dinner. If I've got the time, I'd love to make it out to the world-famous Gilroy Garlic Festival, where garlic lovers come in droves to sample everything from garlic fries to garlic ice cream.

One day, I'd would enjoy making a trip to the Oxnard Salsa Festival and Indiana's Pierogi Fest. What will you be attending this week? Let us know below!




To see the rest, read more.