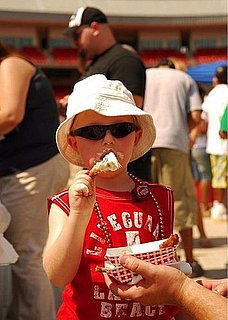 Even though Memorial Day seemed like yesterday, Labor Day's already crept up on us. If you don't have major travel plans for the long weekend, celebrate Summer's last hurrah with a gaggle of glorious food festivals, big and small.
Enjoy potjie [1], a three-legged South African cooking pot, in Texas, butterbeans [2] in Alabama, and hamburgers [3] in Pennsylvania.
The two events I'm really dying to attend? The famed Best in the West Rib Cook-Off [4] and upstate New York's yearly Buffalo Wing Festival [5]. Where will you make an appearance this weekend? Let us know in the comments below!


St. Paul, MN: Minnesota Cooks! [6] — Sept. 1
New York, NY: Slow U: Ice Cream, From Sugar and Snow [7] — Sept. 1
Millersport, OH: Millersport Sweet Corn Festival [8] — Sept. 2-5
Sparks, NV: Best in the West Nugget Rib Cook-Off [9] — Sept. 2-7
Morgan City, LA: Louisiana Shrimp & Petroleum Festival [10] — Sept. 3-7
Village of Pinehurst, NC: Pinehurst Food & Wine Fest [11] — Sept. 3-7
Sonoma, CA: Sonoma Wine Country Weekend [12] — Sept. 4-6
Kerrville, TX: Kerrville Wine & Music Festival [13] — Sept. 4-6
Indianapolis, IN: Indianapolis Rib America Festival [14] — Sept. 4-7
Rusk, TX: Texas Potjie Festival [15] - Sept. 4-7
Denver, CO: A Taste of Colorado [16] – Sept. 4-7
Cleveland, OH: Taste of Cleveland [17] — Sept. 4-7
Fallon, NV: Fallon Cantaloupe Festival [18] — Sept. 4-7
Hamburg, PA: Taste of Hamburg-er Festival [19] — Sept. 5
To see the rest, .


Pinson, AL: Alabama Butterbean Festival [20] — Sept. 5
Irvington, VA: Irvington Stomp [21] — Sept. 5
Hatch, NM: Hatch Valley Chile Festival [22] — Sept. 5-6
Millbrae, CA: Millbrae Art & Wine Festival [23] — Sept. 5-6
Buffalo, NY: National Buffalo Wing Festival [24] — Sept. 5-6
Shawnee, PA: Pocono Garlic Festival [25] — Sept. 5-6
Arthur, IL: Amish Country Cheese Festival [26] — Sept. 5-7
Bernalillo, NM: New Mexico Wine Festival [27] — Sept. 5-7
Martin, TN: Tennessee Soybean Festival [28] — Sept. 5-13
New Orleans, LA: The Big Two Revisted: Sazerac and Ramos Gin Fizz [29] — Sept. 8
Source [30]