If the fast-food chefs of America are trying to corner the market for drunk-people food, it's working. While the hybrid-foods trend started thanks to celebrity chefs (I mean, 2013 was the year of the Cronut [1]), this year, fast-food restaurants are taking it to the next level, for better or for worse. From Taco Bell's Waffle Taco to Jack in the Box's faux Cronut, there have been some crazy successes (and wild failures) that are worthy of a taste, or at least a look.
— Additional reporting by Nicole Perry
Source: Burger King [2], Pizza Hut [3], Foodbeast [4], and Anna Monette Roberts
Pizza Hut Sweet Sriracha Dynamite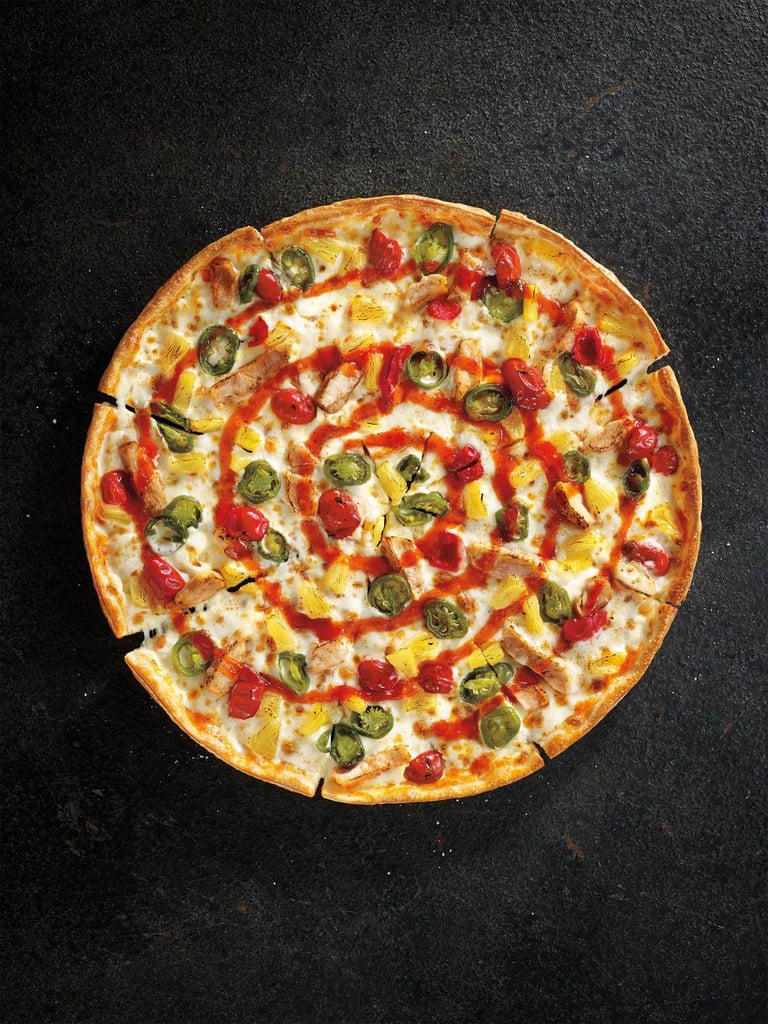 In November, Pizza Hut revamped its menu to include novel options like pretzel crust, balsamic drizzle, and buffalo sauce, as well as a handful of predesigned pizza options. One bold combination — Pizza Hut's Sweet Sriracha Dynamite [5] — takes a honey-sriracha-sauced pie and tops it with grilled chicken, sliced jalapeño peppers, sweet pineapple, Peruvian cherry peppers, and a honey sriracha sauce drizzle.
Source: Pizza Hut [6]
Papa John's Frito Chili Cheese Pizza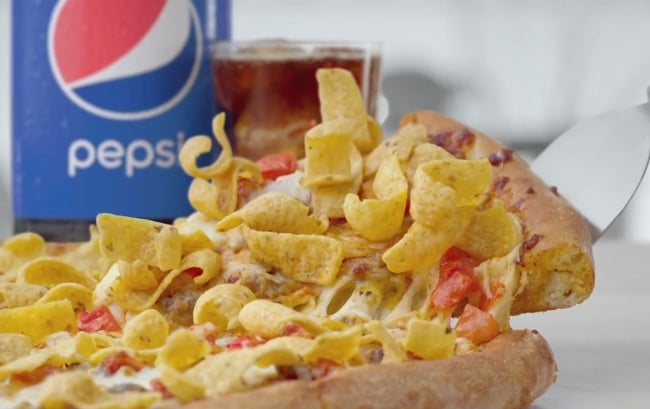 If Frito pie is your ultimate comfort food dish, then you're going to love this new creation by Papa John's. The Frito Chili Cheese Pizza [7] is essentially a mashup of pizza and the tailgating classic.
Jack in the Box Chick-n-Tater Melt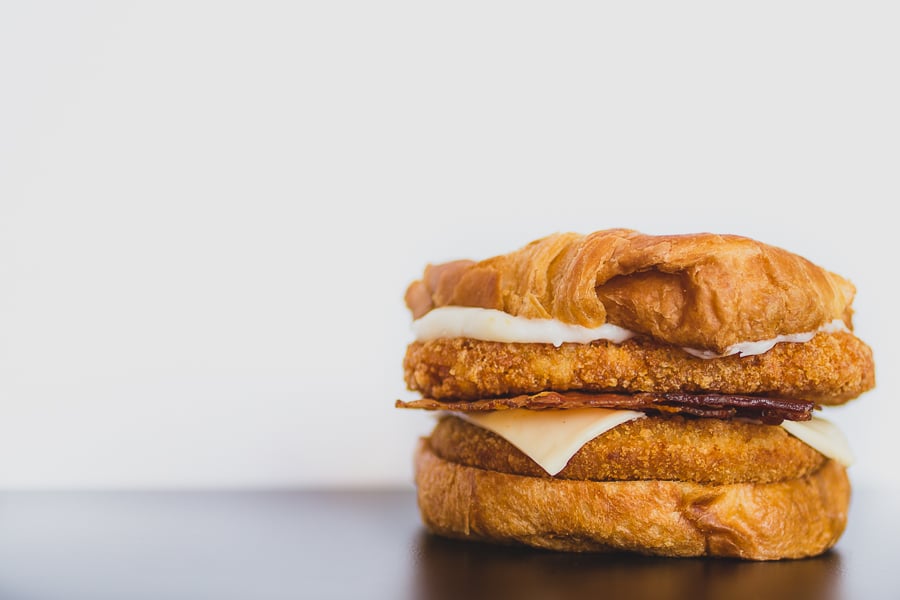 Never a brand to shy away from excess, Jack in the Box added a sandwich dubbed the Chick-n-Tater Melt [8] to its late night menu in September. Packed between a croissant is not only a fried chicken patty and a hash brown patty but also Swiss cheese, bacon, ranch, and cheese sauce. Quite the mouthful just to say out loud!
Source: Foodbeast [9]
Wendy's Pulled Pork Cheeseburger
In September, Wendy's rolled out three pulled pork menu items [10]. While one of the trio is pretty standard — a pulled pork sandwich topped with slaw — the other two are undeniably over-the-top: a pulled pork cheeseburger (yep, there's a burger patty and pulled pork on that bun) and pulled pork cheese fries.
Source: Wendy's [11]
Tim Horton's Buffalo Crunch Doughnut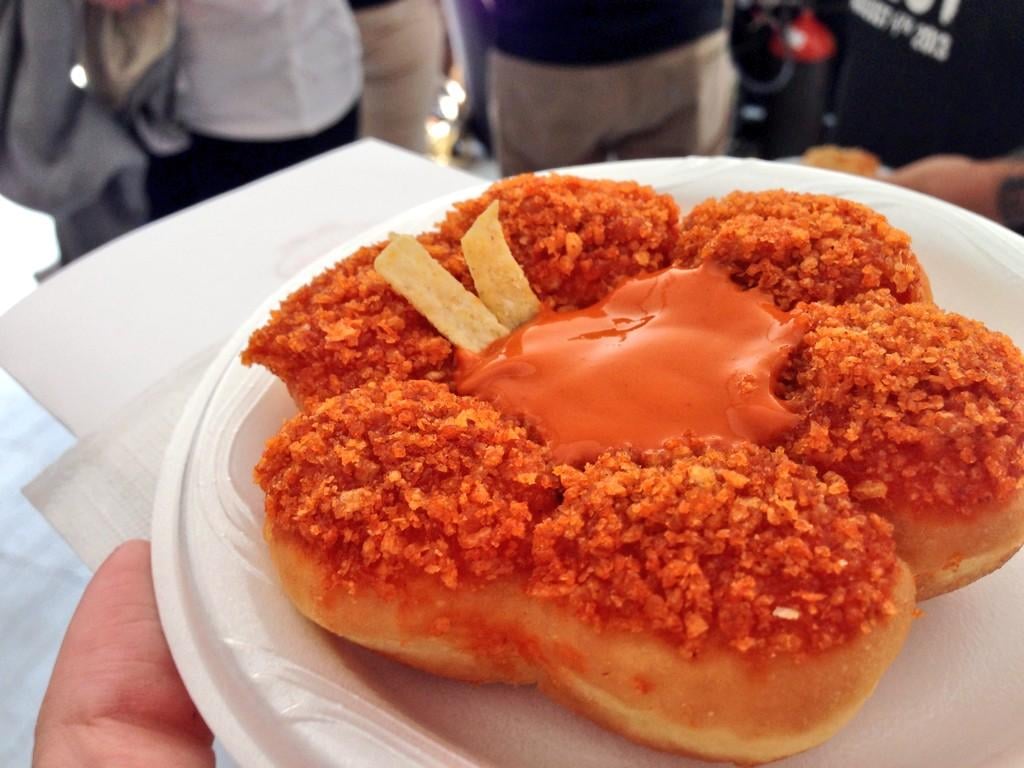 So what the heck is a Buffalo Crunch Doughnut [12]? Tim Horton's debuted this creative and savory flavor at the New York State Fair.
Source: Twitter user As Eaten on TV [13]
Taco Bell Quesarito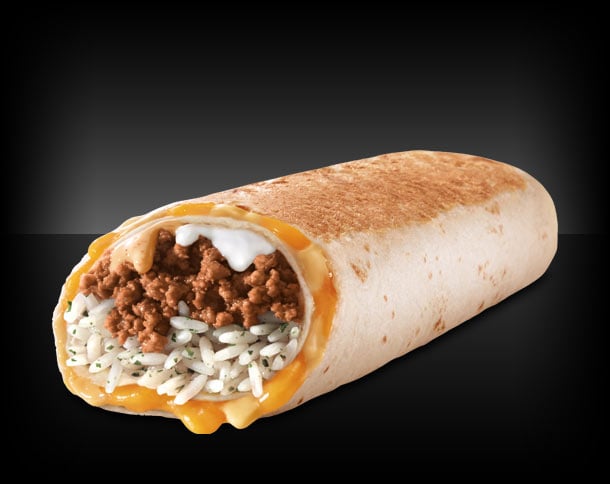 Taco Bell nearly caused a Mexican food revolution when it introduced the Quesarito [14], a burrito wrapped in a quesadilla, in June.
Source: Taco Bell [15]
Carl's Jr. Bacon Ranch Fries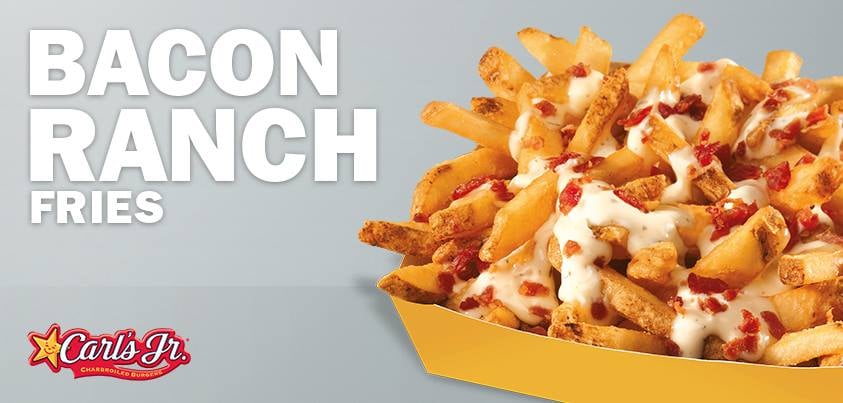 Carl's Jr. put a spin on the classic Canadian junk-food favorite poutine [16] when it released Bacon Ranch Fries [17] in June.
Source: Facebook user Carl's Jr. [18]
Burger King Chicken Fries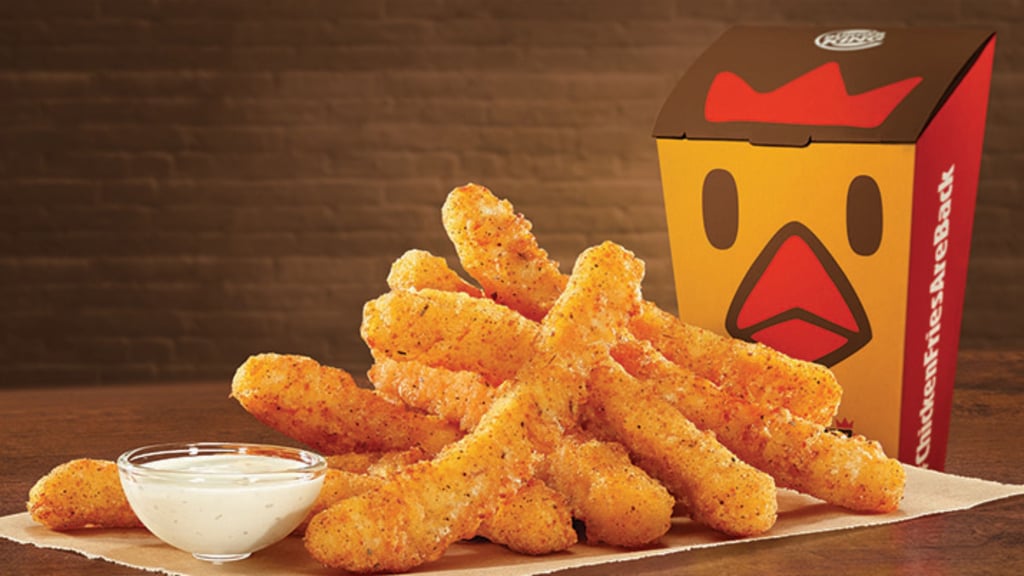 After Facebook and Twitter pages sprung up demanding their return, Burger King brought back its crispy breaded Chicken Fries [19].
Source: Burger King [20]
Five Guys Bacon Milkshakes
Five Guys fans: be on the lookout for something new, because the brand has begun offering customized milkshakes at certain locations [21]. The sweet treats start with a vanilla base and include mix-ins that range from classic (malted milk, chocolate) to the downright decadent (um, bacon anyone?).
Source: Five Guys [22]
KFC Double Down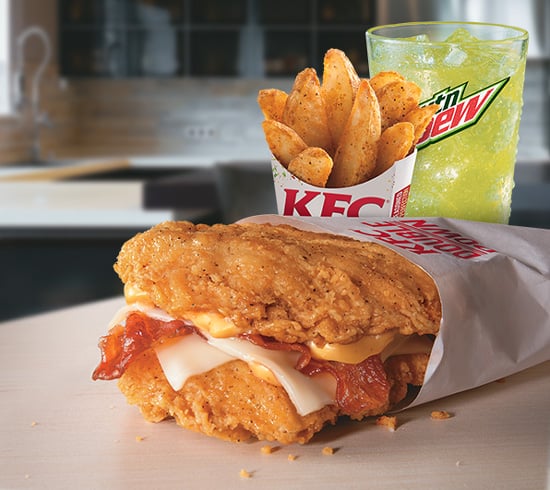 After developing a cult following in 2010, KFC made fried-chicken-lovers jump for joy when it reintroduced the Double Down [23] earlier this year. The "sandwich" consists of bacon, monterey jack cheese, and special sauce packed between two fried chicken filets, no bun necessary.
Source: KFC [24]
Dunkin' Donuts Peeps Doughnut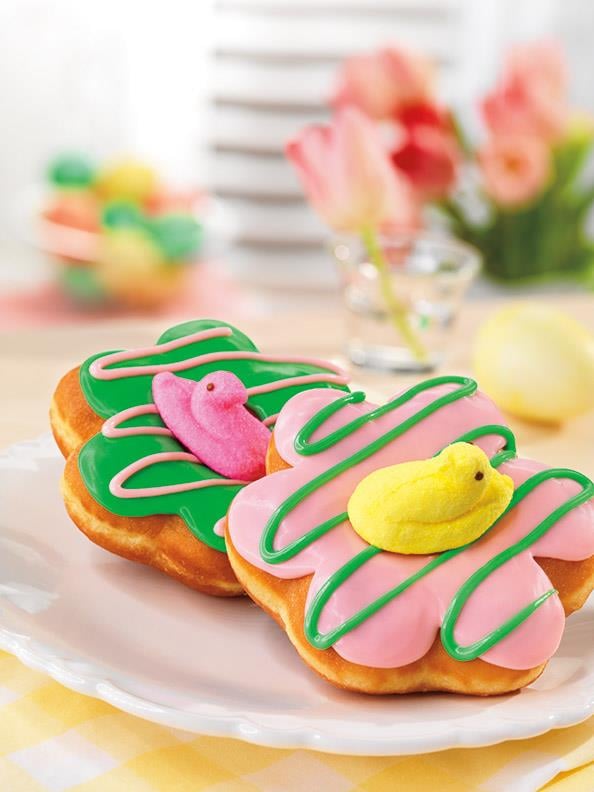 In honor of Spring and the Easter holiday, this past March, Dunkin' Donuts took your favorite breakfast treat totally over the top by introducing the Peeps Doughnut [25].
Source: Dunkin' Donuts [26]
Del Taco Bun Taco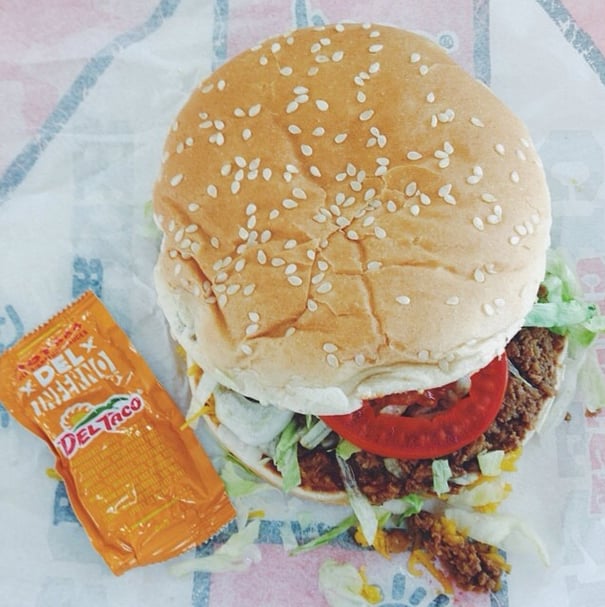 Though it's now limited to the secret menu, Del Taco honored its 50th anniversary earlier this year by serving up the Bun Taco [27], which, not surprisingly, is taco fillings . . . in a bun.
Source: Instagram user tryitordiet [28]
Domino's Specialty Chicken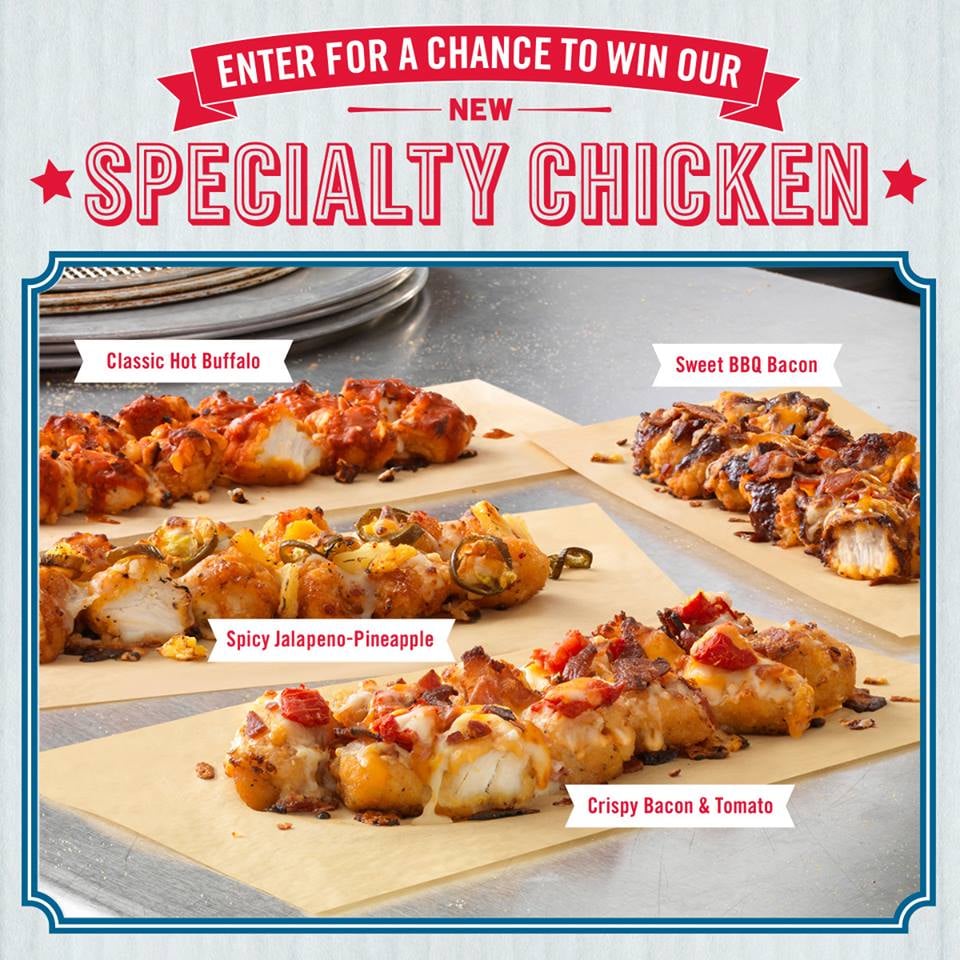 For anyone who's ever been faced with the difficult choice between pizza and chicken, Domino's solved the issue for good when it introduced Specialty Chicken [29], breaded chicken bites topped with gooey cheese and flavors like hot buffalo and crispy bacon and tomato.
Source: Facebook user Domino's Pizza [30]
Taco Bell Spicy Potato Taco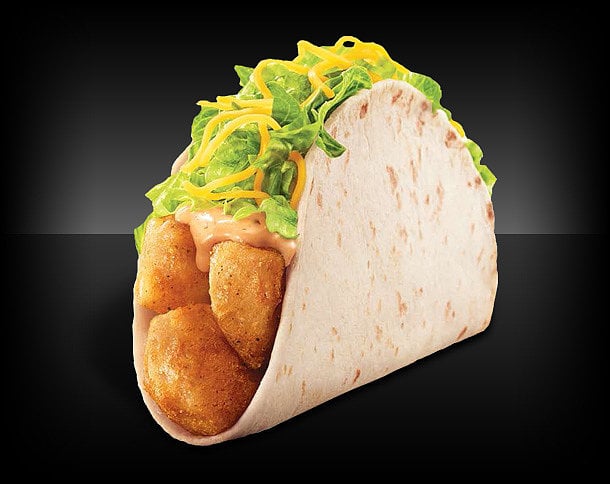 For the ultimate carb-lover, Taco Bell's $1 Craving Menu includes the curiously intriguing Spicy Potato Taco [31].
Source: Taco Bell [32]
Jack in the Box Croissant Donut
Jack in the Box jumped on the foodie bandwagon and released its own version of the Cronut, the cinnamon-sugar Croissant Donut [33].
Photo: Anna Monette Roberts
Taco Bell Waffle Taco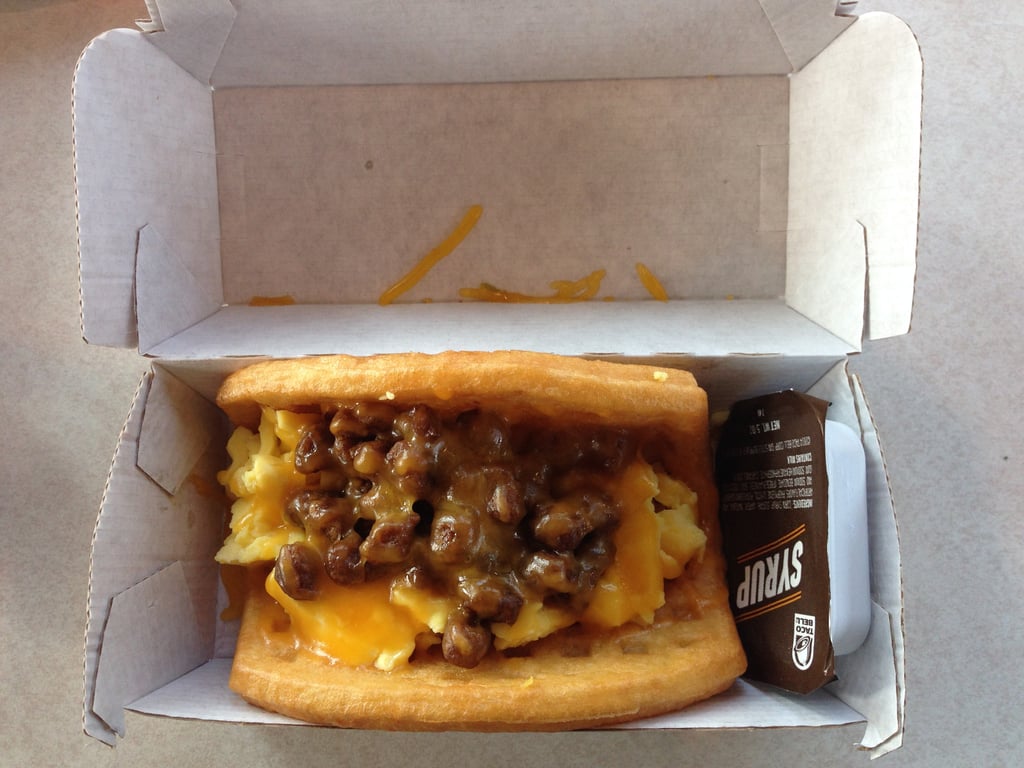 When a sweet, fluffy waffle met the cheesy, rich taste of Mexican food, the Taco Bell Waffle Taco [34] was born.
Photo: Anna Monette Roberts
7-Eleven Doritos Loaded Cheese Wedges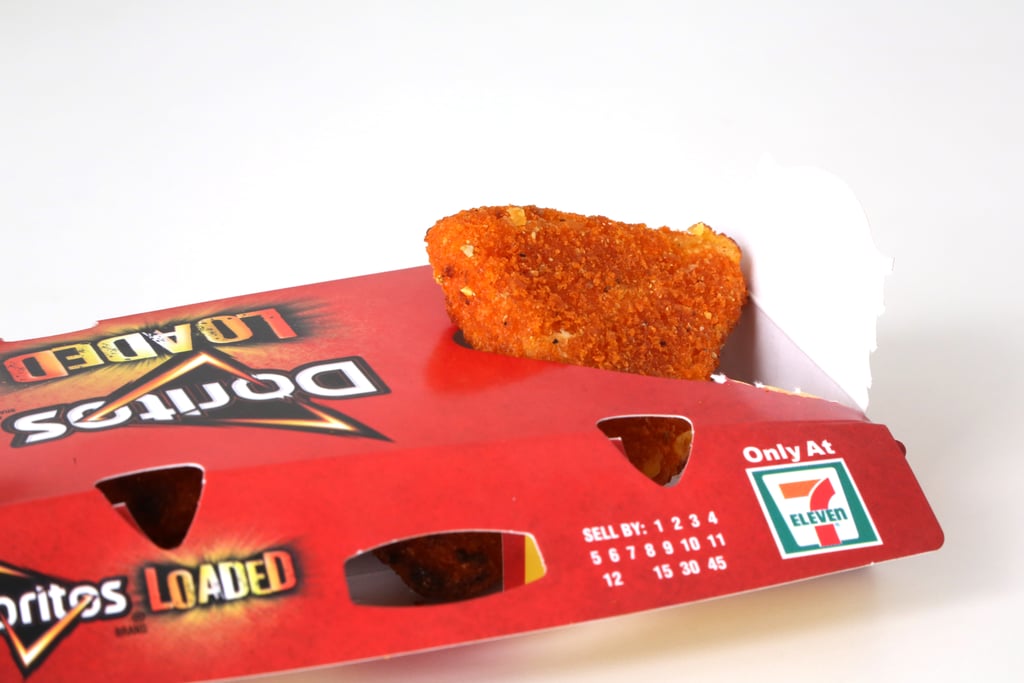 Packed full of gooey cheese, 7-Eleven's Doritos Loaded Cheese Wedges [35] took nacho cheese to a whole different level.
Photo: Anna Monette Roberts
Little Caesars Pretzel Pizza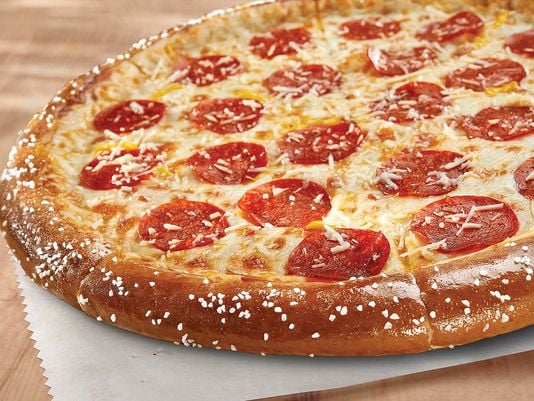 What's better than a hot and cheesy slice of pizza? One that comes with a soft and salty pretzel crust. Little Caesars' pretzel pizza [36] is a delicious new savory treat.
Source: Little Caesars [37]