The Next Iron Chef: Super Chefs Premiere
Did You Tune Into The Next Iron Chef: Super Chefs?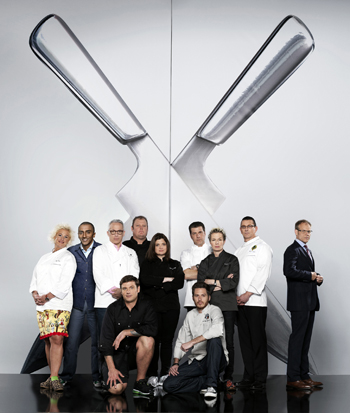 The Next Iron Chef: Super Chefs premiered on Food Network last night. Just as expected from the lineup of the accomplished and talented chefs, the competition was fierce.

In the last installments of The Next Iron Chef, just appearing on the show was a feat in itself; the tables have turned this season. All of the contestants have an established following — most even have a restaurant or two up their sleeves.

The difference was clear, even from this first episode: each of these chefs has the culinary chops to be the next Iron Chef. The real challenge here is going to be standing up to the pressure, remaining confident, and not getting lost in their head, regardless of what crazy circumstances are thrown in their direction.

The first challenge tested the resourcefulness of all the competitors: the 10 cheftestants were paired off into teams and promptly dropped in the middle of nowhere. All the teams had was a suckling pig, a spread of local ingredients, the necessary elements to build a fire, and the instructions to cook their hearts out. Given the situation, what all the chefs managed to create was nothing short of spectacular. Keep reading to see which team won the challenge and who was forced to duke it out in Kitchen Stadium.
In the end, chefs Geoffrey Zakarian and Beau MacMillan came out on top, and Spike Mendelsohn and Marcus Samuelsson were forced to cook in a head-to-head competition to see who would stay for another episode. Spike started off the episode strong. He picked a "lucky" match that initially gave him the advantage of putting the chefs on teams. He had chosen to pair himself up with Marcus as part of his advantage, but this decision eventually led to his demise. After battling it out in Kitchen Stadium, Marcus, and his dish, came out victorious.

What did you think of The Next Iron Chef's premiere? Do you already have a chef you're rooting for? A favorite dish that was prepared last night? Share you thoughts in the comments below!

Photo courtesy of Food Network