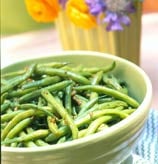 When I was a little girl I used to hate green beans. I don't really know why I hated them so much, maybe because they were a vegetable, maybe because I wasn't used to the taste, or maybe because my parents encouraged me to eat them. Luckily I grew out of that phase quickly and now love green beans. They are seriously one of the simplest sides around and pair with just about everything. Throwing in a quick, easy green bean dish to your meal is a great way to fill your daily intake of vegetables. Oftentimes people only use green beans as a side during Thanksgiving, but I think it's one that should be used any time of year. To check out the green bean recipe,

Garlicky Green Beans
From Cooking Light magazine
2 cups green beans, trimmed (if you can find them, use haricots verts, thin and tender French green beans)
1 teaspoon butter
Cooking spray
1/8 teaspoon sea salt
1/8 teaspoon freshly ground black pepper
1 garlic clove, minced
Cook beans in boiling water 2 minutes. Drain and plunge beans into ice water; drain.
Melt butter in a small nonstick skillet coated with cooking spray over medium heat.
Add beans, salt, pepper, and garlic; cook 2 minutes or until heated.
Serves 2.
NUTRITION PER SERVING
CALORIES 54(35% from fat); FAT 2.1g (sat 1.2g,mono 0.6g,poly 0.1g); PROTEIN 2.1g; CHOLESTEROL 5mg; CALCIUM 45mg; SODIUM 170mg; FIBER 3.8g; IRON 1.2mg; CARBOHYDRATE 8.4g