Pink and Purple Ombré Noodles
From POPSUGAR Food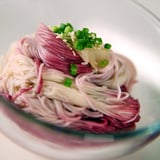 Ingredients
3 bundles somen [3] noodles
3 cups beet juice or red wine
5 cups vegetable broth
1 tablespoon garlic, finely minced
1/2 cup ginger, finely minced
1 1/2 teaspoons soy sauce
3/4 teaspoon rice vinegar
1/2 cup green and white scallions, thinly cut
2 tablespoons white sesame seeds
1/4 cup pickled ginger [4]
Directions
Cook somen noodles in boiling water for 1 to 2 minutes until done, or according to package directions. Drain and pat dry.
Dip 1 end of the noodles into a bowl filled with beet juice (or red wine), and let sit for 5 minutes.
In a saucepan over medium heat, mix vegetable broth, garlic, ginger, soy sauce, and rice vinegar. Bring to a simmer for 2 minutes, and then remove from heat.
Divide noodles among 6 bowls, ladling each bowl with 1/2 cup of broth. Garnish each serving with scallions, sesame seeds, and pickled ginger.
Information
Category

Pasta, Main Dishes

Cuisine

Japanese

Yield

6 servings