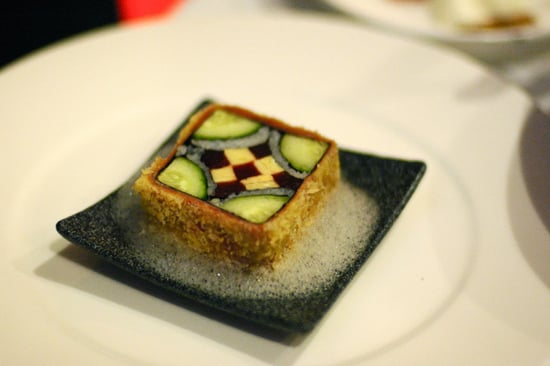 It's hard to say good-bye to a long weekend of fabulous food and wonderful wine. However, the Food and Wine Classic in Aspen ended last Sunday and until next June, I won't come into contact with any festival as fantastic. To commemorate the occasion, I've rounded up my top 10 favorite Aspen moments. From complex sushi rolls to French piña coladas, check out my list below and click though for all the magnificent photos.
Chatting with Gail Simmons at the CIA awards dinner
We hadn't seen Gail since her last visit to San Francisco, so it was great to catch up with her at this event. Topics of conversation: the location of Top Chef Season 5 (New York City!) and her upcoming nuptials.
Gerard Craft's chicken liver terrine at the Best New Chefs Dinner
This delicious bite was insanely balanced: rich, crunchy, sweet, and salty.
Chatting with Rocco DiSpirito at the David Chang party
After I interviewed him, Rocco and I spoke later that evening over lettuce wraps and pork buns. We both agreed living alone in a big city is expensive!
Toni Abou-Ganim's party punches and sangria class
Learning how to make party drinks from a master was informative and entertaining. I caught his attention when I was the only one in the audience who knew grenadine is made from pomegranates instead of cherries!
Getting ham from Jose Andres
During his demo, I answered all of Chef Andres' questions correctly (little did he know I lived in Spain for two years!). He rewarded me with a piece of fresh sliced jamon.

To discover what else made my list, plus a gallery of images, just

.

Sunning with sparkling rosé outside the tents
I enjoyed the Spanish sparkling rosé so much I asked the girl to pour me an entire glass, so I could sip in the sun.
Watching Morimoto make sushi
During his demo, Iron Chef Masaharu Morimoto made a complex, multistep sushi roll. The roll was so geometric it looked more like a piece of art than food.
The after-pool party at the Sky Hotel
After Sunday's final grand tasting everyone who's anyone headed to the after party at the pool at the Sky hotel. I sipped cocktails made by the Modern Mixologist and got cozy with Hung Huynh's sous chef Kenny.
Puerto Rican pork and piña coladas
The Puerto Ricans made an insanely refreshing French piña colada that paired perfectly with their fresh-cut pork. Chambord was swirled into the classic colada giving it a chic presentation and sophisticated flavor.
Bobby Flay's uberentertaining demo
Learning how to make burgers from one of America's most loved chefs was something I will never forget.