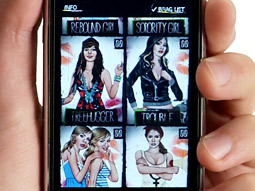 Looks like
Burger King
[1] isn't the only food brand that toes the line between cutting-edge and crass. PepsiCo, the maker of new energy drink Amp, has gotten
flack for its latest iPhone launch
[2].
"Amp Up Before You Score" is a free iPhone application that offers young men pointers on how to get in bed with 24 different types of women. Selections include "Sorority Girl," "Treehugger," and "Punk." Amp fans can then detail their conquests on the app's Brag List.
Backlash soon followed, with many accusing Pepsi of demeaning and objectifying women. Amp tried to appease the furor with an apology [3] on Twitter [4], although it seemed to only want to heighten the buzz [5] around the brand by introducing the Twitter tag #pepsifail [6].
What do you think of the move? Check out the video after the jump.
Source [7]