I spent the last week keeping tabs on the beach in Maui [1], and I've returned not only sunburned, but also probably five pounds heavier. I couldn't stop eating the local food! I'd been told that island cuisine is often imitated but never duplicated, yet I was still ridiculously impressed by how outrageous everything tastes in Hawaii. From takeout spots to high-end dining destinations, I enjoyed it all. Here are the few favorites that I managed to capture before everything got wolfed down.
Lau Lau Pork
I took the advice of another San Francisco-based food website, Bay Area Bites [2], and hit up Da Kitchen [3], located in a strip mall by the Maui airport. I ordered a mixed plate favorite: lau lau pork, which is pork butt, salted butterfish, and taro leaves wrapped in ti leaf and then steamed.
Lomi-Lomi Salmon
On the side, I got lomi-lomi salmon, a salsa of sorts made from fresh tomato, Maui onions, and raw, salted salmon that's been diced.
Kalbi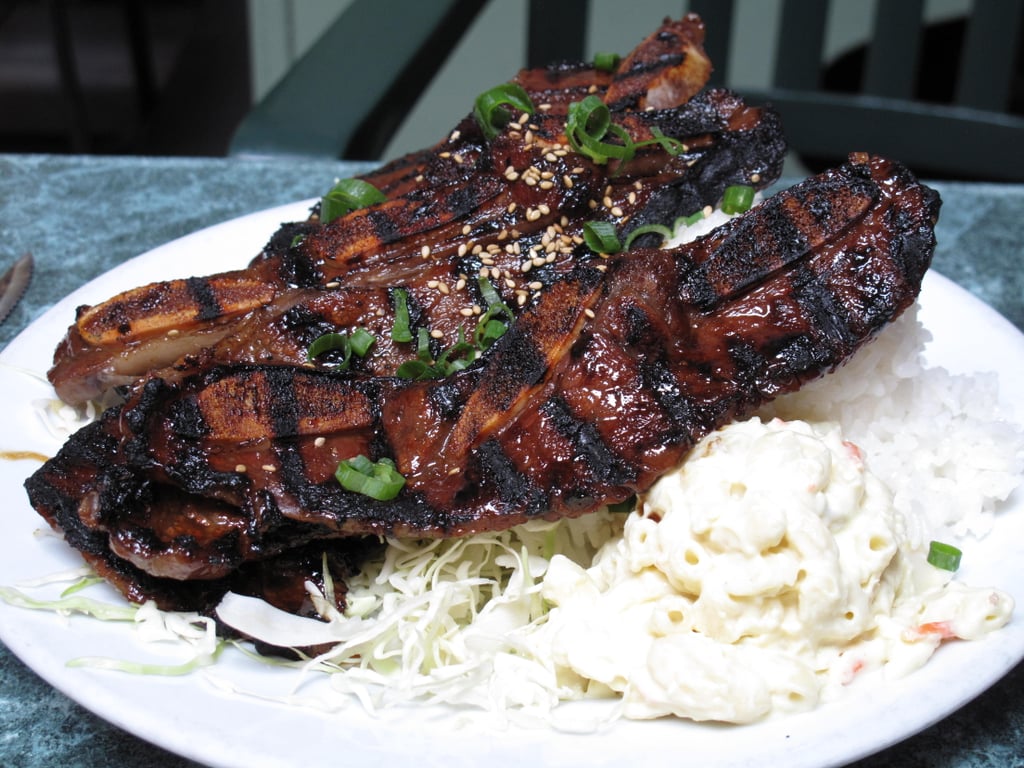 My travel companion couldn't say no to the kalbi, or marinated short ribs. Although this beef dish is also popular in Korea, in Hawaii, it's marinated in a teriyaki sauce and served with several mounds of rice and macaroni salad on the side.
Fried Spam Musubi
Yes, it's real, and it's delicious. Behold our table's pièce de résistance: spam sushi, wrapped in nori, battered, and deep fried. The crispy breading was complemented by a sweet soy-based sauce and green onions.
Mai Tai
We spent two nights soaking up the world's most brilliant sunset at Kaanapali's popular beachfront bar, Hula Grill [4]. We were unable to resist a tiki classic like the Mai Tai, which mimicked the horizon's golden color. It was too large to hold with one hand when filled to the brim!
Tuna Poke Tacos
I've always loved spicy tuna poke with some good guacamole [5], and these tacos were no exception. Here, the crispy shells were filled with jewellike yellowfin and topped with a wasabi aioli, scallions, and black sesame seeds.
Bloody Mary
Don't make fun of me, but I heard about The Plantation House [6] while watching an episode of Rachael's Vacation [7]. When I passed through during brunch, I discovered the scenic restaurant makes one of the meanest Bloody Marys I've ever sipped.
Cajun Sashimi Ahi Benedict
This Hawaiian take on eggs Benedict was ahi tuna seared with Cajun seasoning on an English muffin, then topped with hollandaise and a wasabi drizzle. I vowed to replicate this at home.
Crab Cake Benedict
For some variety, I also ordered a crab cake benedict, which was topped with roasted red pepper sauce and served with crispy roasted home fries on the side.
Ahi Tuna Sandwich
I wasn't kidding when I said I consumed fresh fish at virtually every meal [8]. I was thrilled to discover a takeout spot in Honokowai called The Fish Market [9], where we picked up mahi mahi and ahi tuna sandwiches to eat while enjoying dusk at the park across the street.