Q and A With 5 Ingredient Fix Host Claire Robinson
On Five Ingredients: Claire Robinson Chats With Us!
Like us on Facebook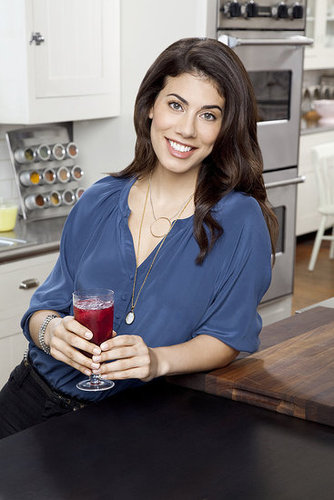 This Thursday, we're off to the Big Apple to spend the weekend with the culinary elite at the Food Network's New York City Wine and Food Festival! One of the events we hope to attend is Tacos and Tequila with Claire Robinson. In preparation of the event, the Network's new personality and host of 5 Ingredient Fix spoke to us about the taco she's serving, her technique for developing recipes, and her first cookbook. To find out what food trends she's over and what she thinks of being compared to a young Rachael Ray, read on.

YumSugar: So tell me about your involvement in the festival.
Claire Robinson: My book party is the opening party of the event on Oct. 6, Wednesday night. It's invite only and I'm really excited. Other than that I'm attending every event and carving pumpkins on the 8th as a fundraiser for Share Our Strength, and I'm hosting Tacos and Tequila and a brunch. The brunch should be really cool because it's the first time the studio has opened up to the public.

YS: How do you prep tacos for such a large event?
CR: Very very carefully! I'm making tacos for 1,000 people, so there is a lot of planning. Rather than speaking to our show's niche, we're doing tacos that reflect our flavor profile. I'm doing a barbecued corn taco with a slaw and pickled jicama. It should be really fun competing against everyone.

YS: Let's talk about your show. Why is five ingredients the cutoff for your recipes? Why not four or six? How did you land on five?
CR: It's the perfect number! If it was any more than five, the recipes would be too complex. I like to make sure each dish is packed with flavor and has a balance of complexity. If it was fewer ingredients, four or three, then I would have to cut too many corners. Five is the smallest amount of ingredients you can have and still wow people. Also, a recipe with fewer ingredients is easier and more approachable. No one wants to go to the grocery store with a laundry list of items. Especially me, I hate, hate, hate shopping.

YS: Do you ever tire of having to make recipes with just five ingredients?
CR: It's a constant challenge, but I love it. When I cook at home, I use five ingredients. It's partly because I'm always developing recipes, but it's also exciting. When I see an ingredient that's at its peak, I really just want to taste it as it is. My palate craves the simplest flavors, and with my recipes I like each ingredient to be recognizable in the dish. When I have my friends over for dinner, I ask them to guess the ingredients to make sure each one is doing its job. It's harder than you think. Sometimes they'll guess sour cream or lemon juice, when I really used buttermilk. But it's cool because that means they are tasting the acidity.
YS: With your method for simple cooking and the network's strong support, one could liken you to a young Rachael Ray. How do you feel about being compared to her?
CR: I'm flattered! You have to understand that we have very different cooking styles. She focuses on a cooking time, while I focus on making ingredients simple. My techniques are sometimes more complicated than hers. I'll have you braise, brown, and slow cook. I have a real respect for what Rachael's done. She paved the way for people like me. She taught the public how to get back into the kitchen. She changed the business, and I'm honored to be in her liking.

YS: If readers were to make only one recipe from your new book, which would you suggest?
CR: Well my favorite recipe is the carbonara. It's so sinfully delicious, but that's a recipe that already has few ingredients. For an impressive five-ingredient dish, I would have to say my Sunday pot roast with mushroom gravy. Pot roast usually has a bunch of ingredients (mirepoix, stock, vegetables, etc.), but mine is so filled with flavor that it's really impressive. What I want people to remember when they make my dishes is that you are the executive chef of your kitchen. Make cooking dinner a pleasure experience. Don't make it uncomfortable. Put on your favorite music, pour a glass of wine, make it your moment. Be an artist. If you don't enjoy it, your food will show it.

YS: What food trends are you sick of?
CR: In New York City, I'm so sick of paying a fortune for comfort food. I'm tired of $85 macaroni and cheese. I guess I'm just sick of really expensive restaurant food that could be made at home affordably. I love the trend of comfort food, but the price point is tough for me, tough for all of us. I like sous vide, but I also don't love it. A trend I'm excited about is food trucks! They're not too fancy or overcomplicated and they serve good food at a good price.

Photos courtesy of Food Network