We've all heard about the importance of a solid breakfast, but more often than not, good intentions fall victim to making the 8:10 a.m. train. I can't tell you how many New Year's resolutions I've set, only to find myself choking down pasty instant oatmeal at my desk or — gasp! — forgoing breakfast entirely. Difficult as it may be to believe, you really can make time for a filling breakfast, whether you pause for a moment to eat before running out the door or take it to go. We've compiled 10 recipes to combat the fiercest of morning hunger pangs and time crunches.
Miraval Scramble
An egg white scramble [1] teeming with fresh veggies gets bundled up in a tortilla for a healthy breakfast that's similar to the one served at the Miraval Resort and Spa.
Mango-Yogurt Smoothie
Mango makes a simple smoothie [2] luscious, but feel free to toss in any fruits that are handy.
Greek Yogurt Mix-Ins
Tart and creamy Greek yogurt keeps you going all day long, especially when you stir in your favorite accompaniments [3].
Savory Asian Oatmeal
Break out of the brown sugar rut with a savory, Asian-inspired version [4] of your favorite breakfast grain.
Breakfast Burrito
This breakfast wrap [5] is so flexible that you can use just about any leftover ingredients in your fridge.
Homemade Granola
Whip up a big batch of granola [6] to crunch in the mornings with milk or yogurt. You choose the ingredients for a mix you'll want to munch all day.
Avocado Toast
If you can toast bread, you can chow down on a deliciously filling breakfast. This avocado tartine [7] requires only toast, ripe avocado, salt, pepper, and a dash of hot sauce.
Avocado-Pear Smoothie
Packed with folic acid, fiber, and healthy fats, this creamy smoothie [8] gets you going while on the go.
Bacon and Egg Sandwich
Sandwich your bacon-and-egg breakfast [9] between toasted ciabatta slices and take your breakfast table with you.
French Toast Strata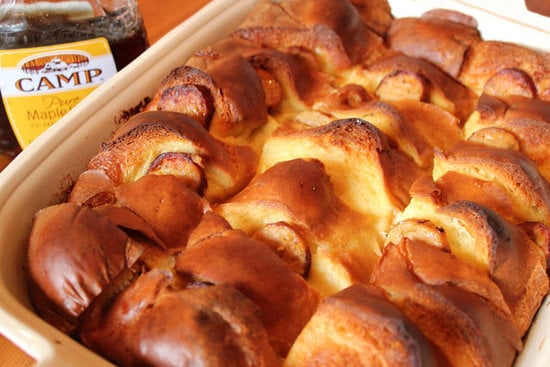 While it's not quite fast enough for weekday mornings, this French toast and sausage breakfast strata [10] can be made the night before, then tossed in the oven for laid-back weekend brunches.