After making a scrumptious ratatouille sandwich, I couldn't get the tasty French dish out of my mind. This time, I opted to serve the cooked vegetables in a more traditional way: in a classic French crepe. Considering the prep work, ratatouille is a time-consuming dish, but once the veggies are cooking it's pretty fast and effortless. For the ratatouille, it's important to use your largest pan — I actually used a wok as it holds a larger volume.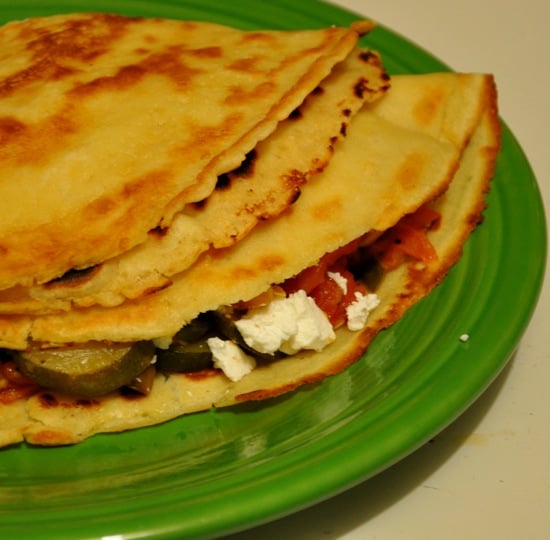 Each bite of the final dish is a complex and delicious combination of eggplant, onions, bell peppers, squash, tangy goat cheese, and crisp crepe. If you don't have time to make ratatouille, be sure to give the crepe recipe a chance. Crepes are simple to make and easy to customize — try adding herbs and cheese for a different take on the savory version. Or do what I did with the extra crepes and create a sweet crepe with strawberries and a thin layer of Nutella. To get started on your own French dinner,
.
Ingredients
1/4 cup olive oil, plus more as needed
1 1/2 cups small diced yellow onion
1 teaspoon minced garlic
2 cups medium diced eggplant, skin on
1/2 teaspoon fresh thyme leaves
1 cup diced green bell peppers
1 cup diced red bell peppers
1 cup diced zucchini squash
1 cup diced yellow squash
1 1/2 cups peeled, seeded and chopped tomatoes
1 tablespoon thinly sliced fresh basil leaves
1 tablespoon chopped fresh parsley leaves
Salt and freshly ground black pepper
Directions
Set a large 12-inch saute pan over medium heat and add the olive oil. Once hot, add the onions and garlic to the pan. Cook the onions, stirring occasionally, until they are wilted and lightly caramelized, about 5 to 7 minutes.
Add the eggplant and thyme to the pan and continue to cook, stirring occasionally, until the eggplant is partially cooked, about 5 minutes. Add the green and red peppers, zucchini, and squash and continue to cook for an additional 5 minutes.
Add the tomatoes, basil, parsley, and salt and pepper, to taste, and cook for a final 5 minutes. Stir well to blend and serve either hot or at room temperature.
Serves 4-6 generously.
Information
Category

Vegetables, Side Dishes

Cuisine

French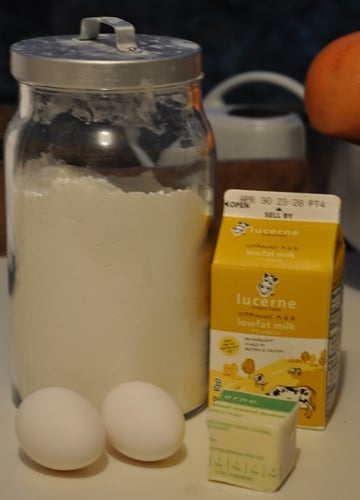 Ingredients
2 large eggs
3/4 cup milk
1/2 cup water
1 cup flour
3 tablespoons melted butter
Butter, for coating the pan
Ratatouille, for serving
Directions
In a blender, combine first five ingredients and pulse for 10 seconds. Place the crepe batter in the refrigerator for 1 hour. This allows the bubbles to subside so the crepes will be less likely to tear during cooking. The batter will keep for up to 48 hours.
Heat a small non-stick pan. Add butter to coat. Pour 1 ounce of batter into the center of the pan and swirl to spread evenly. Cook for 30 seconds and flip. Cook for another 10 seconds and remove to the cutting board. Lay them out flat so they can cool. Continue until all batter is gone.
After they have cooled you can stack them and store in sealable plastic bags in the refrigerator for several days or in the freezer for up to two months. When using frozen crepes, thaw on a rack before gently peeling apart.
Place ratatouille on a quarter of the crepe, crumble goat cheese. Fold into a triangle and serve.
Makes 8-10 crepes.
Information
Category

Other, Main Dishes

Cuisine

French