Reader Recipe: Southwestern Chicken Chili
Like us on Facebook
Although chili season is coming to a close — it's generally a Winter dish — I thought this Southwestern Chicken Chili that TeamSugar member MotoLinz posted looked too good to pass up. She gets a lot of help from canned ingredients, not to mention a beer, but the whole thing looks like a great dinner. It simmers for four hours — you want those flavors to mix — although the actual recipe can come together in about an hour. To make a batch of this delicious chili tonight, get the recipe and
.
Submitted by TeamSugar member MotoLinz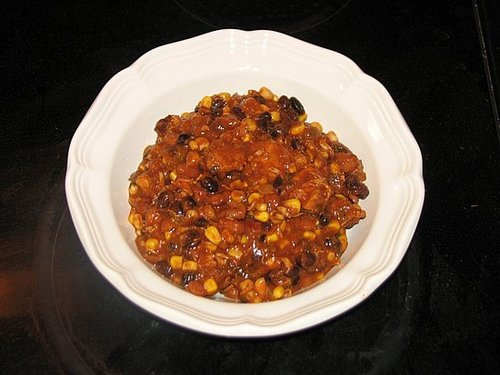 Chef Moto's Test Kitchen
Southwestern Chicken Chili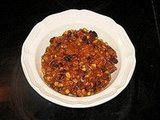 Ingredients
- 1.75 lbs. chicken breast, cubed
- 16 oz. jar Pace Salsa (Medium)
- 1 beer (I use Yuengling or Corona, but it really doesn't matter)
- 3 limes
- 1 cup cilantro, chopped
- 1/2 cup Smoked Chipotle Tabasco
- 1 Tbs. ground chipotle
- 1 Tbs. chili powder
- 2 tsp. cayenne pepper
- 1 can Bush's Chili Magic (Mild)
- 1 can black beans, drained and rinsed
- 1 can whole kernel corn, drained and rinsed
- shredded cheese, if you please
Directions
I know we're coming out of chili season, but I posted this a year or so ago and have revised it a tiny bit. For me, this is a 4-hour chili. You can reduce it to about an hour or so if you use less beer or like your chili a bit less thick. But, the longer it cooks, the better it is. Spice is variable, too. I make mine pretty hot, and since I don't measure, the amounts for the spices are best-guess approximations of what I use.
1) Mix cubed chicken, Smoked Chipotle Tabasco, ground chipotle, and juice from 1 lime in a large pot and cook chicken thoroughly
2) Add beer, cayenne pepper, and chili powder, and stir well
3) Add salsa, 3/4 of the chopped cilantro, and juice from 1 lime, and stir well
4) Lower heat and allow to simmer until reduced (less or more, depending on the thickness you desire), stirring occasionally
5) When reduced sufficiently, add Chili Magic, black beans, and corn
6) Stir well and allow to cook for half an hour
7) Remove from heat and garnish with remaining cilantro
8) Serve with shredded cheese, crackers and/or tortilla chips, and lime slices
Information
Category

Chili, Main Dishes