Recipe For Berry Lemon Meringue Cake
Reader Recipe: Berry Lemon Meringue Cake
Like us on Facebook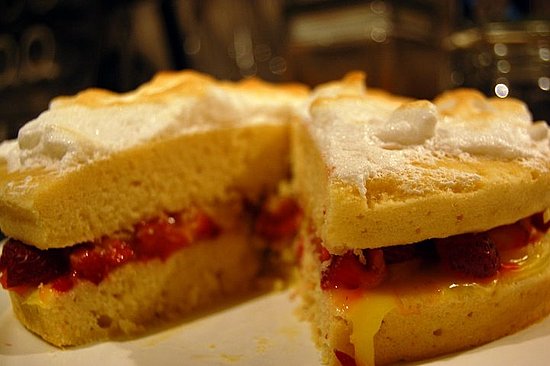 We are currently fixated on red, white, and blue foods, and this berry lemon meringue cake is absolutely no exception. If you're short on ideas for an Independence Day dessert, this cake would be perfect. After all, what could be more festive (and all American) than super-seasonal berries, moist white cake, and a fluffy meringue topping? When I make this for my friends and family, I'll throw in fresh blueberries for added holiday measure. Get into the Fourth of July spirit when you read more.

Submitted by TeamSugar member Syako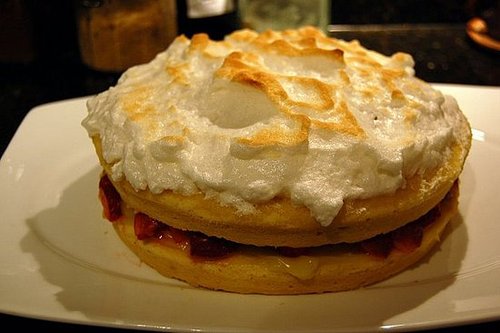 A Berry Lemony Meringue cake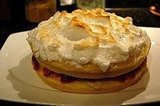 Ingredients
3 cups flour
1 teaspoon baking powder
1/2 teaspoon baking soda
1/2 teaspoon salt
1 cup milk
Finely grated peel of 2 lemons, plus 1/2 cup fresh lemon juice
2 sticks (8 ounces) unsalted butter, softened
2 1/2 cups confectioners' sugar
4 large eggs plus 3 large egg whites, at room temperature
One 11-ounce jar lemon curd
1 1/2 cups fresh raspberries (I used strawberries)
Directions
When I first opened this magazine and my husband saw the photo for this cake his eyes got big and he started salivating. I knew right then that I'd make it. Having had some "difficulties" with meringue in the past, I decided this would be a good place to start — since the cake didn't depend on the meringue like a meringue pie. The final product was unbelievable. This cake takes a while to make, I'd say I spent about 2 hours total from start to finish. But it's totally worth it!
1. Preheat the oven to 350°F. Butter two 9-inch round cake pans, line with parchment paper, then butter the paper. In a medium bowl, whisk together the flour, baking powder, baking soda, and salt. In a small bowl, stir together the milk, lemon peel, and lemon juice.
2. Using a mixer, beat the butter with 2 cups confectioners' sugar on medium speed until fluffy, 2 minutes. Add the whole eggs one at a time, beating after each addition. With the mixer on low speed, mix in half of the flour mixture, then the milk mixture, then the remaining flour mixture.
3. Divide the batter between the prepared cake pans and bake until springy to the touch, about 25 minutes. Let cool in the pans for 10 minutes, then turn out onto a rack and let cool completely.



4. Clean the mixer. Beat the remaining 1/2 cup confectioners' sugar and the egg whites. Place over a saucepan of barely simmering water and cook, whisking, until the confectioners' sugar dissolves and the mixture is hot to the touch, 2 to 3 minutes. (I transferred the mixture in the bowl to my stand mixer at this point). Remove from the heat and beat on high speed until stiff, glossy peaks form and the mixture is cool, 7 to 10 minutes.


5. Peel the paper off 1 cake layer and place bottom side down on a cake plate.



Spread one-third of the lemon curd on the cake.



Arrange the berries on top.



Drizzle the remaining curd evenly over the berries.



Peel the paper off the remaining cake layer and place upside down on the filling. Top the cake with the meringue.



6. Preheat the broiler to high. Broil the cake just until the meringue peaks are golden, about 2 minutes.


Information
Category

Desserts, Cake