Tomato Sauce recipe For the Chicken Parmesan
Mine with helpful hints from Food Network.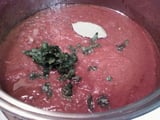 Ingredients
1. 2 32-ounce cans of Italian flavored crushed tomatoes.
2. 1/2 cup of extra virgin olive oil.
3. 1 small to medium onion chopped well.
4. 2 cloves of garlic chopped well.
5. 1 stalk of celery, chopped really well.
6. 1 normal sized carrot (or 3 or 4 of those cute little baby carrots in a bag) either shredded or chopped well.
7. 4 to 6 basil leaves. Roll them up and finely chop them.
8. Sea salt and pepper
9. 2 dry bay leaves.
10. 4 TBSP of UNsalted butter.
Directions
Pic of the ingredients:

I mostly use a good name brand of food but some things, to me and my cooking experience, taste better as the store brand like the Winn Dixie Italian flavored crushed tomatoes are the best, and the bay leaves.
1. Heat the olive oil over med/high heat (mostly medium) and toss in the chopped onions for 1 minute then add the garlic to it for additional 2 minutes until the onions are translucent.


2. Now add the celery, carrots, salt and pepper. Saute them until they are all soft. (about 5 minutes)


3. Add the 2 cans of crushed tomatoes, basil and bay leaves and simmer for an hour.

One of my bay leaves is pushed down into the sauce...
4. After an hour, don't forget to remove the bay leaves! Taste the sauce and use your own judgment as to how many TBSP of the unsalted butter you will use. It depends on the acidity of the sauce so only put in 1 TBSP at a time tasting after each has dissolved. I used 3 and it was perfect!

Information
Category

Other, Condiments/Sauces