Recipe For Chicken Sandwich With Roasted Peppers, Onions, and Southern Greens
'Wich of the Week: Reds and Greens Chicken Sandwich
Like us on Facebook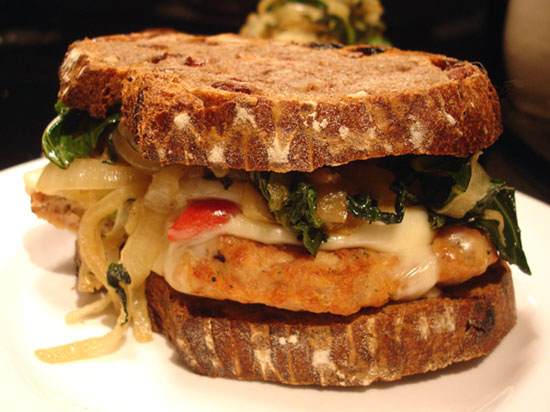 This was one of those fridge-clean-out sandwiches that came together so brilliantly I wanted to make it again immediately. I started with some ingredients I needed to use up ASAP: precooked chicken patties from Trader Joe's, a bag of mixed Southern-style greens, and a yellow onion.

Then I thought, let's make things a little more interesting. Enter a jar of roasted piquillo peppers (regular red peppers will work just fine) and sliced white cheddar cheese. To balance out all that bite, I settled on cranberry-walnut bread from Acme, while sauteed onions also added sweetness. The resulting stack of reds and greens was delectably unfamiliar and comfortingly juicy. So make it yourself!

Original recipe
Reds and Greens Chicken Sandwich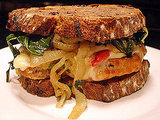 Ingredients
1 tablespoon olive oil
1 small onion, thinly sliced
2 cups mustard greens or similar, coarsely chopped
2 precooked burger-style chicken patties
6 slices of jarred roasted piquillo or red bell peppers
2 slices white cheddar cheese
1 tablespoon Dijon mustard
4 slices cranberry-walnut bread
Directions
Heat the olive oil in a large skillet over low heat. Then, add the sliced onions. Sauté slowly for 10-15 minutes, until onions begin to caramelize, then add the greens and stir to combine. Continue sautéing for 10 more minutes, until greens are wilted and onions are browned and translucent.
Meanwhile, turn the broiler on low. Place the chicken patties on an ovenproof baking sheet and place it in the broiler.
While the chicken patties broil, toast the bread slices.
Broil chicken for 3 minutes on each side, then top each patty with 3 slices of roasted peppers and one slice of cheese. Return to broiler for 45 seconds or so, until cheese is melted.
Spread 1/2 tablespoon mustard on two of the toasted bread slices.
Slice the cheese- and pepper-topped patties in half, and arrange the halves on top of the mustard-coated bread slices.
Divide the onion and greens mixture, and distribute on top of the melted cheese. Cover with remaining bread slice and serve.
Makes 2 sandwiches.
Information
Category

Sandwiches, Main Dishes